The lack of visibility of South Vietnam's armed forces in the historiography of the Vietnam War was the impetus for a new book by Nathalie Huynh Chau Nguyen.
The Republic of Vietnam—South Vietnam—its people and its armed forces have been largely erased in histories of the Vietnam War.
This is reflected in the comments of Giselle Au-Nhien Nguyen, the daughter of a South Vietnamese veteran, who had this to say about her parents' experiences, and her own reactions as a second generation Vietnamese Australian:
It's a strange feeling to miss something you've never had. When I look at images of Vietnam, I see places I've never been to, but feel like I intimately know. I taste and smell things that have never even come close to me, but are burned into my senses anyway. I see my mother running barefoot in the coffee plantation her family owned when she was a child. I see my father in camouflage, crouching low, still. I see ghosts. My breath catches, and my throat tightens, and I grieve for a home I have never known.
Giselle was born eight years after her parents arrived in Australia, but her words are a tribute to her parents' past lives in Vietnam, her father's service in the RVNAF, and her parents' experiences as refugees. It is about a daughter's loyalty and her recognition of her parents' pain at the loss of their country, and it is also about her own grief as the child of refugees.
This lack of visibility of the Republic of Vietnam Armed Forces (RVNAF) in the historiography of the Vietnam War inspired me to write my recently published book, South Vietnamese Soldiers: Memories of the Vietnam War and After, which is dedicated to the memory of my father, Nguyen Trieu Dan, who died in 2013.
My father was not a soldier but he served South Vietnam as a diplomat. He was from a large and very old Buddhist scholarly family in northern Vietnam, a family that traces its history back to the 15th century.
Mass migration
The event that broke the Nguyens' attachment to their ancestral lands was the advent to power in 1945 of Ho Chi Minh and the communists. Tens of thousands of Vietnamese died in the communist purges of 1945–46. Many family members fled south or overseas in the 1950s. They formed part of the mass migration of more than one million people who chose to leave communist North Vietnam for the non-communist South after the Geneva Accords split Vietnam into two halves in 1954.
Always less populous than North Vietnam, South Vietnam had a population of approximately 10, maybe 11 million at the time. It was a small country emerging from colonisation and engaged in protracted war, and yet it managed to absorb the massive influx of refugees from the communist North.
My father and many others, whether they were originally from southern, central or northern Vietnam, saw communism as a divisive and destructive foreign creed. They served South Vietnam and held great hopes for the country's future. They believed that with time, South Vietnam would develop into a truly democratic state. When Saigon collapsed in 1975, it was a terrible blow.
Forty years after the end of the war, time is running out for Vietnamese veterans to speak about the war, and to reflect on their service as well as their lives after the war
South Vietnam paid a horrendous price in the war. More than a quarter of a million South Vietnamese soldiers were killed between 1955 and 1975. In one year alone, in 1972, 39,587 South Vietnamese soldiers were killed in action.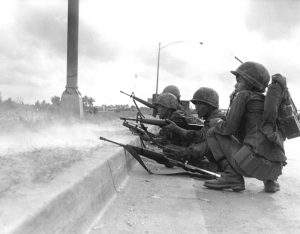 Forty years after the end of the war, time is running out for Vietnamese veterans to speak about the war, and to reflect on their service as well as their lives after the war. The oldest veteran I interviewed—and surely one of the oldest veterans of the war—was born in 1917, volunteered to join the French Army in 1939 to 'fight the Fascists', and first saw service as a press officer in North Africa in 1940 with the Free French Forces. He served in three wars—the Second World War, the Indochina War and the Vietnam War—and experienced 10 years of internment in communist 're-education camps' after 1975 before his eventual resettlement in Australia. Nearly a centenarian, he was present at the launch of my book in Melbourne in May 2016.
Many joined the armed forces as teenagers or after completing their university studies. I was struck by the number of veterans who said that they were glad they had the opportunity to tell their stories, and gave me additional material such as service magazines, photographs, and articles published in community newspapers or websites. It was clear that veterans were conscious of the silencing of their experiences.
South Vietnamese Soldiers is based on 52 oral histories covering the experiences of two generations of service personnel, and from all branches of the RVNAF—the Army, Navy, Air Force, Marines, Airborne Division, Rangers, Regional and Popular Forces, and the Women's Armed Forces Corps.
I drew on a wide range of archival sources for my research including unit histories in English, French and Vietnamese, essays and memoirs, and Australian government documents and policy papers.
Gripping accounts
There are gripping accounts by veterans who were junior officers during the war, and escaped as refugees after years of internment in Vietnam's notorious postwar 'Bamboo Gulag'—accounts such as that of a young lieutenant in the Regional Forces who became a prisoner-of-war in 1975, escaped the country and resettled in Australia, and then joined the Australian Army as a chaplain in the 1990s, or that of a Chinook pilot who successfully evacuated civilian refugees from the siege of An Loc in 1972.
An untold story is the uncovering of a communist war crime that took place in 1975, during which a group of 12 South Vietnamese prisoners-of-war were shot by their North Vietnamese captors, and buried in a mass grave.
Other accounts are those of military doctors—medical graduates from the University of Saigon who volunteered for service in elite units of the RVNAF—and who relate their experiences on the front line.
The book includes the history of the Women's Armed Forces Corps. One of the female veterans volunteered for the military at the age of 19 in 1955 and served for 16 years in the RVNAF, seven of those in the Airborne Division. There are photographs of her parachuting out of planes in 1957. Other women volunteered after the escalation of the war in the late 1960s, and served either as NCOs or junior officers until the end of the war.
A little-known aspect of Australian government policy towards Vietnamese veterans is also explored: the award of the Australian service pension to these veterans as well as the controversies that arose over this issue in the Australian parliament in the 1980s.
Finally, the ongoing repercussions of the war for the next generation are explored in a chapter on the children of veterans.
A key outcome of my project has been the establishment of a new archive at the National Library of Australia: the 'Vietnamese veterans in Australia oral history project', which contains 36 oral histories. These will be preserved in perpetuity for future generations and for a time when Vietnam can finally acknowledge this part of its history.
Featured image
Vietnamese veterans on the Anzac Day march in Melbourne in 2011. Photo courtesy of Keith Broad.