Japan's mainstream voters show they are not averse to voting women into power
On 15 September, the political glass ceiling in Japan received another dent when the main political opposition party, the Democratic Party (DP), elected Renho as its leader.
This comes very soon after another significant milestone for women in politics was passed when Yuriko Koike became the first woman governor of Tokyo. And earlier in the year, Tomomi Inada was appointed to the position of Minister of Defence in Abe's cabinet, resulting in a total of three politically powerful positions being filled by women in as many months.
In light of the dearth of women in politics, and in leadership positions in all sectors of Japanese society, these are significant developments for women and the pursuit of gender equality in Japan. It is especially symbolic given that this year is the seventieth anniversary since women gained the right to vote and run for office in Japan.
All three women are seasoned politicians so any talk of tokenism is irrelevant, and, mercifully, has been absent in public conversations about their appointments.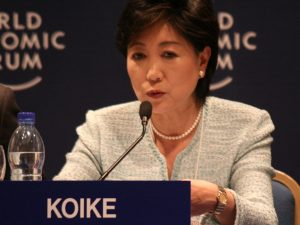 Tokyo's new governor, Yuriko Koike (pictured left), began her political career in 1992. She went through many political party permeations, including the Japan New Party, the Liberal Party and the Conservative Party, which merged with the Liberal Democratic Party (LDP) in 2003. She threw her hat in the ring for the governor position early and initially without consulting her party or seeking its endorsement.
Later she sought it out but withdrew her request when she realised it would be rejected. She went ahead anyway and ran as an independent. Her confidence was not misplaced and she was correct in understanding her popularity with Tokyo voters. Despite her two main (male) opponents having the support of their political parties, Koike came to power with a sweeping victory.
Koike was also the first woman to become Minister of Defence. She was only in the position for five weeks before stepping down due to a scandal involving the leaking of classified information.
Tomomi Inada, the second woman to take up the post, is a close ally of Prime Minister Abe. Her appointment should not be interpreted as a feminist move by Abe, as Inada is no more a friend of feminists than is Abe.
Inada is well-known for her nationalistic views and revisionist stance on some of the atrocities Japan committed in its neighbouring countries during the 1930s and 1940s. She is a member of Japan Conference, the powerful right-wing lobby group that many lawmakers in the LDP and some from the DP are associated with (Koike is also associated with the group).
Founded in 1997, the Japan Conference takes a revisionist stance on history and is keen to shift the image of Japan's participation in the Asia–Pacific War from aggressor to victim. Inada is famous for denying the veracity of claims made about the Rape of Nanking. She is also unsympathetic to the voices of the former comfort women, who continue to seek compensation and recognition from the Japanese government for atrocities carried out on them by the Japanese military during the Asia–Pacific War.
Symbolically important
The appointment of Inada to the position of Minister of Defence is symbolically important for women as it increases the visibility of women in powerful political positions, and it suggests that people in power, and perhaps broader society, are more comfortable with the idea of women in power. Substantively, however, it is unrealistic to expect Inada to act in the interests of many women.
By contrast, Koike and Renho have explicitly promised to improve Japanese society for women and children. The new leader of the DP, Renho, entered politics by winning her seat in the Upper House in 2004 on a platform of being a mother. Instead of a 'manifest', she had a 'mamafest'. She has pursued policies concerning children and families throughout her career and has stated that her goal is to ensure 'all children are happy'.
Koike has long been an advocate for improving conditions for women in Tokyo so that they can continue to work and raise a family at the same time. She penned a book with her fellow women LDP Diet members, Kuniko Inoguchi and Yukari Sato, in 2008 called Tokyo Women's Grand Strategy, outlining measures they believed were would help to improve Japan's flagging economy and women's status in the workforce at the same time.
Koike mentioned upon her victory last month that she had been touched by all the support she received from women and that it made her even more determined to improve policies surrounding childcare, elderly care and work–life balance. She also believes that one of the reasons she was elected was her gender—that the people of Tokyo wanted something new and different and being a woman helped her.
It seems that there is a mostly unspoken expectation in Japan that women will somehow be less corrupt than men and that they will act in the interests of women and children
The election campaign for Tokyo governor was not without some sexist taunts. Former Tokyo governor Ishihara Shintaro, known for his acerbic tongue, urged voters to vote against Koike because 'we cannot leave Tokyo to a woman with too much make-up'. This did not surprise Koike, who, after more than two decades in the heavily male-dominated political world is 'used to it'. Koike actually believed this taunt worked in her favour because voters' disgust at Ishihara may have manifested in more support for her.
Former Social Democratic Party Fukushima Mizuho likened Koike to a 'hawkish man' in a clumsy attempt to challenge the argument that Koike should be supported simply because she is a woman. Fukushima's comment nevertheless raises an interesting question: Should we expect women politicians to act differently to men?
Unspoken expectation
It seems that there is a mostly unspoken expectation in Japan that women will somehow be less corrupt than men and that they will act in the interests of women and children. In many cases, women do bring issues to the political table that men perhaps might not. Japan's domestic violence law, for example, was brought about in 2001 due to the work of a cross-partisan group of women members of parliament, despite opposition from some men. But many feminists in Japan are dismayed when women like Inada, and to a lesser extent Koike, are regarded as symbols of the progress women have made, because they do not see them acting in the interests of most women.
As for the mainstream voting public, Koike's landslide victory demonstrates that they are not averse to voting women into power. And Renho's appointment as DP leader demonstrates that the DP at least is not afraid to be led by a woman.
But women need to be run to be elected. One of the primary reasons for the lack of women in politics is the strength of the LDP and its failure to seek women out and run them in winnable seats. Although Abe and his party colleagues seem keen to see more women in the workforce and in more powerful positions in the private and public sector, the same desire to get more women in political office is absent.
The economic benefits of having more women in the workforce are obvious; the benefits of more women represented in politics are not as obvious. On the contrary, many male political leaders seem threatened by the idea of sharing power with women. Time will tell whether the recent boost in women in political power in Japan will change this.
Featured image
Renho, elected as leader of the Democratic Party. She has promised to improve Japanese society for women and children. Photo: Wikimedia Commons