Singapore's prosperity is being sustained by the exploitation of migrant workers
The Singaporean owner of a Melbourne brewhouse was recently taken to task by Australia's Fair Work Ombudsman for underpaying a Filipino welder hired on a 457 visa, an employer-sponsored temporary work visa.
The Sydney Morning Herald reported that the worker was underpaid by more than $20,000. The brewhouse owner blamed him for being 'disappointing and slow' and stated a preference for hiring overseas workers because Australia's labour market was too expensive.
In her response, the Fair Work Ombudsman emphasised that minimum pay rates are applicable to everyone, regardless of their visa status: lawful employee entitlements are simply non-negotiable.
The employer's comments and conduct, objectionable by Australian labour standards, would be disconcertingly unremarkable in Singapore, where exploitative labour practices in the low-paid labour market are normalised, particularly when it involves migrant labour.
While gross violations such as the blatant physical abuse of migrant workers attract punishment and public condemnation, other lesser yet consistent violations—the non-payment of penalty rates, denial of rest days, discriminatory and low wages, withholding of key personal documents, abject living conditions, forced repatriation—are generally tolerated and, in certain instances, exacerbated by both institutional acceptance and inertia.
With one of the highest concentrations of non-resident workers in Asia, Singapore's labour migration policies are frequently labelled liberal. A more accurate descriptor would be highly utilitarian and elitist.
Under Singapore's stratified and complex work pass system, different tiers of foreigners are accorded different sets of privileges and restrictions. Higher-paid foreigners on Employment Passes (EPs)—locally termed 'foreign talent'—are positioned by the ruling government as necessary to boost Singapore's economic competitiveness and global standing as an attractive business hub.
EP holders who earn more than S$5,000 (A$4890) a month are eligible for Dependant's Passes for spouses and children and those who earn more than S$10,000 (A$9780) a month can apply for Long Term Visit Passes for their parents.
Unlike low-paid migrant workers, such as construction workers and cleaners, EP holders are not constrained by source-country restrictions, which funnel workers of some nationalities to work in particular industries while barring them from others. EP holders are also eligible to apply for permanent residency and citizenship, although the criteria determining a successful application remain ambiguous.
Aggressive push
This aggressive push to attract 'quality talent' and transform Singapore into a knowledge economy has not only resulted in the consolidation of high-paid professional jobs, but also the continuous expansion of low-paying jobs in the construction and service industries that are integral to sustaining and servicing Singapore's new economic infrastructure and the lifestyle demands of its increasingly affluent and time-poor consumers.
As of June 2015, there were 993,900 low-paid migrant workers in Singapore—referred to locally as foreign workers—out of a foreign workforce of 1.3 million, of whom 322,400 were construction workers and 227,100 female foreign domestic workers.
Hailing from countries in the region—Bangladesh, China, India, Indonesia, Philippines and Myanmar, among others—these temporary migrant workers enter Singapore on employer-controlled, time-restricted work visas known as work permits. Under this 'use-and-discard' system, work permit holders are not eligible for permanent residency or family reunification; there are also restrictions on marriage to locals and, if female, reproductive rights.
Employers of work permit holders are subject to a monthly tax known as the foreign worker levy and have to furnish a S$5,000 security bond for each non-Malaysian migrant worker hired. Critically, the work permit system restricts job mobility, and migrant workers who are dismissed have little recourse but to return home.
The exorbitant recruitment fees most pay to work in Singapore—sometimes equivalent to a year's salary or more—exact a coercive power. Migrant workers frequently endure depressed wages and punishing working conditions for fear of losing their jobs and being repatriated. Those who seek remedial justice when unpaid, injured or unjustly dismissed face a range of obstacles, from dwindling financial resources to homelessness, bureaucratic indifference and a lack of concrete evidence in which to pursue their claims.
In 2008–09, while conducting fieldwork in Singapore, I met several groups of migrant Chinese construction workers embroiled in a salary dispute with their employer, Hai Xing Construction (a pseudonym), a subcontracting company.
The men had been working on two high-profile casino developments backed by large gaming companies. The men complained of withheld wages, unfair deductions, excessive work hours and underpayment.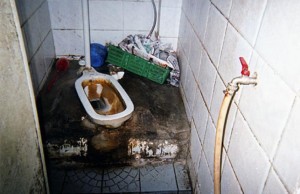 While most of them had signed an employment contract in China, they were not given copies. They also alleged they were presented the employment contracts after recruitment fees were paid—not signing meant forfeiting their fees, as well as the job in Singapore.
The contract, which surfaced later during Labour Court proceedings, was shown to have numerous illegal and unreasonable terms, including the withholding of salaries for three months and the denial of overtime pay, annual leave, medical leave and additional payments for work done on public holidays. Additionally, the men, who lived in overcrowded premises rented by their company, expressed shock and disgust at their living conditions.
An unfortunate few were wrongfully confined by a hired repatriation company, then spent time in a police station
When the men had had enough and left their company to file complaints with the Ministry of Manpower (MOM), their boss claimed they had breached their employment contracts. Among the first group of Hai Xing workers who underwent mediation at MOM, some had worked for two months without being paid and returned to China with just S$100 (A$98).
Subsequent groups of Hai Xing workers who sought to claim their withheld wages and payments for penalty rates fared marginally better, but not without having to endure frustrating delays. An unfortunate few were wrongfully confined by a hired repatriation company, then spent time in a police station and at the Immigration and Checkpoints Authority because the company had withheld their Special Passes, then called the police to report them as 'overstayers'. Meanwhile, Hai Xing Construction continued to operate without public censure.
While the incidents described above took place in 2008–09, reports from local migrant worker non-governmental organisations (NGOs), and my own stint as an NGO case worker in 2014, indicate strongly that while construction companies may have modified contracts for greater legal compliance, these on-paper refinements belie the persistence of various forms of wage theft and wage manipulation, among other violations.
Main photo:
Geylang Road, Singapore. Bjørn Christian Tørrissen, Wikimedia Commons, CC BY-SA 3.0