DAMIEN KINGSBURY analyses the surprise election of Maithripala Sirisena as president last month and sees it as reflecting a desire for a more open, less authoritarian political process.
The recent election in Sri Lanka of the new president, Maithripala Sirisena, has surprised many who thought that ousted Mahinda Rajapaksa would remain in office more or less for as long as he liked. After an impressive victory of around 58 per cent in the 2010 elections, changing the constitution to allow the president to run for more than two terms and with his grip on the levers of state power and suppression of dissent, it was widely believed that Rajapaksa would continue to consolidate his hold on Sri Lanka's politics.
However, Sri Lanka retained credible vestiges of its former democratic process and the 2015 elections were a fairly accurate representation of the wishes of the country's majority. Rajapaksa's popularity following the defeat of the separatist Tamil Tigers in 2009 was countered by increasingly high levels of corruption and nepotism, and being cast as essentially anti-democratic. Striking a different note, Rajapaksa's opponent and former cabinet member until last November, Sirisena, promised a return to something approaching normality.
As the results of the election started to become clear, it has been claimed that Rajapaksa attempted to stage a coup. That claim is now being investigated by the new attorney-general. What is clear, however, is that the level of support Rajapaksa believed he had from the security services was less than he had anticipated. Regardless of Rajapaksa's attempt to remain in office, Sirisena is now firmly in control. Sri Lanka's media has breathed a sigh of relief, after more than five years of close control, regular threats, the fleeing overseas of some journalists and the deaths of others.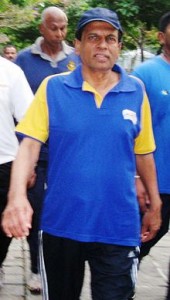 High levels of official corruption are also being investigated, especially in relation to the Rajapaksa family's involvement in Chinese investments in Sri Lanka. In a high-stakes political game, it is unsurprising that the winner will want to diminish the losing opponent. But much of Sirisena's attention on the Rajapaksa clan does appear to comply with conventional good governance practices. In this, Rajapaksa has no-one but himself to blame for what looks like an increasingly difficult predicament.
Among promised reforms, Sirisena says he will end Sri Lanka's executive presidency and return the country to being a parliamentary model, as it was until constitutional changes in 1978. From that time on, political power was vested in the formerly largely ceremonial role of the president, initially under a semi-presidential system, in which the president and the prime minister shared power, and then increasingly in which all executive power was vested in the president.
If Sirisena follows through on this promise—and it has been supported by Rajapaksa's parliamentary majority United People's Freedom Alliance—Sri Lanka will be returned to a more accountable and less authoritarian political process. This appears to correspond to a general appetite for openness by most Sri Lankan people.
Sri Lanka's politics has, since the early 1970s, been subject to strong political shifts, with parliamentary majorities often controlling more than two-thirds of seats and hence holding constitution-changing power. However, with the election of Sirisena and the loss of Rajapaksa's patronage, Sri Lanka's parliament can be expected to return to something close to balance at the parliamentary elections called by Sirisena for a few months' time—two years ahead of schedule.
While a significant proportion of Sri Lanka's Sinhalese ethnic majority voted against Rajapaksa, they perhaps comprised a minority in favor of Sirisena. His vote was bolstered by overwhelming support from the Tamil and Muslim minorities, who between them make up around a quarter of the population. The ethnic minority vote against Rajapaksa reflected their sense of alienation following the state's military victory over the separatist Tamil Tigers, which resulted in a 'winner takes all' triumphalism. Added to a growing sense of majority Buddhist chauvinism, Muslims, perhaps 10 per cent of the population, felt increasingly isolated.
As architect of the destruction of the Tamil Tigers and the continuing occupation of the north of the country, Rajapaksa was widely seen by ethnic Tamils as the problem rather than the solution to the question of inter-ethnic harmony.
For Sri Lanka's Tamil population, the events of 2009 did not mark the end of a war and the beginning of a healing process but the military occupation by overwhelmingly ethnic Sinhalese soldiers of Tamil lands. There have continued to be widespread reports of rape, disappearances, theft and other human rights abuses. While many Tamils did not support the Tamil Tigers, they have overwhelmingly felt targeted as the 'enemy' by the victorious Sinhalese.
As architect of the destruction of the Tamil Tigers and the continuing occupation of the north of the country, Rajapaksa was widely seen by ethnic Tamils as the problem rather than the solution to the question of inter-ethnic harmony. One view is that Sri Lanka has been in a postwar environment, but not post-conflict and that there has been little or no effort by the government to try to heal past wounds.
The problem now facing the Tamils, and to a lesser extent Sri Lanka's Muslims, is that while Sirisena has lifted repression of dissent within the Sinhalese community, there was no promise and, to date, no sign that he will do so for the country's ethnic minorities. In some respects, then, Sirisena reflects Sri Lanka's past, before the rise of the executive presidency but within an environment still marked by ethnic discrimination and turmoil.
It may be that Sirisena will move to heal the deep rift between Sri Lanka's divided communities, and that he has an inclusive reformist agenda. But, as a former member of Rajapaksa's government and occasionally acting defence minister during the war with the Tamil Tigers, there is no guarantee that is his intention.
Main photo:
Protest against Rajapaksa seeking a third term, 18 November 2014 (Wikimedia Commons).