Women in Iran are realistic about the difficulty of undoing more than three decades of institutionalised discrimination against them, writes REBECCA BARLOW.
Views on the prospects for meaningful change under Iran's new leadership are mixed. Some have expressed hope that new president Hassan Rouhani will usher in a period of greater cultural openness with the West, particularly the United States, and relax the social and legal restrictions of the Ahmadinejad regime. Others have been more pessimistic, labelling Rouhani the best of a bad bunch. Iranian women voters were highly visible in the June 2013 presidential election. What does Rouhani's leadership mean for them?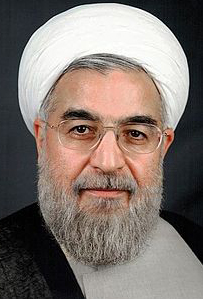 Rouhani has inherited a tough legacy when it comes to the treatment of over half of his constituents. One of the first legal steps taken by the Islamic Republic in 1980 was to annul the Family Protection Act (1967) and abolish the Family Protection Law (1979), doing away with a range of legal protections and rights for women in the areas of marriage, divorce, and custody of children.
Rouhani's immediate predecessor, the conservative Mahmoud Admadinejad, led a government known for tactics of harassment and intimidation against women's rights activists. Over the course of his presidency (2005–13) scores of women were jailed for speaking out on women's issues, including lawyer Nasrin Sotoudeh, activists Bahareh Hedayat and Zhila Karamzadeh-Makvandi, and journalists Zhila Bani Ya'ghoub, Shiva Nazar Ahari, and Mahsa Amrabadi.
One of the final policies introduced by the Ahamadinejad government before the end of its tenure in June 2013 was new legislation to close a range of university courses to women applicants. More than 30 universities introduced a new rule banning female students from over 80 courses. No official reason was provided, but according to Nobel Peace Prize laureate Shirin Ebadi, it was a government attempt to thwart women's participation in society and encourage them to stay at home.
In a huge political statement in 2009, authorities closed Ebadi's Tehran-based Human Rights Defenders Centre and confiscated her Nobel Peace Prize—which she had won for defending the rights of women and children in Iran. This was a historical first. Subsequently, Ebadi was unable to return to Iran after attending a conference abroad, the day before Ahmadinejad was controversially re-elected. In the unrest that followed the fraught elections, several key activists were targeted. Ebadi's colleague, prominent defender of women's rights Nasrin Sotoudeh, was imprisoned under the charge of propaganda against the regime and 'acting against national security.
And yet the same election year saw glimmers of hope for the nation's women. While official policy and laws may have stagnated, popular consciousness has by and large evolved. 'The women's movement has been challenging Iran's male-dominated establishment for years,' says retired university professor Saeed Modifar, '[and] traditional politicians now see educated and powerful women as a threat'.
Broke taboo
Zahra Rahnavard, wife of the reformist cleric and de-facto leader of the Green Movement, Mir Hossein Mousavi, became a public sensation during her husband's 2009 presidential campaign. Rahnavard and Mousavi broke taboo by holding hands in public throughout the campaign. As a highly accomplished and top-ranking university professor, Rahnavard placed women's issues high on the agenda of the campaign trail and openly criticised the record of the incumbent Mahmoud Ahmadinejad. When asked what women's activists are fighting for in Iran, Rahnavard said 'the answer is simple—equality between men and women'.
When fellow-reformist Hassan Rouhani was elected president in 2013, he appeared to take heed of the potential power of the nation's women. As an ex-diplomat, Rouhani gained support by hinting at a more moderate stance than his predecessors. In an election debate on Iranian television, Rouhani said that 'upholding justice … and civil rights' would characterise his leadership. And in an interview with Iran's reformist daily Sharq he said, 'What I wish is for moderation to return to the country … Extremism pains me greatly. We have suffered many blows as a result of extremism'.
My expectation is that the process that has started will continue. If it does not continue, it means that this was a move made for appearances.
Thirty-seven million Iranians—nearly 73 per cent of the electorate—turned out to vote on 14 June 2013. Eighteen million voted for Rouhani. In his inauguration speech Rouhani emphasised three major policy issues: to reduce government interference in people's lives; to turn around the country's ailing economy; and to advance women's rights. He went so far as to suggest that under his leadership Iran would take steps to comply with Uited Nations standards on gender equality, and pledged to establish an independent ministry for women.
The first sign that Rouahni would make good on his promise to prioritise women's issues came in a landmark decision on 19 September 2013, when Sotoudeh was freed from prison after serving two years of her six-year prison sentence. While authorities gave no official explanation for her release, Sotoudeh said: 'My expectation is that the process that has started will continue. If it does not continue, it means that this was a move made for appearances. But I am extremely hopeful that this will continue.'.
A number of socially active Iranian women I have met with in recent times have presented the same kind of optimism. In fact, according to one family lawyer, many Iranian women are more hopeful than ever'about prospects for change now that the 'eight years of misery' under the Ahmadinejad regime are behind them.
So exactly what kind of changes are women hoping to see under Rouhani's leadership? A university lecturer on culture and tourism said she hoped Rouhani's pledge to open Iranian relations with the West would result in women themselves being more internationally-minded. She anticipates that a new era of greater cultural openness will 'open a window for women to see what is going on in other societies so they can think and behave internationally, instead of being stuck in old, traditional, and limited ways of thinking'.
Promises
Yet the women also emphasised that Rouhani's promises will take time, because as in any other country, proposed changes are subject to the long and complicated process of legislation and executive review. There was a clear recognition and acceptance of the need for incremental reform, and a distaste for revolutionary upheaval. 'Of course we don't want to overthrow the regime,' said another young woman—'we tried that 30 years ago, and look what happened'. The lawyer agreed, reminding her friends that 'law reform in Iran is so difficult because regulations [must be] compatible with Sharia and any movement against the laws would be against Sharia. The only way is to convince the Ayatollahs, who are experts in Sharia, to find new interpretations of some sharia rules'.
The picture painted here is one of a sanguine perseverance coupled with realism about the difficulty of undoing more than three decades of institutionalised discrimination against women. Perhaps the following sentiments expressed by one of the women I spoke with best summarise the vision and reality for Iranian women under Rouhani's leadership: that there will be progress towards equality, but it will be incremental and tempered by the strictures of the Islamic Republic. 'Remember', she said, 'Rouhani is a religious man so of course he does not want to change the regime … all the presidents of Iran, including Rouhani, try to save the Islamic Republic [from political decline]. But that's ok. We are young and we have hope that they will make some changes. Nobody in Iran can make big changes, but I think he [Rouhani] can do something good.'
Photo:
Two women wearing a black chador, near Tehran Grand Bazaar (Fabien Dany – www.fabiendany.com). This file is licensed under the Creative Commons Attribution-Share Alike 2.5 Generic licence.