Narendra Modi and the BJP were swept to power in 2014 on a promise of major change. PETER MAYER assesses Modi's record after 12 months.
When the results of the national general elections in India were announced in mid-May, 2014 they signalled a major rupture in the established pattern of national politics. Most observers and polls had predicted that the Bharatiya Janata Party (BJP Indian People's Party) would defeat the tired Indian National Congress, which had been in office for two consecutive five-year terms. But almost all observers also assumed that the BJP would not win a parliamentary majority in its own right and would thus need to create a coalition with like-minded regional parties in order to form government.
Instead, the BJP secured 282 of 543 seats in the Lok Sabha, India's lower house of parliament, the first time in 30 years a single party had won an outright majority. The defeated Congress Party, led by the duo of Prime Minister Manmohan Singh and party president Sonia Gandhi, crashed from 206 seats in 2009 to just 44. The hopes of a number of less well-known powerbrokers in India's states of winning meaningful numbers of seats and thereby influence were also dashed; most were lucky if they managed to save their own seats.
There was a second, significant aspect to the rupture. Narendra Modi, the BJP's annointed candidate for prime minister, ran a strikingly presidential campaign. At the technical level, the BJP campaign was sophisticated and professional, including addresses remotely delivered by Modi in 3-D holograms.
But transcending that, the campaign projected Modi almost to the exclusion of all other senior party leaders. On the platform, Modi promised that 'good times' would come if he were elected; he frequently suggested that the rapid economic development, corruption-free government and reliable electricity supply which he had established as chief minister of the state of Gujarat would be experienced in all of India following a BJP victory. The two key promises he repeatedly made were that a Modi government would bring parivartan (change) and vikas (development).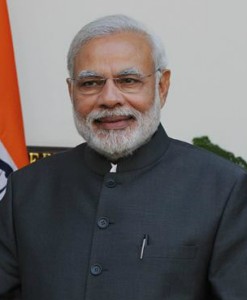 At the end of the first year in office, there is surprising agreement in many assessments of Modi's government. Modi's commanding personal dominance, clearly visible during the 2014 campaign, now extends to the government in New Delhi, the parliament and the BJP itself. The Economist captured this recently with a striking cover devoted to Modi as 'India's one-man band'. Most executive decisions are now funnelled through the Prime Minister's office. A kitchen cabinet of two trusted colleagues is widely believed to set all government policies. Most of the rest of Modi's cabinet are amiable nonentities without conspicuous talent. A joke doing the rounds in New Delhi captures this personal domination:
Q: What's the difference between the previous Congress government
of Manmohan Singh and the present BJP regime?
A: Under the Congress we had a
government, but no prime minister; under the BJP we have a prime minister, but no government.
On the economic front, there is a mixed story to tell. Modi (pictured) has been very fortunate that the worldwide fall in petroleum prices began soon after his inauguration. This helped to bring down the cost of living, and with it, the overall rate of inflation. In addition, the Indian economy is forecast to grow at over 7 per cent in the coming year, one of the highest rates in a world of sluggish growth.
The projected implementation of a national goods and services tax could revolutionise the finances of the states, especially if it results in sweeping away state and city border taxes like the octroi, which seriously impede the interstate movement of goods. The Economist, for example, reported in 2006 that a journey by truck from Kolkata to Mumbai of around 2000 km took eight days to complete. The truck averaged 11 kms an hour, in large part because the driver spent nearly a day and a half waiting at toll booths and checkpoints. Bad roads and the dangers posed by armed communist insurgents were responsible for additional delays.
On the agricultural front, Modi has been less fortunate. Freak storms in north India have created widespread hardship and the forecast for this year's monsoon is modest at best. Reforms to the economy also tell a mixed tale. Modi has successfully re-auctioned licences for coal exploration, which were found to be corruptly allocated under the previous government. This bolsters the claim that there have been no corruption scandals in Modi's first year. To be realistic, though, it is rare for corruption to emerge in the first year of any Indian government.
Despite generally good economic statistics, India's business class is beginning to become restive because the pace of change is slower than hoped or expected.
Other reform measures have not fared as well. Modi's promise to repatriate reputed fortunes in illegally held 'black money' from overseas is yet to bear significant fruit. A major BJP initiative to make it easier for industry to acquire land from farmers by taking away local veto powers that existed in earlier legislation has united India's rural classes. This has been a gift for the battered opposition parties, which retain a majority in India's upper house of parliament, allowing them to position themselves as defenders of village India.
Some economic reforms have proven to reside permanently in India's political 'too hard' basket. The Modi government has promised to introduce reforms to India's labour relations in the near future. Removing well-intentioned labour regulations such as those which make it virtually impossible for middle-sized and large firms to lay off workers, will be a significant test of Modi's political will and skill, since he will face opposition from both organised labour and the opposition parties. India's many—often loss-making—state-owned enterprises (SOEs) pose a similar test. Like previous governments of all persuasions, the Modi government appears to find the privatisation of India's SOEs simply too difficult.
Thus, despite generally good economic statistics, India's business class is beginning to become restive because the pace of change is slower than hoped or expected. Prominent business people complain that despite promises to significantly ease the government restrictions on business operations, little has changed in a year.
'Make in India'
Prominent economic campaigns which Modi has launched, such as 'Make in India', which aims to greatly increase the role of manufacturing in the economy, have been slow to bear fruit. Indeed, without changes to labour laws, the laudable aim of raising manufacturing's share in the Indian economy will prove difficult. And, without a sharp rise in manufacturing employment, India may not be able to cash-in on the potential 'demographic dividend' available in its youthful population. There are already anecdotal reports that youthful voters in small-town India, who responded enthusiastically to Modi's promises of change leading to meaningful employment, now seem to be growing disenchanted.
One of the most striking and visible aspects of Modi's tenure as prime minister has been his activity on the international stage. Here the contrast with his predecessor is palpable. In his first year in office, Modi visited nearly 20 countries‑including the first visit by an Indian prime minister to Australia since 1986. On his visits to the United States and Australia, as well as holding the usual meetings with government and business leaders, he addressed rallies attended by large numbers of highly enthusiastic Indian migrants.
Opinions differ on why Modi has spent about 14 per cent of his first year in office outside the country. The desire to insert vigour into India's relationships with its neighbours, and Asia more broadly, is clearly evident. But national security clearly forms another motive, as indicated by the signing of a deal to purchase jet fighters from France. Energy security was on the agenda in one of Modi's visits to Nepal. One objective sought during reciprocal visits by Modi and the newly elected prime minister of Sri Lanka was weakening the close relationship with China which the previous government in Sri Lanka had pursued.
Self-validation
But there also may be an element of self-validation at work as well. Following the major communal riots which occurred in Gujarat in 2002 when Modi was chief minister, the United States, France, the UK and many other western nations refused to issue Modi with visas. National desires to have sound relations with India, and Modi's commanding position as Indian prime minister have washed away all earlier restrictions; foreign travel demonstrates unequivocally that Modi is now welcome everywhere.
Modi's first year in office has been characterised on the one hand by announcements of policy initiatives of breathtaking scope and by palpable silences on the other. Among the striking policy announcements was that of Namami Ganga (religious salutation to the Ganges), a promise to clean up the sacred River Ganges in three years. While no one would disagree with the objective, some suggest that a 200-year time horizon may be more realistic.
Another sweeping policy was the Jan Dhan (people's wealth) scheme which required India's nationalised banks to open accounts for all citizens. Linked to the ambitious universal identity card scheme launched by the Congress government, in principle, this will allow the government to make direct welfare payments to India's poor. In its initial phase, however, many of these newly created accounts were not accessed by their owners. If government welfare payments start to flow into them, that situation will undoubtedly change.
Another bold policy initiative was Swatchh Bharat (clean India) which promised to create 120 million toilets for India's poor by 2019, and in the interim to clean the streets in India's cities and towns. The latter offered irresistible photo opportunities for ministers to be photographed sweeping streets in New Delhi.
Balanced against policy announcements that spoke of a refreshing breadth of ambition and vision were worrisome silences. During Modi's first year in office, BJP-affiliated Hindu nationalist organisations launched campaigns to 'reconvert' India's Muslims and Christians back to Hinduism.
There was also a spate of vandalisations of Christian churches in New Delhi. While Modi has offered no comment on the reconversion movement, he eventually condemned the attacks on churches. After trenchant criticisms from the New York Times ('What will it take for Prime Minister Narendra Modi to speak out about the mounting violence against India's religious minorities?') and even President Obama, Modi eventually gave forceful assurances, as he did in an interview with TIME magazine: 'All religions and all communities have the same rights, and it is my responsibility to ensure their complete and total protection. My government will not tolerate or accept any discrimination based on caste, creed and .'
The usual advice to reforming political leaders is that they should implement their unpopular and difficult policies as early as possible in their term of office; the nearer one comes to the next election, the more difficult reform becomes.
As one who has promised major changes, Narendra Modi does not seem to feel he must follow that political dictum. Whether that is a reflection of supreme self-confidence in his ability to follow a reform timetable of his own choosing, or is a sign that his reforms will be far more modest than his most ardent supporters have hoped, the coming years will show.
Main photo:
Narendra Modi launches the Make in India campaign.