A new museum commemorates the life of one of Indonesia's most famous human rights activists. VANNESSA HEARMAN reports.
Indonesian human rights activist Munir Said Thalib was born in the hillside town of Batu, near the city of Malang in East Java, in 1965.
Munir became known as a courageous lawyer and activist just prior to the fall of Suharto—but even more so, after the fall of the regime, in pursuing the state for the New Order regime's human rights abuses. Trained as a lawyer at Brawijaya University in Malang, the young Munir distinguished himself in East Java for his progressiveness. At the Surabaya Legal Aid Institute, he took up cases on human rights, land disputes, corruption and abuse of power by the authorities, before moving to the capital to work at the Jakarta Legal Aid Institute.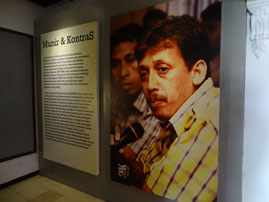 Munir initiated the organisation Kontras (Commission for the Disappeared and Victims of Violence) in Jakarta following the 1997–98 disappearance of dozens of activists, 13 of whom have never returned. He also led a commission of investigation, in 1999, into the post-referendum violence in East Timor, which called for a United Nations-sponsored international tribunal. His work was recognised internationally through a number of awards.
In September 2004, Munir left Indonesia for Amsterdam to pursue further studies. During his journey, he was poisoned with arsenic, and died painfully aboard the flight. His last days are chronicled through a display at the museum devoted to him, Omah Munir (Munir's House), in Batu, which opened a year ago, on 8 December 2013.
An investigation into his death found that intelligence officials from Indonesia's State Intelligence Agency (BIN), A.M. Hendropriyono and Muchdi Purwopranjono, helped plan the murder. However, they remain unpunished for the crime. Muchdi was acquitted of the murder by the South Jakarta District Court in 2008. In October 2013, Indonesia's Supreme Court cut the 20-year sentence of the man convicted of murdering Munir, former Garuda pilot Pollycarpus Budihari Priyanto, to 14 years.
Inadequate punishment
Munir's widow, Suciwati, feels the state has failed to punish these men adequately, and the true nature of the murder—that it was a political assassination—has never been revealed. She decided to set up the Munir museum because she felt she had exhausted every avenue and was tired of asking the state to do the right thing. Through the museum, Suciwati wants people to recall Munir's life, not just about how he died—and in particular, to remind them of the richness of his life when he was taken away from her, at the age of 37.
The museum, particularly in its location at Munir's birthplace, reflects a growing range of initiatives at the local level and, to a certain extent, the abandonment by activists of the central government in the face of former President Yudhoyono's patent failure to tackle past human rights abuses.
Historically, the New Order regime under Suharto, which was in power from 1966 to 1998, has dominated the creation of museums and monuments and determined how Indonesian history should be written and reflected. While private museums are increasing in Indonesia today, many focus on art or family history.
The museum opened on what would have been Munir's 48th birthday—two days before International Human Rights Day. The choice of site, the house Munir and Suciwati shared with their two children, and in which Suci said they had hoped to grow old, was because Suci wanted to turn it from a place of lost dreams into one of defiance.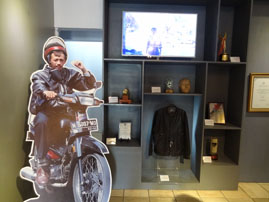 A team of curators, led by Andi Achdian, a history graduate from the University of Indonesia, worked with human rights organisations to assemble the museum, finding, for example, texts to illustrate the kinds of cases Munir was involved in. Funding for the museum came from donations and fundraising nights involving Jakarta musicians and celebrities.
One of the most novel aspects of the museum (novel for Indonesia) is the blurring of the personal and the political. The museum hooks the visitor into the larger story of human rights activism through Munir's own story. His biography is presented in large wall panels such as the one stating, 'The beginning of Munir's journey'. Another panel deals with the Marsinah case, where the young worker- activist, Marsinah, was raped and killed in East Java, probably as punishment for her involvement in a strike in her workplace in 1993. Other panels deal with land disputes, such as at Nipah, where Munir was involved in representing poor farmers about to lose their land. Personal items, such as Munir's clothing, worn-out shoes, books, badges and awards, are also displayed and serve as an entry point to insert Munir into the larger story of human rights activism under the New Order.
There are also photographs of Munir at work, and his wooden desk from the Surabaya Legal Aid Institute is also there. Because of the range of cases he was involved in—many of them significant national rights cases—using them to tell Munir's story serves to educate museumgoers about the history of human rights activism under the New Order.
Memory fading
Many museumgoers are young, mostly students. But there are also families visiting Batu, whose cool hillside location attracts many local tourists. Therefore knowledge of, and sympathy for, human rights cannot be taken for granted. In addition, memory of the Suharto authoritarian era is fast fading in Indonesia—but is also being partly countered by Suharto nostalgia, encouraged by elite politicians and the Suharto family (the Suharto museum in Kemusuk, Central Java, opened in 2013).
The Munir museum establishes a place to remember him as both a person and the human rights activist. However, its creators also realise the limits of collective memory, and therefore seek to extend an understanding of Munir and human rights activism to new audiences.
Part of the task of extending Munir's 'presence' is by distilling his figure into a symbol, such as by the use of images—Munir's head, for example—as well as through his personal story. Under Indonesia's new president, Joko Widodo, the future of human rights is uncertain. The former head of BIN, Hendropriyono, was part of the president's campaign team. Retired general Ryamizard Ryacudu, who praised the soldiers convicted of murdering Papuan leader Theys Eluay, has been appointed defence minister. This does not bode well for the upholding of human rights in Papua.