Waste picking in more than a survival strategy for the poor of Cambodia's capital
The management of solid waste management in Cambodia's rapidly urbanising capital, Phnom Penh, continues to make headlines.
Last month the Phnom Penh Post reported that City Hall is investigating two new districts for potential dumpsites. The current landfill at Choeung Ek in Dangkao District receives between 1,500 and 2,000 tonnes of solid waste a day and is already overflowing less than six years after it opened following the closure of the previous dumpsite at Stung Meanchay. With the price of land escalating, an environmental non-governmental organisation is encouraging City Hall to invest in new dumpsites now, with costs expected to triple if left until 2022.
Cintri, the private company granted a 49-year monopoly concession to collect and transport rubbish from the city to the current Choeung Ek dumpsite, is having its own troubles. Workers went on strike over low wages resulting in piles of garbage filling the streets; 20 per cent of residents refuse to pay for the service; and the company complains that it is unable to generate profit. After repeated public criticism for poor performance, City Hall recently met with Cintri offering the beleaguered company one last chance to improve its performance.
In spite of bureaucratic and corporate woes, hundreds of waste pickers continue to forage for recycling materials and other valuable objects on the Dangkao landfill earning incomes comparable to those of the country's garment factory workers. Their efforts extend the life of the landfill through the extraction of valuable materials—which would have stayed in the landfill if not for their efforts—to be recycled and used by industry. Yet they are not supported by City Hall.
Picking is a flexible form of self-employment for those with very little capital, and offers more opportunities than other options available
Prior to the opening of the Dangkao landfill in 2009, City Hall stated that waste pickers would not be allowed in—even though thousands of them had for decades become informal entrepreneurs collecting recycling and other valuable objects and selling them to a range of dealers at the former Stung Meanchay dumpsite.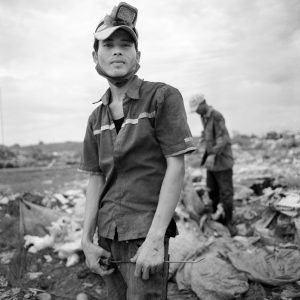 Although waste picking has been characterised as being merely a survival strategy for poor and transient populations, Phnom Penh's pickers have been able to create value through a multitude of public acts of ownership within wider social relations.
Picking is a flexible form of self-employment for those with very little capital, and offers more opportunities than other options available. The waste pickers feel proud of their earnings and relish occasions when they find things of higher exchange value such as mobile phones, electronics and jewellery.
Such acts also create other forms of value—moral values about being a good provider. This is, in part, due to the manner in which the pickers have formed a cohesive social group with distinctive norms, practices, obligations and entitlements that regulate activities and incorporate (and value) waste in their daily lives in a way that is unique to the group.
The community reinforces largely egalitarian communal values that enable individual pickers and the community as a whole to create and realise additional personal, social and economic value from the waste. These acts contribute to social relationships in the village and internally and externally define the group.
As their value creation processes centre on waste and the dumpsite, the pickers have to negotiate tensions within relations with outsiders, which are framed by stigma and in some cases voyeuristic fascination. This includes the often fraught nature of their engagement with aid workers, which is sometimes ill-conceived and non-egalitarian in spite of the overarching desire of aid workers to help the community. The pickers' attempt to undermine processes that threaten their community and way of life, and their ability to largely maintain their values as others attempt to subvert them, reveal their agency and social cohesion.
Despite City Hall's public declarations that waste pickers would not be allowed into the new Dangkao landfill when the Stung Meanchay site closed, municipal employees allowed them to enter the landfill via a side path and collect recyclables as they had done for many years. Yet they forbid all the former recycling dealers from operating on the site with the exception of a single trader—which meant lower incomes for the waste pickers.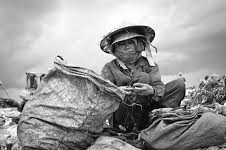 Over the past five years, however, the waste pickers have continued to thrive at Dangkao landfill—and the old dealers have returned too. History suggests, however, that various processes to deter the waste pickers from their way of life, both nationally and internationally, will continue to result in the value-creation processes of the pickers and others in the informal sector being mostly disregarded by governments.
The failure to understand the waste pickers' lives has often resulted in the development of solutions to deal with the city's waste that do not build on the value and value systems created by local communities. Instead, global values are validated and local processes are considered demeaning, backward, exploitative and inefficient. This view sees these inherently out-of-place people, dealing with matter out of place, as ultimately polluted.
However, as City Hall contemplates the future of solid waste management in the capital, officials need to also incorporate and involve waste pickers and the dynamic informal recycling sector within the city's formal solid waste management processes.
Main photo:
Waste pickers at the former Stung Meanchay dumpsite in Phnom Penh.