HYUNG-A KIM sees glimmer of hope for bridge-building between North Korea and South Korea in 2015 following North Korean leader Kim Jong-un's new year declaration that he's open to discussions.
North–South Korean relations have for 70 years teetered on the verge of war, with the Korean War of 1950–53 gruesomely demonstrating the drastic consequences of attempting to resolve the impasse with guns and bloodshed.
And yet, since that catastrophic lesson in the sheer cost of war, commonsense has not prevailed, with multiple incursions and assassination attempts by North Korean agents, and the South clinging to the military might of the United States, including its nuclear umbrella, and its own massive military establishment, to neutralise the North's threats, including nuclear threats.
Surprisingly to many people, including North Korean watchers, North Korean leader Kim Jong-un declared in his new year address that he was open to holding discussions with South Korean President Park Guen-hye, stating, 'Depending on the mood and circumstances to be created, we have no reason not to hold the highest-level talks'.
[ratina][/ratina]Kim's declaration, along with several recent events, seems to indicate a thawing of the relationship, at least on the surface. This is so, especially when one considers President Park's Dresden proposal of March 2014, in which she outlined some potentially workable areas of bilateral collaboration. Despite their initial dismissal of Park's proposal, in October 2014, some of the North's highest officials subsequently paid a short friendly visit to the South that sparked substantial excitement and speculation.
As recently as 6 January, in response to Kim's offer of conditional dialogue, Park publicly said, 'North Korea should come forward for inter-Korean talks and cooperation as soon as possible, to discuss specific projects to establish peace and unification on the Korean peninsula'.
What do these recent statements actually indicate, and what would be acceptable to both sides, including the South Korean people, as feasible initiatives towards their ultimate aspiration of reunification? A significant factor in the scope for dialogue between North and South Korea is the importance given to unification through dialogue by Kim in his New Year Address. Some relevant excerpts from the official transcript issued on the website of the National Committee on North Korea stated that:
The north and the south, as they had already agreed, should resolve the national reunification issue in the common interests of the nation transcending the differences in ideology and system …. and there is no reason why we should not hold a summit meeting if the atmosphere and environment for it are created. In the future, too, we will make every effort to substantially promote dialogue and negotiations.
Kim's uncannily strong focus on dialogue, however, needs to be understood in the context of the declaration by President Park of her own reunification model which she had announced in a speech in Dresden, Germany. Known as the Dresden Declaration, this model suggested three priority fields of collaboration that could build the foundations for future reunification.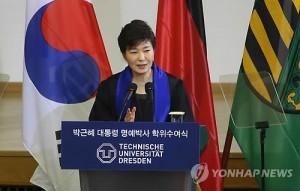 Firstly, her model focuses on humanity, prioritising family reunification. Since the Korean War it has been impossible to reunite the families separated by the war; and only since 2000 have a limited number of separated families been able to meet briefly for a few days. Secondly, her model focuses on co-prosperity through the development of inter-Korean infrastructure projects and consequent improvements to the livelihoods of all Korean people. Thirdly, her model focuses on the integration of the people of North and South Korea, redressing the overwhelming absence of people-to-people contact among those on opposite sides of the border.
North Korea initially rejected Park's unification proposal, pointing out that it again indicated South Korea's desire to annex North Korea rather than to unify with it. Yet, the North appears to have now again opened the door to dialogue with the South, although no one can be sure how genuine this thawing of the relationship is and what it will lead to or under what conditions.
Common desire for unification?
It seems quite clear that both Koreas desire the reunification of the peninsula, but both sides also have grave fears and suspicions about the potential political, economic and societal consequences. The North fears that the economically powerful South, with the support of other western/capitalist countries, would, in the course of reunification, effectively absorb the North.
To protect the continued existence of the North Korean regime and ideology, Kim Jong-un does not want the South's allies involved in the reunification process. He thus saw the Dresden Declaration as having been made on a tour around foreign countries touting for international cooperation in resolving what is purely an inter-Korean relations issue, thus leaving Korea's destiny again in the hands of outside forces.
A notable proposal by North Korea to the United States on 9 January is, as reported by the Korea Times, that it would temporarily suspend nuclear tests if the United States were to halt its joint military exercises with South Korea this year. The United States has reportedly rejected Kim's offer, according to Yonhap News Agency, which quoted US Department of State spokeswoman Jen Psaki as having said: 'The DPRK statement that inappropriately links routine US–ROK exercises to the possibility of a nuclear test by North Korea is an implicit threat.'
Nevertheless, the United States appears to have agreed to delay its joint military exercises with South Korea this year to early March rather than late February for five days from 20 February, when the two Koreas are expected to hold reunions of families who have been separated by the 1950–53 Korean War. In a nationally televised news conference on 12 January, President Park expressed her hope for the two Koreas to hold this new round of reunions.
In spite of Park's personal hope, the South's perspective in regard to their country's reunification appears to be more complex and highly conditional, mainly because many South Korean people are fearful of the possible economic burden that would befall them as a consequence.
The notion of reunification appears practically incomprehensible to modern young South Koreans.
Although nearly 87 per cent of the total respondents to a recent survey conducted by one of the leading think-tanks in Seoul, the Asan Institute of Policy Studies, agreed that while unification is necessary, nearly 44 per cent of those surveyed ticked the statement that 'unification is not urgent when the economy gets bad'.
South Korea is the world's 15th largest economy, with a rich, modern 'Korean wave' culture sweeping across Asia and beyond, and North Korea is one of the poorest, with almost zero contact or relationship with the outside world, so the notion of reunification appears practically incomprehensible to modern young South Koreans.
Only 32.2 per cent of respondents in the October 2014 survey, according to the Asian Institute for Policy Studies, for example, were satisfied with the Park government's policy on North Korea, while 47.7 per cent of the total respondents were dissatisfied, with the degree of dissatisfaction for those in their 30s being 62.7 per cent, those in their 40s, 60.2 per cent, and those in their 20s, 50.3 per cent. The older generations in their 50s and 60s, by contrast, showed relatively low degrees of dissatisfaction, of 41.6 per cent and 24.6 per cent respectively.
On this basis, it can be concluded that the majority of the South Korean people are not eager to see their country's reunification at the cost to them of an intolerable economic burden, just as their opinion about North Korea and its people is generally negative.
To summarise, the three-pronged approach proposed by President Park may well begin to build small bridges, without compromising the integrity of each respective regime, but how far these bridges can unify when the respective modes of the two regimes are so far apart is highly problematic.
If Kim's words in his address were genuine, 2015 is perhaps the year for both Park and Kim to narrow their differences in their common goal to achieve reunification of the Korean peninsula, by finding a solution to end the North's nuclear gamble that has persisted for the last two decades.
Photo:
Kim Jong-un: declared in his new year address that he was open to holding discussions with South Korea (Wikimedia Commons).