An artistic genre widely associated with Chinese cultural tradition is being revitalised and reinterpreted by a new generation of artists
Contemporary ink art has emerged as one of the most significant and ubiquitous artistic trends in mainland China, Taiwan and Hong Kong during the past decade, and is attracting increasing international attention. Described as 'the new Chinese art', major exhibitions focusing on Chinese contemporary ink art have been presented by some of the world's leading museums in recent years, and it is being sold at record prices in the global art market.
What are the cultural, political and socioeconomic forces driving this popular upsurge of interest in ink art? What defines ink art today? And why are growing numbers of contemporary artists, and particularly younger artists across the region seeking to revitalise and reinvent this artistic genre which is widely associated with Chinese cultural tradition?
An exhibition currently touring Australia, Ink Remix: Contemporary art from mainland China, Taiwan and Hong Kong, responds to recent developments in ink art from this region, and it critically engages with some of these complex questions. It also explores broader issues relating to the meaning and significance of history and tradition in societies that have embraced globalisation and that are highly urbanised and technologically driven.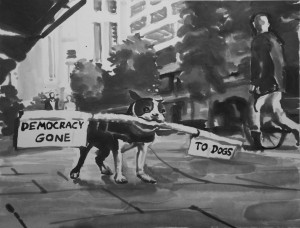 The exhibition was developed over a period of two-and-a-half years, and involved significant research, including meetings with artists, and numerous studio and gallery visits in the region. Organised by the Canberra Museum and Gallery, where it opened in July 2015, the exhibition features more than 35 works in a range of media by 14 contemporary artists living in mainland China, as well as in Taiwan and Hong Kong—locations that are often overlooked but which continue to play important roles in the development of ink art.
Rather than focusing on the medium, practice or history of ink art, the exhibition explores the idea of ink as a mutable and fertile field of artistic enquiry, and its contemporary relevance in this region. It questions and challenges preconceived ideas that prevail, particularly in the West, in which ink art is defined by and limited to Chinese traditional forms of calligraphy and painting, which characteristically employ ink and brush on paper.
The majority of art works in the exhibition are not produced in ink and incorporate a diverse range of media including Coca-Cola, tea, biro, ink jet prints, as well as photography, video and animation. Although most of the artists have been trained in Chinese calligraphy and ink painting, many ignore or reject the principles, techniques and tools associated with the Chinese ink tradition. The multifaceted and experimental nature of their works reflects the ways this discourse has developed and expanded over the last decade, attracting artists from different generations and with diverse backgrounds and interests.
The exhibition features the work of mid-career and internationally acclaimed artists, as well as younger, emerging artists, all born between the 1960s and 1980s— Chen Shaoxiong, Feng Mengbo, He Xiangyu, Hung Keung, Cindy Ng Sio Ieng, Ni Youyu, Pan Hsin-hua, Peng Hung-chih, Peng Wei, Qiu Zhijie, Wilson Shieh, Charwei Tsai, Yang Yongliang, and Yao Jui-chung.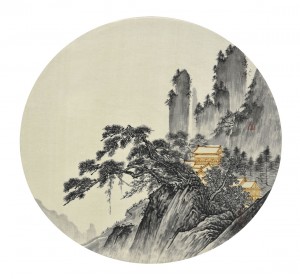 The works are stylistically diverse, but share a common interest in the idea of ink as a mode of visual representation. The artists embrace and reinterpret the genre using it as a medium of expression to engage with contemporary issues. They are searching for a new language that is simultaneously local and global, and that connects the past with the present and future. Their works explore themes relating to history, and the effects of modernisation, urbanisation and globalisation on the environment and their respective societies and cultures, as well as on conceptions of identity, gender and place in the world.
Ink Remix emphasises the new and innovative aspects of contemporary ink art and offers new ways of thinking about ink art as a dynamic and diverse form of visual expression. The exhibition demonstrates the ways artists are freely experimenting with a range of media and are reinterpreting, subverting and transforming the definition and perceptions of ink art as part of an evolving tradition. The majority of works have been produced over the past decade, and several artists have created new works for the exhibition.
Ink Remix is showing at UNSW Galleries, 26 February—21 May 2016, and at the Museum of Brisbane, 16 September 2016–19 February 2017
Featured image
Yao Jui-chung, Yao's Journey to Australia. 2015, biro, blue ink with gold leaf on India handmade paper, 195 x 539 cm.