The tourism industry in Indonesia needs a re-think, keeping the needs of a variety of potential tourists front of mind, writes Duncan Graham
As President Joko Widodo took office three years ago he faced the predicament of too many plans and not enough cash.
Taxation in Indonesia has long been low and patchily applied. The nation of 260 million has around 35 million registered taxpayers, but only a third pay tax.
A recent tax amnesty hoped to repatriate Rp1,000 trillion (US$74 billion) of the assets the rich park overseas, but according to the Directorate General of Taxes, Direktorat Jenderal Pajak, less than 15 per cent was recovered.
The President has turned instead to raising revenue by boosting international tourism with the tagline 'Ten New Balis'.
Need for integrating attractions with public facilities and transport, and keeping sites clean
Around 12 million visitors entered the country during 2016. The target is 20 million by 2019 in the hope is that these sightseers will provide 20 per cent of the nation's GDP, US$932 billion last year according to the World Bank.
For overseas tourists to visit, a rethink of the industry strategy is necessary. In other words, integrating attractions with public facilities and transport, and keeping sites clean.
The first task is to define 'foreign tourist'. Government officials who seldom travel overseas imagine hedonistic Westerners flopped around swim-up bars, but there are other segments, like backpackers searching for the ultimate bombora. They use dormitories and eat street food, but open wallets reluctantly and tick 'unlike' freely on social media.
It can be a problem. Charging overseas hikers park entry fees ten times above those for locals in chauffeured Mercedes is not a good look on smartphones abroad. Nor are shared photos of creeks choked with rubbish.
Then there are the families exposing their pre-teens to the mysteries of the archipelago before the kids prefer Facebook to face-to-face time. These explorers go for homestays. Their love is nature and culture.
Likewise, the semi-retired heritage-seekers who wander far and wide to avoid theme parks. They are modest spenders but they are gracious givers and friendship makers.
Finally, the superannuants looking for luxury and avoiding challenges. They buy packaged tours and tend to be fussy. Fortunately, they find Indonesian hospitality overwhelmingly positive. Social media comments about cheery and considerate staff abound.
So which guests does Indonesia want to host? One approach won't fit all.
Eight sites on UNESCO's World Heritage list, and Indonesia wants eighteen added
Australia is helping with a US$2.75 million research grant. With consultants at AU$100 (Rp1 million) plus per hour, in-depth reports should not be expected.
The allure of Indonesia's attractions is as wonderful as the campaign cliche claims. There are eight sites on UNESCO's World Heritage list, but some, like the Lorentz National Park in West Papua, are difficult to access.
Others are poorly presented, like the Sangiran Early Man Site in Central Java.
Pilgrims to Borobudur, the magnificent 9th century Buddhist temple complex in Central Java, find the site well run and clean. Sadly, other sites are not.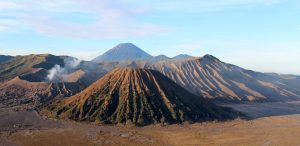 Mount Bromo in East Java is one of Jokowi's 'top ten'. At weekends this is chaos central as hundreds arrive to witness dawn as the vast caldera and its four cones loom out of the gloom. An authentic panorama of awe, not Lord of the Rings fantasy.
Also rising as the sun strikes is the stench. Toilets are being built but not with the same urgency that climbers have for relief. Then, there is the graffiti and the rubbish.
Many visitors arrive in prototype Toyota FJs that are notorious for sending their drivers to the chiropractor. Rental companies call these rattletraps 'jeeps' and argue they are necessary to handle hazards.
True, but there are later, safer models built for passenger comfort. Upgrade costs might, however, cripple small operators.
Dominant group were leather-clad lads there to test their big bikes' endurance rather than enjoy Mount Bromo's majesty
The Bromo Tengger Semeru National Park is a volcanic zone prone to reshaping in the next eruption, but the major problems are man-made. The narrow, twisting tracks cannot take big buses so villagers miss out on 'grey nomads' from far afield. On a weekend trip I undertook last month, older tourists were scarce and foreigners even scarcer.
The dominant group were leather-clad lads there to test their big bikes' endurance rather than enjoy the majesty. Hoon behaviour is another issue that needs fixing.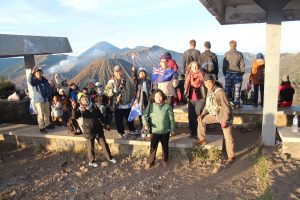 Indonesia wants eighteen sites added to the UNESCO list. Not all of these need big dollars. Trowulan in East Java, the former capital of the 13th century Majapahit Kingdom has the marvels, but not the packaging.
Not everyone is waiting for the government. Smart villagers are discovering that visitors do not like plastic, they like authenticity. Some around Borobudur have opened 'art guesthouses' with hot showers, toasters and the chance to stroll or cycle and see local life without feeling like voyeurs.
In the East Java village of Tumpang, the Panji Museum and performance centre, backed with private money, promotes Indonesian culture. Private money is also behind the Ullen Sentalu culture centre, 25 kilometres outside central Yogyakarta.
Both sites are difficult to access without private transport. The hire car business is growing but tourists can encounter drivers ignorant of overseas clients' needs.
The President's wish list includes Lake Toba in North Sumatra, and Mandalika in Lombok, east of Bali, where projects worth US$3 billion are being touted.
The 3.5 million people on Lombok are mainly Muslims who may not welcome a spillover of Kuta's laid-back culture. Some groups have been agitating for even tougher liquor restrictions.
A 'dry' vacation may draw Middle East visitors but not the current top four tourist suppliers— China, Malaysia, Singapore and Australasia. Each supply around 1.5 million each. The migration of US dollars into Indonesia (an estimated $1,200 per person per visit) will benefit the economy but could widen the social gap unless distributed fairly.
Dissatisfied globetrotters will just take their dollars elsewhere, to places such as 'amazing Thailand' that saw 32 million visitors last year. It also has temples, jungles, surf—and bars that serve alcohol.
Featured image: Seldom visited. Richly carved 13th century Candi Kidal outside Malang is little promoted. Source: supplied by author