Australians need a much better understanding of how they are perceived in Asia. writes LOUISE EDWARDS.
Despite some enthusiasm for affirming Australia's place in the Anglosphere, few business, political and community leaders deny the importance of Asia to Australia's short- and long-term prosperity.
Recognition that Australians must continue to deepen our engagement with Asia is now axiomatic. Asia is the world's fastest growing region and is set to continue on this trajectory well into the future. According to the University of New South Wales' Tim Harcourt, Asia's dominance in the 21st century liberates Australia from the 'tyranny of distance', and places us in the prime position to benefit from the 'power of proximity'.
No matter how pithy or alliterative the phrase, the 'proximity' argument reflects an enduring problem in Australian thinking about its place in the world. As the obverse of the tyranny of distance it is the flip side of a Eurocentric coin.
While Australians may congratulate themselves for finally being in the 'right neighbourhood'—through the regional gentrification of Asian real estate—there are a series of inherent dangers in the distance and proximity dichotomy that retard Australia's deeper engagement with Asia.
Both distance and proximity rely upon geography—a variable that dominated success in trade and speed of communication in the 'olden days'. In the 21st century, neither are sensibly measured in geographic terms. Digital technology, and global supply chains are inexorable trends that mock geography's impact in trade.
The emergence of the BRIC grouping (Brazil, Russia, India and China) encapsulates the anachronism of geographic determinism in political alliances. While enthusing about our improved neighbourhood we often ignore reality. Channelling the glee of the recently gentrified inner-city dweller, we revel in the thought of a 'shorter commute to the centre of action'.
As the nations of Europe, Africa and the Americas turn their attention to Asia in this Asian century, the smugness Australians may feel about our closer proximity to Asia will be exposed as vanity.
Yet, London is only 10½ hours from Beijing, Moscow only 9½ from Hong Kong, Vancouver less than 10 from Tokyo and Singapore only a few hours from everywhere in Asia. Australia's key economic and population centres on the southeastern seaboard have little or no advantage in travel time over other major economies.
As the nations of Europe, Africa and the Americas turn their attention to Asia in this Asian century, the smugness Australians may feel about our closer proximity to Asia will be exposed as vanity. China is the number one trading partner for a rapidly expanding list of nations and they all feel the specialness of their ties and the intimacy of their relationships with that economic giant.
Nations dependent on dig-it-up and ship-it-out resource exports, such as Australia, are able to benefit from proximity to a certain extent—it is cheaper to ship iron ore to Japan from Australia than it is from Brazil.
Rollercoaster markets
But Australia's best future lies in diversifying beyond the rollercoaster of the commodities markets and into high-end technology and services. The gaping chasms in the Commonwealth, Queensland and West Australian government budgets show the folly of reliance on commodity-based revenue streams.
The power of proximity overplays the 'luck' variable. Geographic luck blessed us with gold, coal and iron ore and neighbours that have developed demand for them. Geographic thinking is premised on the idea that Australia, this ancient, flat, red land now presided over by a predominantly white, leadership simply found itself close to the action.
Congratulating ourselves over our newfound 'proximity' is dangerous and sloppy thinking. Why? Because it promotes the same laziness Donald Horne bemoaned in his Lucky Country.1 It reflects the 'insular internationalist' thinking the Australian National University's Michael Wesley identified.2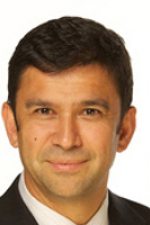 In coining this term Wesley (pictured) highlights the paradox whereby Australians' frequent travel abroad is coupled with complacency about the implications of Asia's rise to our future and disinterest in changing to meet Asia's power. The allure of geographic determinism overshadows the pressing need for Australian leaders to facilitate the cultural and economic innovation required.
Distance and proximity in the 21st century are best measured in cultural and strategic terms. Australia's proximity to Asia comes primarily from the benefits of strong Asian immigration and the fruits of the investment in teaching Asia studies and Asian languages in schools and universities. It is the cultural attributes and new perspectives produced by these important policy-led shifts that will enable us to prosper in the Asian century.
Australians equipped with cultural and linguistic skills to work in the Asian region have multiple, lucrative options that enable them to depart these sunburnt shores. Unless we embed their expertise and energy within our businesses, governments, schools and universities we risk losing their skills.
Where earlier ambitious generations left for London and New York, the current generation also moves to Shanghai and Singapore. The idea that by luck we find ourselves close to the action undervalues the significant cultural shifts of recent decades and ignores the challenge of harnessing the innovation produced therein.
When Australians wax lyrical about core values of fair play, cricket-loving citizens of India, Sri Lanka, Pakistan and New Zealand think underarm bowling and sexist, racist sledging.
Enhancing our cultural and strategic proximity to Asia demands acknowledgment that relationships require mutuality. What do our target proximate friends think of Australia? When Australians wax lyrical about core values of fair play, cricket-loving citizens of India, Sri Lanka, Pakistan and New Zealand think underarm bowling and sexist, racist sledging.
The stories we tell each other in domestic discourses are not always accepted internationally—often they provoke derisive guffaws. To form close bonds with the people, governments and business leaders of Asia, we need to understand how Australia is perceived. It is insufficient to trumpet correcting past mistakes (e.g. White Australia Policy) when Aboriginal Australians remain marginalised and forced evictions from land continue.
Colonisation experiences
To many in Asia, Australia represents what could have been their own colonisation experiences—Europeans arrive, take land and productive assets rendering the original inhabitants dispossessed, impoverished and vulnerable. To many in Asia our failure to adequately address the brutality of the nation's founding is problematic.
We chuckle about 'descending from convicts'—rushing to the high moral ground occupied by the underdog—but when viewed from many parts of Asia, white Australian leadership simply looks like 'successful' European colonisation. How much of Asia would have looked like Australia without the nationalist independence movements, they ask? Bumiputra politics of Malaysia are sustained by desires to hold firm to indigenous prior rights.
We congratulate ourselves on our egalitarian values and increasing cultural sensitivity. But to many people in South and Southeast Asia our leaders look like modern versions of the same men that spoke in condescending terms to their grandparents as they worked for wages on land their great grandparents once owned.
Australians take pride in jocularity and irreverence and assume it is fondly viewed as quirky, larrikin cuteness. To many in Asia such flippant disregard for social hierarchies and ritual norms echoes the disdain for local culture and power structures that typified the brutal, greedy colonising forces from Europe of earlier centuries, confident as the latter were in their own cultural supremacist norms.
If we are to be effective proximate partners in the region, appreciating how Australia appears in the region must reach beyond complacent narcissism.
Appointing non-European leaders would prompt many in Asia to reconsider their perceptions of Australia. The extraordinary talent among Australians of Chinese, Indian, Indonesian, Vietnamese and Aboriginal extraction languishes—few become Australia's national representatives because we labour under 'bamboo ceiling' appointment processes.
We cannot expect our neighbours to believe that overturning the White Australia Policy was anything more than cosmetic when another group of white men disgorges from Qantas 747s at international meetings.
Australia needs a coherent public diplomacy strategy that challenges outdated caricatures of Australians. Beyond improving Tourism Australia advertisements,
it requires concerted coordinated innovation by strategists in government, business and education that is based on clear understandings of how Australia is regarded in the region. Being happy reproducing a 'white bread' culture encapsulated by Home and (not-so-far) away bottle blondes, misrepresents our society and jeopardises our 'proximity' with Asia.
A public diplomacy strategy is more than rebranding the nation. It should enhance business capacity and inform infrastructure and trade policy. The monumental success of the Republic of Korea's 'Korean wave' resulted from a government-led coordination of the nation's cultural, scientific and commercial talent. A country once known for 'the war in MASH' is now recognised as a high-tech, culturally rich international leader.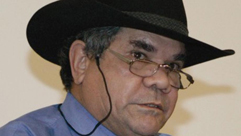 The power of cultural proximity will be manifest when we showcase leaders like the Race Discrimination Commissioner, Tim Soutphommasane, and Senator Penny Wong. Including Indigenous Australians, such as UNSW and ANU legal experts Megan Davis and Mick Dodson (pictured), and Northern Land Council CEO Joe Morrison as key figures in our international negotiating teams would give authority to discussions about mutually beneficial economic agreements and credibility to regional programs designed to enhance human rights.Making the effort to update Asian perceptions of Australia is the vital first step.
Doing nothing is not an option—she'll not be right, mate. Maximising the potential of our Asia literacy and 'Indo-Pacific connections' requires that Australians understand the diverse views held about Australia in the region. We need a clear public diplomacy program that builds a convincing narrative for cultural proximity and respectful partnership upon which our economic bonds with Asia can flourish.
References
Main photo:
The Indian national cricket team against Australia at the Sydney Cricket Ground in the 2012 Commonwealth Bank series: When Australians wax lyrical about core values of fair play, cricket-loving citizens of India, Sri Lanka, Pakistan and New Zealand think underarm bowling and sexist, racist sledging (vijay chennupati – Flickr: CC BY 2.0).