Despite a challenging environment for Asian Studies in Australia, Kent Anderson sees strong grounds for optimism.
The present state of Asian Studies in Australia can—to borrow a phrase—be loosely divided into the good, the bad and the ugly.
Starting with the ugly, over the past five years a number of university language programs have been threatened. The situation is equally bad in schools. The most recent measure has only 6 per cent of Year 12 students studying an Asian language and spot surveys suggest that it is declining.
Equally troubling has been the defunding of the Asia Education Foundation (AEF). Established in 1990 by the Commonwealth government and the Myer Foundation to promote Asian literacy in schools, it has become a tremendous resource in the schools sector.
In 2015, however, it lost its core $1.5 million annual funding and its transition funding just ran out. This will have a tremendous impact on the Asian studies pipeline in universities. The impact will not be immediate, but as AEF is less able to train principals and teachers, prepare teaching materials and advocate effectively, the deleterious effects will flow through to fewer and less-prepared students studying Asia in our university programs.
Similarly, the Asian Arts program of Asialink lost its core funding from the Australia Council earlier this year, meaning many of its programs will terminate. This will result in less exposure to Asia and Asian culture for the broader community.
There has also been the recent stepping back from the leadership role in Asian Studies by the Australian National University, for financial reasons. The ANU, historically, has received special funding to fulfil a national leadership role. One of its areas for national leadership since its establishment in 1946 has been Asian Studies. If the institution is to back away from that role for financial reasons, then such action undermines the rationale for that special allocation; making the institution even more vulnerable to the loss of funding.
White Paper shelved
Turning to the bad, the archiving of the Henry Asian White Paper—one of the most comprehensive and lucid arguments for the importance of Asia and how to deliver real outcomes for the broader Australian public—by the Abbott government in 2013 has provided a bigger challenge: the loss of the popular narrative around the importance of Asia and Asia capabilities/literacy.
More significantly, the Asia engagement zeitgeist was lost roughly at this time behind the articulation by the then Chief Scientist, Professor Ian Chubb—a staunch supporter of Asia engagement— of the deficiencies in Australia's science, technology, engineering and maths (STEM) capability, and by the promise in the 21st century of the innovation dynamic.
With the slowing economy in a rapidly digitalising world, behind Australia's disappointing results in maths and science internationally and the OECD report that Australian industry engagement lagged all other members, the importance of STEM and innovation made for a powerful narrative. The cumulative effect has been to suck the public policy oxygen for Asian Studies from the room.
The point is not to bemoan our lost moment in the sun, but to be a realist that, in the current climate, our promotion of Asian Studies has become much harder in a more crowded space.
There is a good side, however. Australia and Asia engagement is deeper and more authentic than at any stage before. More Asians—now over 300,000—are studying and experiencing Australia than ever before, and our students are reciprocating by studying in Asia. Presently 16 per cent of Australian students study abroad, the highest percentage of any country in the world, and a third of them go to Asia—and increasing.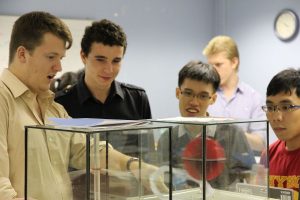 [ratina][/ratina]Both of Australia's major political parties agree on the importance of Asia and are willing to do something about it. The Coalition's flagship policy remains the New Colombo Plan (NCP) and its funding is set to nearly double. The NCP is having a serious impact in getting non-traditional students into Asia and providing them with authentic engagement. Labor's nearly identical program, AsiaBound, is wholly consistent with the push.
Perhaps more importantly, Asia is no longer out there and Australia here. Record numbers of Australians are travelling to Asia as a regular matter of course—not just for holidays but for culturally rich and authentic experiences. The number of inbound Asian visitors is also increasing, with Chinese tourists replacing Japanese tourists of the 1980s, but the total numbers are well passed anything we could have ever hoped for then.
Australia migration is now coming largely from Asia, and that is especially the case in academic migration. The combination of academic migration and student movement means we have reached the highest level in history of research co-publication between Australian and Asian researcher.
The question for us now is how to realise the full potential for promotion of Asian Studies.
Given the rise of other priority educational narratives, we no longer have the luxury of passivity. We cannot sit quietly waiting to be noticed or appreciated, by policymakers or the wider community. We have a responsibility and obligation to be active in getting the good news and importance of Asian Studies out there. Our message will be more effective if we present solution to others' problems, than why our problems should be theirs.
Universities are historically very democratic spaces. Since 2012, they are also largely capitalistic. The primary driver of both of these is students. Students generate most revenue and thereby influence most institutional decisions.
As academics we have the power to drive the outcome we want, by using the levers of universities to appeal to students. Subject choice matters, but good teaching matters more to the attracting and retaining of students. We need to demand more of our colleagues—and ourselves—in this regard. Peer evaluation, self-critique, willingness to change will all lead to better teaching and thereby more enrolments.
As a community we need to be committed to the best teaching practice and constantly holding ourselves and our colleagues to that standard.
Flexible degrees
It is not all about individual classrooms, however. The structure of the degree does matter. There is a natural tendency among academics to seek specialisation. To some extent we must resist this and advocate for degree breadth and flexibility.
Languages provide a good lesson. In the 1960s, 40 per cent of Year 12 students studied a language. By our most recent measure, that had dropped to 12 per cent and is falling. University enrolments have largely matched this.
The University of Western Australia (UWA) and the University of Melbourne have gone against this trend, however. The introduction of choice into the undergraduate degrees in 2012 has seen an explosion of UWA language enrolments. And over half of this growth has been students enrolled in science and engineering degrees.
Given the opportunity students will choose languages—and Asian languages. However, this requires persuasiveness in advocating with non-language and non-Asian Studies colleagues for flexible changes to a traditionally rigid curriculum. By modifying university structures you can revive enrolments, which gives you funding which translates into institutional power.
Study abroad is booming. Australia now has the highest percentage of study abroad and fully one-third of that is in Asia. The real growth is in non-culture, society, and languages area, and for short-term programs taught in English. As hard-core Asian Studies specialists we can dismiss these experiences, but if we leverage them to work with our colleagues in other disciplines and engage students, we will be the long-term beneficiaries with more students coming to do our courses, seeking to feed their curiosity.
Financial viability
Finally, Asian Studies and Asian languages are financially viable—even lucrative.
While it differs by discipline and student nationality, universities receive roughly around $20,000 per equivalent fulltime student studying language or $2500 per student in a classroom from a combination of Commonwealth grants, student contributions, and international fees.
Popular Asian Studies and Asian languages courses are—or should be—money-earners. Because of that, we are not emasculated orphans to the institution from which we must beg Oliver Twist-like for some benevolent generosity
After university overheads, it means roughly $1250 of cash goes to the local area for each student in a class. Then assuming an average Asian Studies academic costs, with on-costs and overheads, $200,000 a year, it means a typical lecturer needs to teach four courses a year with roughly 40 students in each class. If you are teaching more than this, you are a net revenue generator. If you are teaching less, your colleagues are cross-subsidising you. This rough back-of-the-envelope calculation does not take into account the other 40 per cent of university revenue including research funding, philanthropy support and so forth.
Popular Asian Studies and Asian languages courses are—or should be—money-earners. Because of that, we are not emasculated orphans to the institution from which we must beg Oliver Twist-like for some benevolent generosity. Rather, we are a crucial and empowered engine to the whole that can respectfully and graciously ensure that our institutions support Asian Studies appropriately. Therefore, you matter and you can influence how your institution operates, because you have influence on the most important financial variable—student numbers and satisfaction.
Leadership
Leadership also matters, and we need more of us to take on leadership roles. Leaders influence culture, set agendas, make critical decisions and often have veto rights.
We need more Asian Studies experts to put their hands up to be leaders for local internal areas. Heads of disciplines, associate deans and deans are critical roles that make the operation run and have disciplinary leadership. We also need colleagues in roles not directly related to our disciplinary expertise, across the research agenda, the internationalisation strategy, the methodology of teaching and learning and so forth.
If we create a cadre of Asian Studies internal leaders attuned to leveraging the positive, we can deliver tangible results that make the day to day lives of our colleagues and students better and more Asian Studies enriched. Moreover, we can create a pipeline to more senior roles.
Leading internally and institutionally, however, is not enough. We need to stand in the public policy space to advocate for the importance of Asian Studies. We are better served when we have one of our own doing the hard yards of pushing Australian public policy.
The case for the importance of Asia engagement with Australia remains overwhelmingly convincing. Asia remains the most vibrant and dynamic region in the world in the face of an aging and stagnating Europe and North America. Everything that made Asia interesting for you when you set out on your own Asian Studies adventure remains exciting for today's students.
The critical need for engagement by our students and general community remains as strong, if not stronger, today than it has been for the last century.
This is a refined and revised version of Professor Anderson's comments at the July 2016 Asian Studies Association of Australia biennial conference in Canberra.
Featured image
More Asians are studying and experiencing Australia than ever before, and Australian students are reciprocating by studying in Asia