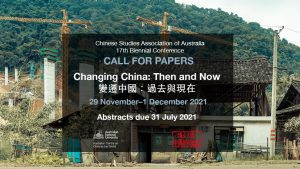 Changing China: Then and Now
Monday 29 November – Wednesday 1 December, 2021
The Australian National University, Canberra
Change has been at the centre of the Chinese experience. Yet it has taken a range of forms and has elicited a variety of responses. The recurring cycle of 64 hexagrams in the foundational Yi jing (Classic of Changes) sets out a scheme of gradual permutation that underlies all social and cosmic processes; it postulates continuous substitution rather than instant change. The stadial, unidirectional notion of change that, for example, shaped much of the modern and contemporary Chinese experience produced a more radical displacement of, and rupture with, past identities. Recent generations of Chinese political leaders have revisited the relationship between change and continuity. They have often emphasised what they conceive of as immutable aspects of the Chinese tradition. This interplay between change and continuity has affected how China, in all its facets, is understood internationally. In the case of mainland China, foreign perceptions have wavered between admiration for the striking pace of its developmental change, perplexity over the unchanging persistence of its efforts even when faced with major obstacles or criticism, and rising concern over actual or imagined changes in its role and responsibilities as a global power. Other parts of the Sinophone world have also been at the centre of similar discussions, for both their shifting relationship to the mainland and in their own right.
The Chinese Studies Association of Australia cordially invites proposals for its forthcoming biennial conference. Contributions addressing the conference theme, "Changing China: Then and Now", are especially encouraged, though proposals on any area of Chinese Studies are welcome. Proposals may be for individual or joint papers or for panels. We look forward to putting together a wide-ranging, multi-disciplinary montage of the best research in Chinese Studies being done both in Australia and overseas.
The conference welcomes presentations in English and Chinese. Abstracts for individual papers (including papers for panels) and roundtables should not exceed 250 words.
This will be an in-person conference on the ANU campus. In the event that international travel remains impossible through 2021, we will aim for dual-delivery methods to accommodate on-line participation.
Conference languages: English and Chinese
Closing date for submissions: 31 July, 2021
Announcement of successful submissions: 31 August, 2021
Please submit your abstract including paper title, authors' affiliation and contact details, and a short bio (approx. 50 words) via this online form.
Please send any enquiries to: csaa.conference@anu.edu.au.
Further details will be updated at: http://www.csaa.org.au/call-for-papers-2021/