The Languages and Cultures Network for Australian Universities (LCNAU)'s National Languages Campaign was born out of a desire to help reverse the decline in language learning by Australian university students. Indonesian is something of the canary in the coalmine in this context—a leading indicator, so to speak—and I am aware that not all languages taught at Australian universities have been on exactly same trajectory.
Enrolments in Indonesian by Australian university students peaked nationally in 2004 and have been declining ever since. By comparison, annual enrolments in Southern European Languages peaked in 2012, Northern European Languages in 2013, and East Asian Languages in 2016.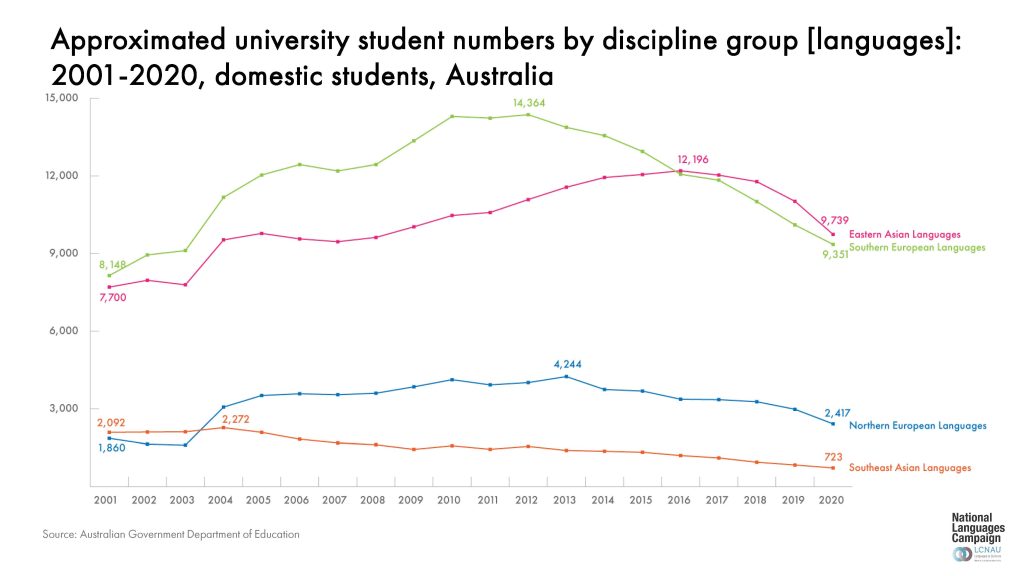 Overall, language learning among Australian university students peaked in 2013 when we had approximately 33,000 students enrolled in language subjects nationally.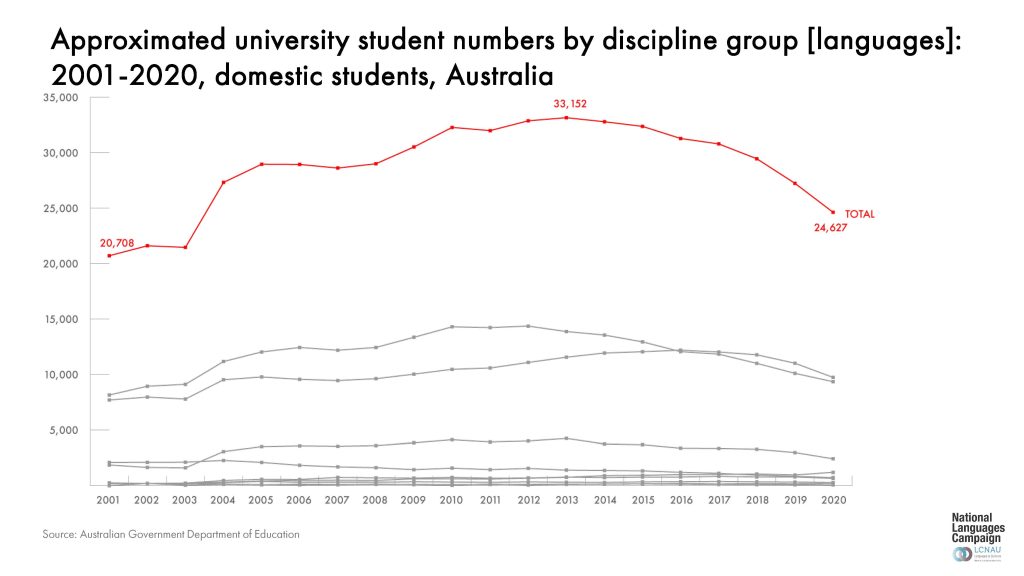 By 2020 we had approximately 8,500 fewer domestic students studying languages at Australian universities than we did in 2013. That is a 26% drop in absolute numbers over seven years—during a period in which the domestic student population at Australian universities grew by 10% from roughly 980,000 students in 2013 to over 1.1 million in 2020.
So why a national campaign? Because, as I have previously argued, these are reasonably uniform national trends, the reversal of which could benefit from a coordinated national approach. As university language educators, we often sit somewhat siloed in language groupings, or within the respective structures of our particular institutions—each bidding for a portion of our faculty, school or central administration's limited marketing budget. Given this, as language educators, we all stand to gain from pooling some of our respective resources to sound a single note nationally encouraging Australian students to consider studying a language—any language—while at university. By sounding this single note together, we have a better chance of cutting through to our target audience of those 1.1 million domestic university students, the approximately 240,000 Year 12 school leavers nationally—and their parents.
The proximate and somewhat controversial impetus for the campaign was the passing of the Australian Government's "Job-ready Graduates Package" or JRG reforms in late 2020, and the favourable fee treatment that was given to language subjects under these changes. I argued in late 2020, that while not being the public policy intervention many of us would have chosen to stimulate student interest in studying languages at university, the Government's designation of languages as a Band 1 "priority" study area under the JRG changes at least gestured in the right direction in this very narrow and specific aspect of the reforms. Setting aside misgivings about other elements of the JRG package, and the efficacy of HECS price-signals to move student subject choice, I argued that it would be worth the experiment of trying to lean into this policy innovation with a national advertising campaign.
The "Be Your Best Self in Another Language" campaign has been designed by advertising firm The Brand Agency and includes a suite of online video, audio and static ads targeted at school leavers, current university students, and their parents. The ads aim to raise awareness of both the intrinsic benefits of language learning in terms of the potential for self-discovery and intellectual development as well as the new financial benefits (in terms of reduced HECS debt) accruing to students who choose to study languages at university under the new HECS settings.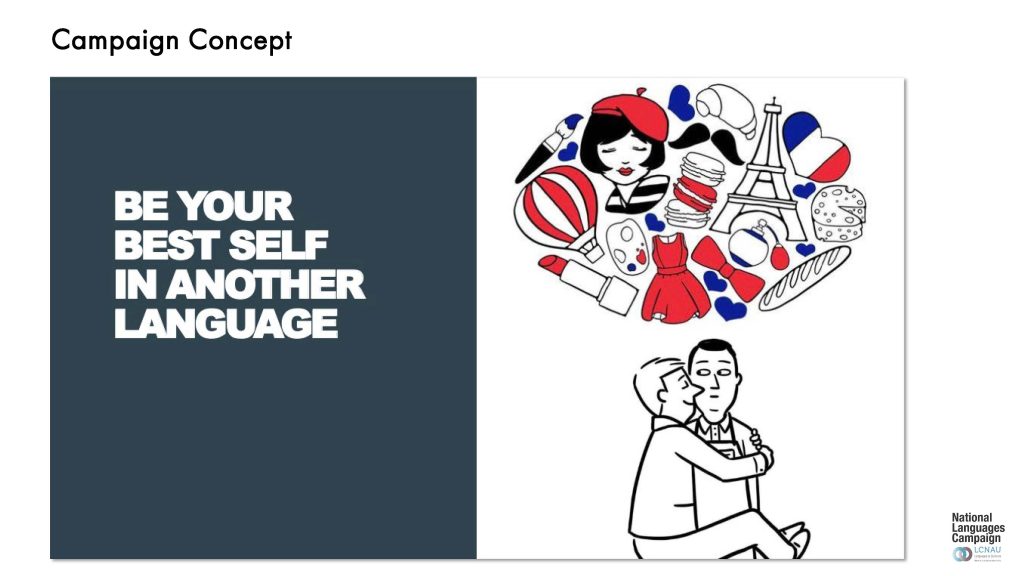 The agency has developed static illustrated ads for display on Facebook and Instagram for six commonly taught languages at Australian universities including French, Spanish, Mandarin Chinese, Indonesian, Japanese and Italian.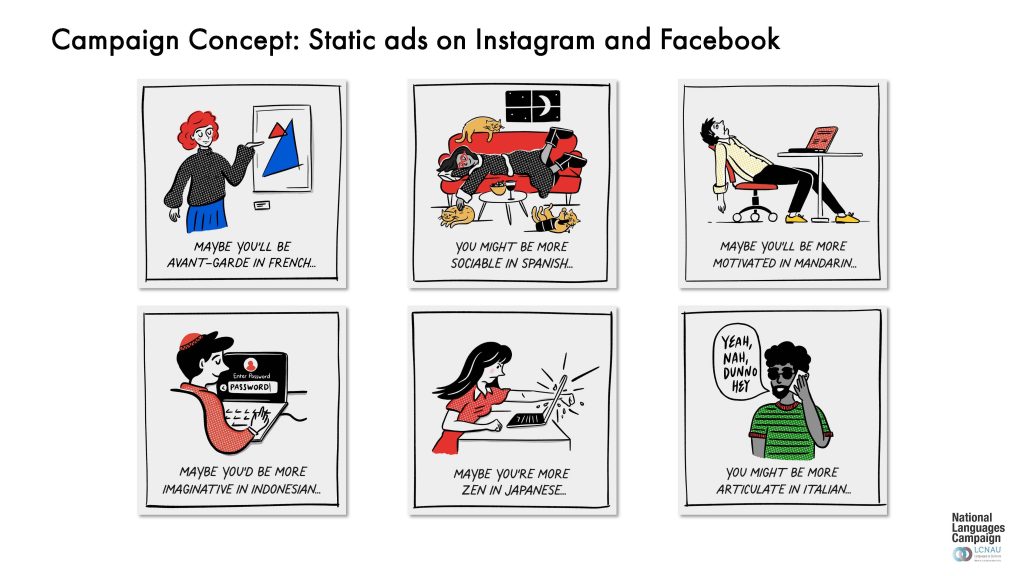 The static illustrated ads for these six languages have then been built out into a suite of 15 second audio ads for Spotify and other audio streaming service like this one for Mandarin.
Finally, three out of the six language-specific creative executions have been built out still further into 10 second animated video ads for streaming on YouTube. Like this one, also for Mandarin:
The ads are designed to be short and sharp—pairing the twin message points of self-realisation and HECS reduction, while seeding the idea of "picking up a language at uni". The online ads allow viewers or listeners to click on a button to find out more, which then directs enquiring students to a campaign website.
The website builds upon and makes prominent use of the University Languages Portal Australia (ULPA)—LCNAU's fantastic consolidation of up-to-date, national course information regarding where and through which institutions students can study a particular language. Enquiring students visiting the campaign landing page are encouraged to explore their language options via ULPA. The campaign landing page also has a list of FAQ responses and a directory of language course coordinators and advisors at Australian universities—whom prospective students are encouraged to contact for institution-specific enquiries. The campaign landing page also features an online enquiry form and an instant chat messaging service. Both enquiry form and instant chat service are currently monitored and staffed by a team of geographically-dispersed volunteers comprised of current university language students, recent graduates, as well as some current university language educators spread across Canberra, Melbourne, Sydney, Armidale, Brisbane, and Perth.
At time of writing (early December 2022), we are roughly at the half-way mark of the campaign. The ads on Facebook, Instagram and YouTube launched in early September but were paused for several weeks during late October and early November while Year 12 students around the country sat their VCE, HSC and ATAR exams. The ads recommenced two weeks ago and will run until late January.
Thanks to the relatively precise audience targeting data provided by the Meta channels, we know that to date the static ads on Facebook and Instagram have reached almost 237,000 Year 12 and/or current university students; as well as almost 300,000 parents of late high school and current university students. In addition to this, the 10 second YouTube ads have been viewed nearly 252,000 times during their first six weeks in market.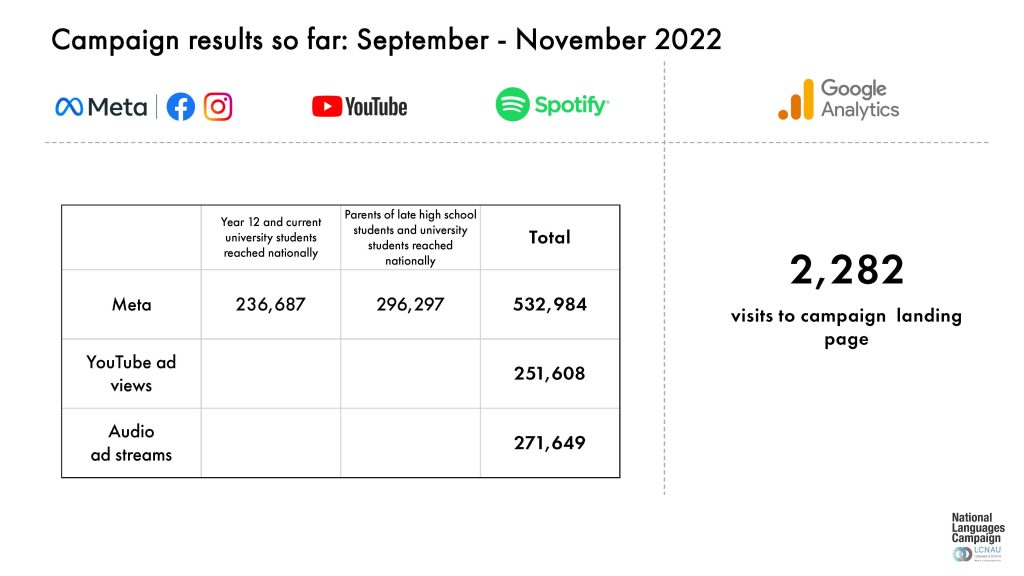 Meanwhile, the 15 second audio ads on Spotify—and other audio streaming services—launched in early October and ran until mid-November. They are now paused temporarily, and will recommence early in 2023, running until late January. During their first six weeks in market, the audio ads have been streamed over 271,000 times. To put these audience figures into some context, the target audiences for the campaign are the approximately 240,000 Australian school leavers, their parents, and then the roughly 1.1 million current domestic university students.
Over the course of the first nine weeks of the campaign, the static, audio and video ads have generated over 2000 visits to the campaign landing page, and it is anticipated that website traffic on the campaign website will pick up over the coming eight weeks now that many Year 12 students and current university students have finished exams and are seriously contemplating their university course and subject selection for 2023.
Among the enquiries handled by campaign volunteers so far 40% have been from current university students; 40% have been from Year 12 students; 3% have been from parents; and the remainder have been from secondary school language teachers seeking more information about the JRG changes to HECS fees and resources for promoting these changes to students.
There has already been significant diversity in terms of the languages in which enquiring students have expressed interest: with French, Japanese, Italian, Mandarin, Indonesian, German, Spanish and Korean being the most popular so far—in that order. However, volunteers have also received enquiries form students seeking to study Arabic, Croatian, Dutch, Tagalog, Hindi, Latvian and Russian.
It is early days yet. These are provisional results from a pilot campaign, underwritten by a relatively modest national budget of $100,000 plus significant contributions of volunteer time. This year's campaign should be treated as proof of concept—that a coordinated national advertising campaign of this nature can indeed be run.
The campaign obviously builds on LCNAU's considerable established groundwork in developing ULPA. The National Language Campaign extends this project by creating a common, national advertising campaign that proactively reaches out into the Australian public to pique students' interest. Taken as a whole, the campaign's collective approach, the landing page, the referral links, the chat function, the team of volunteers, has the sum effect of creating—perhaps for the first time—a national online shopfront for university language courses, one with the power of a single marketing concept and budget behind it. The National Languages Campaign is a means by which we can identify and message to the geographically scattered and unevenly distributed pockets of student and parental demand for language courses at the tertiary level that do exist across Australia, and then channel this demand appropriately.
Getting the campaign off the ground for the first time has been a lot of work. I hope that, going forward, rather than a one-off experiment, the LCNAU National Languages Campaign might come to be viewed as a relatively cost-effective piece of national infrastructure—a common good—to be maintained, refined and repeated as an annual fixture.
Importantly, the creative concept could be changed from year-to-year or at whatever regularity the participating Australian universities feels is necessary.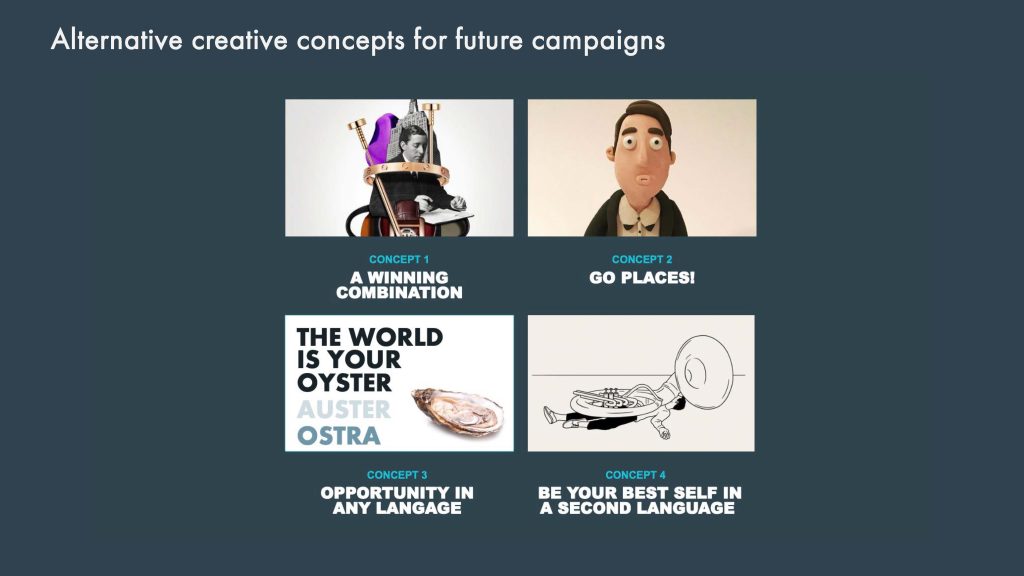 The next campaign could, for example, be untethered from the current campaign's connection to the Job-Ready Graduates Package and still retain its value as a collective national measure aimed at stimulating and identifying student demand for languages. I look forward to providing a fuller account of the results of the pilot campaign once it has wrapped in late January.
This article is adapted from a presentation delivered on 28 November 2022 at the Languages and Cultures Network for Australian Universities (LCNAU) Seventh Biennial National Colloquium at The University of Melbourne. A full set of presentation slides are available for download here.