Anthony (Tony) and Helen Reid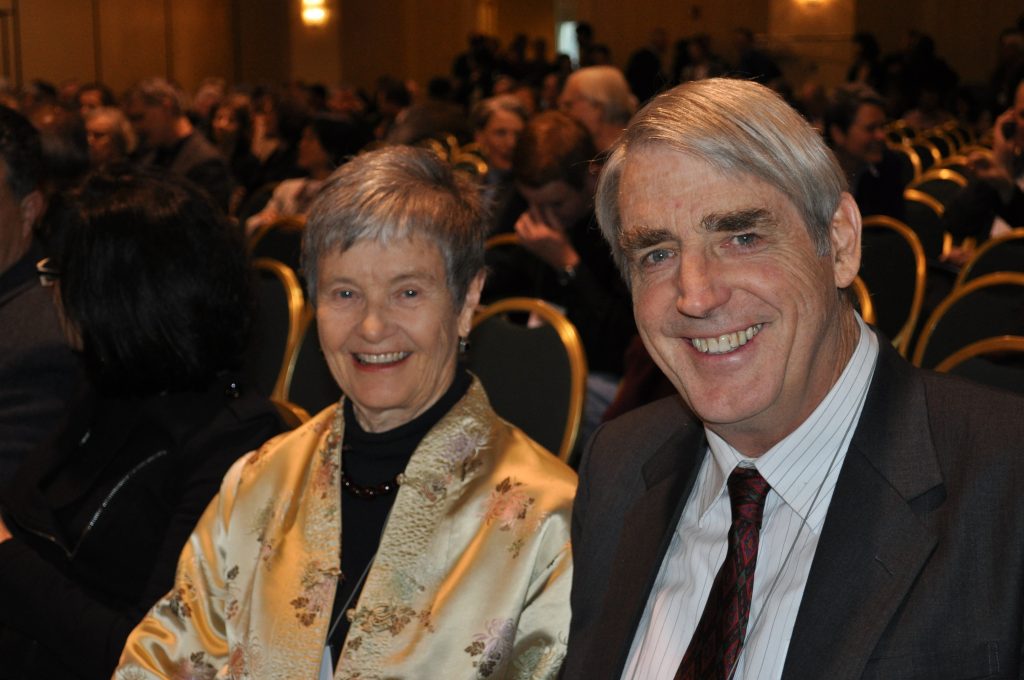 Tony and Helen Reid at the AAS in 2010.
Both Tony and Helen were born and raised in different parts of New Zealand, but married in Cambridge in 1963. They began and ended their careers in Southeast Asia, teaching first in Kuala Lumpur (1965-70) and finally in Singapore (2002-9), with many stays along the way in Indonesia, Japan and Thailand. Since 1970, however, Canberra has been home, and active citizenship Australian. In between separate careers, they co-authored some Asia publications.
Tony was part of the creation of ASAA in 1975-6, partly thanks to a year teaching at Yale in 1973-4 that convinced him of the merits of the way the American AAS was organised regionally. In the name of more senior scholars he organised a meeting of Australian Asianists in conjunction with the ANZAAS Conference in January 1975 that agreed to form an Association. He emerged from it as Convenor of a provisional working committee that made some essential decisions about constitution, first conference (at Monash 1976), leadership and a Newsletter (later ASAA Review) that Tony edited until 1978 (with the luxury that an ANU research position then offered).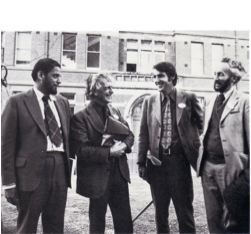 First meeting of ASAA, 1976. Left to right the picture is D.P. Singhal, JD Legge, Tony Reid, Nicholas Tarling.
This would gradually morph into the Asian Studies Review, which as ASAA President in 1996-8 he helped along the path to the modern digitalized global journal it now is. At what seemed at the time a logical part of Australian identification with Asia (though Howard was already moving in the opposite direction), his Presidency was largely about building an 'Asian Studies in Asia' network as an Asian answer to the then 'Globalising Asian Studies' push of the AAS (US) and IIAS (Netherlands).
Tony is extremely grateful for having been an Australian Asianist at this exciting time, when our colonial alienation from Asia was being corrected in what we felt to be an unstoppable push towards 'Asia literacy'. His generation of late 20th Century Australia-based scholars of Southeast Asia was doubly blessed in being more appreciated in Asia than in Australia. Seventeen of Tony's books were translated into Indonesian and other Asian languages. By hindsight, though not by intention, this lucky generation appears to have filled a necessary gap between colonial scholarship and the maturing of local scholars.
Helen pioneered for the Anglosphere the study of the great French scholar/novelist of China, Victor Segalen, in her PhD Dissertation ''The Quest for the Other: Exoticism and the fiction of Victor Segalen' (ANU, 1980). She taught English and French in Kuala Lumpur and Makassar as well as Australia, the UK and New Zealand, before shifting to language policy and administration. Her experience of Asian as well as European languages helped her negotiate the broadening of language teaching as ACT Policy Officer for Languages Other than English (LOTE) in 1988-92, when the ACT was given national responsibility for developing school curricula in Korean, Thai and Spanish. Her Australian career ended as language coordinator for the Department of Foreign Affairs and Trade in Canberra (1995-9).
Tony and Helen hope that this prize can enhance the profile of Asianists in Australia and New Zealand at a more difficult time, while bringing some well-earned credit to the ASAA for its remarkable achievements.