Analysis
ISLANDS IN THE STREAM: AUSTRALIA AND JAPAN FACE GLOBALISATION
By Stephen Alomes, Deakin University: alomes@deakin.edu.au
A book is like a young and attractive elephant--it has a long period of gestation.

When I was the Visiting Professor of Australian Studies at the University of Tokyo in 2000-2001 I became interested in examining the shared experiences of globalisation faced by peoples in all developed societies. This was less about APEC or ASEAN or international relations than about human experience--although some aspects had political implications including memories of war and cross-cultural (mis-) understandings.

I wanted my study to transcend the image of Australia and Japan as the 'odd couple', two countries seemingly united only by an exchange of coal/gas and tourists. I was also exploring the value of comparative studies, however much such work needs filters and cautions.

Several years later I put together a conference, which in turn led to Islands in the Stream, realised with the aid of the Japan Foundation. The book illuminates how globalisation influences politics, sporting culture, marketing and consumerism, as well as myths of war and peace and the interpretation of literature in Japan and Australia.

My chapter looks at the global dissemination of Halloween as a festival of marketing since the 1990s.

It relates Halloween to national traditions of celebration and memory, including recognition of death, and to the consumer culture of play. Thus it sits differently in Japan, which has the Buddhist festival Obon in August when people pray for the souls of their ancestors, as well as various consumer 'campaigns' during the year.

In Australia Halloween coincides with the spring racing carnival with its national one-day festival of the Melbourne Cup and at the introduction of daylight saving, both carrying quite the opposite sense to winter and death. While Halloween does appeal to young people across the world as an excuse for a party, there is also a reaction against this 'imported' consumer festival.

Other chapters include comparative work by Chilla Bulbeck on youth and gender experiences in Adelaide and Tokyo, and by a Chinese and a Japanese scholar (Professors Yang Biao and Yoichi Kibata) on war memory and myth in Australia and Japan.

Together all these essays reveal how contemporary societies in Australia and Japan are meeting the forces of globalisation, and show how nationalism has become both an agent of globalisation and a reaction against it.

Links:

Islands in the Stream is available from Maribyrnong Press at

www.maribyrnongpress.com.au

for $24.00 (plus postage of $5.00 Australia and overseas $10.00)

---
MISSIONS, MISSIONARIES AND INTERNATIONAL STUDIES
by Ian Welch, Pacific and Asian Studies, Australian National University. ianwelch@coombs.anu.edu.au
The nature of the 'Christian mission' and the working style of missionaries has changed dramatically since the late 19th century. This stood out in papers recently presented at the second ANU Missionary History Conference.

The vast majority of Protestant, including Anglican, missions during the 19th and 20th centuries was English speaking. In addition to the British and Americans there were sizable numbers of Australians, perhaps more than 10,000 individuals over the period from 1880 to the present. While the British and American contributions are well recorded, the same is not yet true of Australian missionary history.

From the 1880s onward, the proportion of males and females in the Protestant missionary movement shifted from predominantly male to predominantly female. By the beginning of the twentieth century, it was made up mainly of single women working in remote areas, focussing on domestic life and basic education for women and girls. Studies in Australia have taken little interest in these women, although with the revival of the Women's Forum in the ASAA in the last year or two we can hope this will change.

The first major shift of the modern missionary era, beginning in the 1890s and ending around the 1960s, was marked by a move away from personal evangelism to social reconstruction. In China, for example, by the 1920s, the Americans had opened some 20 universities employing more than half of the American missionary community in China. Their aim was nothing less than the social, cultural, economic, and political reconstruction of China. Similar stories can be found in the missionary history of almost every Asian country.

The foreign assistance phase, beginning in the 1950s, has two strands. One continues a traditional Protestant missionary religious emphasis on personal conversion and is maintained by religiously conservative groups. Americans predominate but there are small yet significant contributions from the United Kingdom, Australia and New Zealand.

Most recently, there has been a resurgence of a purely evangelistic style of mission, particularly among American Christian fundamentalist groups which have thousands of people at work around the world. One of the big ventures of American evangelicals now is teaching English in China.

This evangelistic strand often finds itself in conflict with religious values in many Asian countries. In India, for example, an Australian missionary and his two sons were murdered by Hindus who objected to indigenous people being called upon to change their religion and hence, it was argued, their cultural identity. In Yemen in 2003, three missionaries, who had spent a large part of their lives as medical workers at a hospital founded by American Baptists in the 1960s, were slain by a gunman claiming he was acting to 'cleanse' the country of infidels.

The second strand of the modern foreign aid movement is nominally secular, emphasising development and humanitarian assistance. The largest single organisation in this field in Australia is World Vision, which is deeply rooted in the evangelical missionary movement. It is only one of dozens of Australian Christian and other religious groups engaged in overseas aid.

The continuing association between religion and aid has produced expressions of concern, and anger, in Asia notably in the wake of the tsunami. Inevitably, any intervention by foreigners, whether academic, economic, religious or in the form of foreign aid, raises questions about underlying values. Asian Studies in Australia has a significant role in examining motivations and achievements from the beginnings of Australian missionary involvement in Asia in the 1880s to the wider contacts and contexts of the twenty-first century.

Links:

Profile
Q: When did you become interested in studying Asia and why?
A: At secondary school, not from the curriculum, which was entirely Eurocentric, but from books I read under the desk to fill in long periods of boredom. After finishing school I went to study history and politics at Melbourne University only to find that the curriculum was just a more sophisticated version of what I had studied at school. Only much later I realised I had been lucky to have been given excellent language and analytical skills and a very thorough grounding in Western history and politics. After two years I was told of scholarships to the ANU to study Asia. I succeeded in getting one. I really wanted to study India but this was not on offer, so I ended up choosing Indonesia even though I hardly knew where it was, so little did it figure in Australian news at that time. I have never regretted this piece of luck, which made learning more demanding but also a pleasure and profoundly worthwhile.

Q: What are your current preoccupations?
A: It's said the most important words in science, the ones that lead to new discoveries, are "That's funny", and so it was in my case. Strange links and similarities between Japan and Indonesia intrigued me and involved work in areas such as DNA and historical linguistics. This meant I crossed both the conceptual barrier between East and Southeast Asia and the one between the humanities and the sciences, something that earned me a fair bit of disapproval but which I found exciting. Eventually I discovered there had been a major Javanese influence on Japan in the Yayoi period (300BC to 250AD). My book on this has just been published.

My current role is to support research, education and outreach both in Australia and internationally. This gives me the opportunity to help develop the field which has so greatly enriched my life. I am immensely impressed by the wonderful projects carried out by my colleagues with support from ICEAPS.

Q: How do these fit into the contemporary scene?
A: ICEAPS's mission relates to Australia's greatest opportunities and most serious problems. The study of Asia and the Pacific desperately needs a major boost, since almost all universities have drastically reduced, and in some cases abolished, their programs in this area. Universities "can't afford" Asian languages and studies because of the nature of funding mechanisms, which do allow them to "afford" a law school, even though there is such over-production here that the great majority of law graduates will never work in the law. The study of Asia has also suffered from being regarded by many as exotic: I imagine some of my students may have wondered why I bothered telling them about a seventh century theological debate which produced two rival groups of Muslims. After Iraq, they and many others have learned that these past events have enormous consequences for the contemporary world.

Q: What are your hopes for Asian studies in Australia?
A: More importance must be placed on Australia's national interest in curriculum design. For this to happen we need political leadership with the vision to remove structural barriers to the study of Asia. In turn, decision makers should be supported by the abundant academic expertise available to inform them and the general public about the depth and complexity of issues.

Graduate of the month
Adelle Neary already has three degrees: a Bachelor of Science, Bachelor of Laws and a Bachelor of International Studies, one semester of which was completed at the Universitas Gadjah Mada in Yogyakarta, Indonesia. She is hoping to obtain a scholarship in the near future to undertake a Masters in the United States or the United Kingdom. She wants to focus on the international relations of the Asian region and the influence of international law in the developing world. In the meantime she is working for Jennifer Rankine, the State Member for Wright and Minister in the South Australian government.

Adelle has only recently returned to Adelaide from Yogyakarta where, in addition to her study, she worked as a volunteer with a local Indonesian non government organisation, Satunama. After the Central Java earthquake, she assisted Satunama to obtain a grant to carry out child protection and education activities in the affected region.

This grant came from a fund set up by students from the ACICIS program (Australian Consortium for In-Country Indonesian Studies) who collected donations from family and friends in Australia. Adelle also volunteered with AusAID as an interpreter and received a certificate of recognition from the Indonesian Government for her work during the earthquake relief effort.

Before reluctantly returning to Australia, Adelle spent a month as an intern with Jakarta legal firm, Hadiputranto, Hadinoto & Partners, a member firm of Baker Mackenzie International. She worked in the Corporate/Commercial Practice Group and composed an office guide to the new Indonesian Broadcasting Law.

Adelle also has a strong interest in Japanese people and culture. In 2005 she was one of eight Australian students to receive the Mitsui Educational Foundation scholarship, participating in a three-week study tour of Japan. In her copious spare time Adelle enjoys blogging, meeting like-minded people and planning her next overseas adventure.

Links:

Website of the month
http://www.doingbusiness.org This website is part of the World Bank Group. Its database provides objective measures of business regulations and their enforcement and allows comparison across 175 economies. It can be used to calculate the regulatory costs of business and to analyse specific regulations that enhance or constrain investment, productivity, and growth. In its latest ranking, Singapore was found to be the number one economy in terms of ease of doing business. Go to http://www.doingbusiness.org/EconomyRankings/Default.aspx?direction=asc&sort=1


Recent article of interest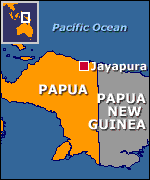 The International Crisis Group has published a briefing, Papua: Answers to Frequently Asked Questions, which examines some of the most commonly held assumptions about the Indonesian province of Papua. It argues that Papua is:
• neither a place where the Indonesian army perpetrates genocide against a defenceless people struggling for freedom
• nor a target of Western machinations to launch an East Timor-style international intervention that would further divide and weaken the Indonesian nation
http://www.crisisgroup.org/home/index.cfm?id=4364

Did you know?
The National Library of Australia's Indonesian Collection has received a major donation of Indonesian popular music from the Sydney poet, writer and collector, Ian Campbell. The collection of 160 commercially-produced audio cassette tapes spans 35 years of Indonesian pop music from 1970 to 2005. It has been catalogued with a detailed listing of artists and compositions, and can be searched in the Library's catalogue (http://catalogue.nla.gov.au) under the general heading 'Koleksi musik populer Indonesia = Indonesian popular music collection'. Readers can listen to the tapes in the Library's Asian Collections Reading Room.

Diary dates
CALL ME KOMACHI, 25th, 30th September & 1st October 2006, Melbourne. Call Me Komachi is a one-woman show telling the stories of four very different Japanese girls. This performance explores contemporary Japanese pop culture and fashion and the mysteries of Geisha. It is part of the 2006 Australia-Japan Year of Exchangeprogram. Venue: Chapel off Chapel, main theatre, 12 Little Chapel St, Prahran. Bookings: 03-8290 7000, Tickets: $25/$20 conc.

EAST TIMOR film and talk, 27 September, Canberra. Amnesty International Australia in conjunction with journalist, Jill Jolliffe, will be presenting a film on the victims of human rights abuses in East Timor. After the film, Jolliffe and Dr George Quinn, Deputy Dean of the Faculty of Asian Studies, ANU, will speak on the human rights situation in East Timor. Venue: National Library of Australia, Film starts at 6.45 pm and the event concludes at 8.30 pm.

INDIACONNECT conference, 29 September, Melbourne. Asialink is presenting a major conference at the Sofitel featuring over twenty expert speakers from business, government and academia talking about growth sectors, trade, collaboration, investment and job opportunities in the Australia-India relationship. See www.asialink.unimelb.edu.au/cpp/indiaconnect


TRANSNATIONAL CRIME IN THE ASIA-PACIFIC REGION, workshop, 6 October, Sydney. The Centre for Policing, Intelligence and Counter Terrorism (PICT) at Macquarie University is holding a one-day course to consider the nature of transnational crime in the Asia-Pacific from the perspective of the region's rapidly changing role in the global economy. Cost: $650+GST. (Student discount available). For further information, contact: Marijana Wright: (02) 9850 4712; mwright@access.mq.edu.au

WORLD CONFERENCE ON VIETNAMESE CULTURE AND THINKING, 6-8 October, Melbourne. This inaugural world conference is open to everyone interested in Vietnamese culture and thinking. Supported by the Globalism Institute, RMIT. Time: 6.00 - 10.00 pm, 6 October and 9.00 am-4.00 pm, 7 and 8 October; Venue: Vietnamese Cultural Heritage Centre, Sunshine (6 October) and RMIT Storey Hall, Melbourne (7 and 8 October) For more information and registration: www.vnvic.org

ENERGY SECURITY SYMPOSIUM. 11 October , Canberra. This symposium will explore the implication for Australia's strategic environment of the drive for energy security by nations around the world. See http://www.homelandsecurity.org.au/energy/

CELEBRATE AUSTRALIA, AUSTRALIAN STYLE in Shanghai, 21-28 October. Set at Shanghai's famous lifestyle, entertainment and boutique retail venue Xintiandi, Celebrate Australia will feature a week long program of unique activities and promotions spotlighting the finer side of Australian expertise, lifestyle and innovation. The week coincides with several other high profile events in Shanghai, including the Australia China Business Council's 2nd Forum in Shanghai on 25 October and the Australian Ballet performing 'Swan Lake' from 27-30 October. Australian companies are invited to apply to participate in this celebration by registering by 11 August. See specific mission service packages provided by Austrade: http://www.austrade.gov.au/corporate/layout/0,,0_S1-1_CORPXID0040-2_-3_PWB110830402-4_-5_-6_-7_,00.html or contact
julie-anne.nichols@austrade.gov.au at the Austrade mission in Shanghai.

GODDESS: DIVINE ENERGY Exhibition, 13 October 2006 – 28 January 2007, Sydney. This is the Art Gallery of New South Wales' major summer exhibition, which surveys the countless imaginative expressions of the divine female found in the Hindu and Buddhist art of India, Tibet and Nepal. See http://www.artgallery.nsw.gov.au/media/coming/goddess

CHINA AND AUSTRALIA BUILDING FOR THE FUTURE, forum, 23 October to 27 October, Beijing, Shanghai, Hong Kong. The Australia China Business Forum is bringing together experts from government and business to discuss the immediate opportunities and future directions in the China-Australia relationship. Contact Kate Barnett, National Director, Australia China Business Council, 02 9252 4277 katebarnett@acbc.com.au
www.acbc.com.au

THIRD WORLD CONGRESS OF KOREAN STUDIES, 27-30 October 2006, Jejudo island, South Korea. The theme of the largest Korean studies conference in the world is 'Cultural Interaction with Korea: From Silk Road to Korean Wave'. For further information, see http://www.aks.ac.kr/eng_home


ASIA-PACIFIC TRIENNIAL OF CONTEMPORARY ART, December 2006, Brisbane. The Asia-Pacific Triennial of Contemporary Art (APT) will be the opening exhibition at the new Queensland Gallery of Modern Art. APT 2006 will present the work of over 30 artists from Asia, Australia and the Pacific. It will feature a performance and cinema program, as well as a children's festival. See http://www.qag.qld.gov.au/apt

CAPITALISING ON ASIA GROWTH, 23 - 24 November 2006, Marina Mandarin Singapore. The 2006 AustCham Regional Business Conference brings together an impressive array of CEO-level speakers and panelists from across the Asia-Pacific region to share their thoughts and opinions on the potential growth within Asia, in particular China, India and Southeast Asia See
http://www.austcham.org.sg/regionalconference06

MEDIA: POLICIES, CULTURES AND FUTURES IN THE ASIA PACIFIC REGION, 27-29 November, Perth. The organisers of the 2006 Signature Event conference for the Australia Research Council's Asia Pacific Futures Research Network (APFRN), organised by the Media-Asia Research Group welcome proposals for individual papers as well as workshops and panels from government, industry and community groups in addition to the academic community. See http://www.MediaAsiaConference.humanities.curtin.edu.au. A limited number of scholarships are available (deadline 30 June).

THE AOTEAROA NEW ZEALAND INTERNATIONAL DEVELOPMENT STUDIES NETWORK CONFERENCE 30 November to 2 December 2006, Dunedin. The conference is entitled 'Southern Perspectives on Development: Dialogue or Division?' is to be held at the University of Otago, Further information is available from http://www.devnet.org.nz or contact devnet2006@geography.otago.ac.nz

WORLD WITHOUT WALLS: 21st Century Perspectives on East and West, 3-7 December 2006, Sydney. The Oriental Society of Australia (OSA) is holding a fiftieth anniversary, international conference from 3-7 December. The conference title 'World Without Walls' reflects the belief of the conference organisers that the study of humanities, the arts and social sciences without Asia is incomplete. The conference is designed to break down traditional geographic country-based studies by organising panel discussions thematically, and bringing together scholars from different backgrounds to discuss common problems. University of Sydney; COST: $380 per person ($300 Early Bird Registration) ENQUIRIES: OSA2006 Conference Committee, OSA2006@arts.usyd.edu.au. See http://www.arts.usyd.edu.au/conference/OSA2006

CROSSING BORDERS, conference, 4-5 February 2007, Sarawak. The Research Unit for Study of Societies in Change (RUSSIC), Curtin University, with the support of Curtin University, Sarawak campus, is holding a two-day conference at Curtin's Sarawak campus in Miri. The focus of the conference is on border issues relating to Borneo and the neighbouring region. If you are interested in attending or presenting, please contact: Anne-Marie Hilsdon a.hilsdon@curtin.edu.au

2ND ASIAN AUSTRALIAN IDENTITIES conference, 28-30 June 2007, Melbourne. Call for Papers: deadline 30 November 2006. The organisers welcome papers and presentations exploring Asian Australian identities, histories, cultures and politics. All presentations should be of 20 minutes duration. Abstracts (max 200 words) and a short bio (max 200 words) should be sent to admin@asianaustralianstudies.org or contact the convenors, tseen.khoo@arts.monash.edu.au or jacqueline.lo@anu.edu.au

IN SEARCH OF RECONCILIATION AND PEACE IN INDONESIA, workshop
19 and 20 July 2007, Singapore. The Indonesia Study Group, Asia Research Institute, National University of Singapore is holding an interdisciplinary workshop to examine approaches to reconciliation and peace in Indonesia. Its aim is to provide insights into ways forward not only for Indonesia, but for conflict situations much more broadly. Call for Papers: deadline 15 December 2006. See http://www.ari.nus.edu.sg or contact the convenor, Dr Birgit Bräuchler aribb@nus.edu.sg

You are welcome to advertise Asia-related events in this space. Send details to: fbeddie@ozemail.com.au
Feedback
What would be useful for you? Human interest stories, profiles of successful graduates of Asian studies, more news about what's on, moderated discussions on topical issues? Send your ideas to fbeddie@ozemail.com.au
About the ASAA
The Asian Studies Association of Australia (ASAA) promotes the study of Asian languages, societies, cultures, and politics in Australia, supports teaching and research in Asian studies and works towards an understanding of Asia in the community at large. It publishes the Asian Studies Review journal and holds a biennial conference.

The ASAA believes there is an urgent need to develop a strategy to preserve, renew and extend Australian expertise about Asia. It has called on the government to show national leadership in the promotion of Australia's Asia knowledge and skills. See Maximizing Australia's Asia Knowledge Repositioning and Renewal of a National Asset http://coombs.anu.edu.au/SpecialProj/ASAA/asia-knowledge-book-v70.pdf
Asian Currentsis published by the Asian Studies Association of Australia (ASAA) http://coombs.anu.edu.au/ASAA/ thanks to a grant from the International Centre of Excellence for Asia Pacific Studies (ICEAPS) http://iceaps.anu.edu.au. It is edited by Francesca Beddie. The editorial board consists of Robert Cribb, ASAA President, Michele Ford, ASAA Secretary, Mina Roces, ASAA Publications officer, Tamara Jacka, ASAA Council member.