Analysis
NORTH KOREA'S MISSILE TESTS AND THE INTERNATIONAL REACTION

by James Cotton, Professor of Politics in the University of New South Wales, Australian Defence Force Academy campus, Canberra, and Adjunct Professor, Faculty of Asian Studies, Australian National University.
Despite US warnings that testing the Tae'podong 1998 long range missile would be a 'provocative act', North Korea went ahead on 5 July 2006 and test-fired seven missiles over the East Sea/Sea of Japan. Japan moved quickly to impose bilateral sanctions on Pyongyang, including banning ferry links, diplomatic visits and charter flights, and further international reaction highlighted the lack of progress on building security in Northeast Asia through the six-party talks involving the two Koreas, the United States, China, Japan and Russia.

North Korea's reaction to the initial diplomatic manoeuvres was uncompromising. On 6 July the Foreign Ministry asserted that, because North Korea was not bound by any bilateral or multilateral arms limitation agreements, the missile tests were 'its legitimate right as a sovereign state'. Previous undertakings to the US and Japan to observe a moratorium on missile launches had been invalidated by the lack of progress on official recognition from Tokyo and by Washington's 'hostile policy', manifest in such measures as the imposition of financial sanctions. North Korea further claimed that its missile program was a factor preserving the status quo in the region and that it remained committed to the six-party process.

On 15 July the United Nations Security Council adopted Resolution 1695/2006, which condemned the tests and urged North Korea to the return to the six-party process and to its obligations to the Nuclear Non-Proliferation Treaty (NPT) and the International Atomic Energy Agency (IAEA). In response, Pyongyang categorically stated its intention to defy the Council which, it insisted, had only adopted the resolution because of US hostility.

In fact, the UN's response to the incident was significant because this time China (in a formal sense still an ally of North Korea) was prepared

to endorse the resolution, thereby associating all the participants in the six-party process in the censure of Pyongyang's WMD and missile proliferation activities. The Security Council did not, however, prescribe specific measures in the event of North Korean defiance of its resolution, with China taking exception to any mention of the Security Council's powers to maintain peace and security.

So it has been left to individual countries to implement the requirements of Resolution 1695. Japan is considering further financial restrictions on businesses dealing with North Korea. The United States has announced that limitations upon travel to and investment in North Korea might be re-imposed. With North-South Korean trade running at over $0.5 billion annually, there is a vocal debate in South Korea on how far to proceed with restrictions upon economic linkages with the North. Food aid has been withheld and the Roh Moo-hyun administration characterised the missile test as 'irresponsible', though a presidential spokesman also criticised Japan's reaction as excessive.

The firm reaction of the Australian government was consistent with the positions taken by the US and Japan. In line with Canberra's commitment to non-proliferation and its active membership of the Missile Technology Control Regime (MTCR), it condemned North Korea's actions as a provocation and indicative of an inability to keep international commitments. Foreign Minister Downer announced that further restrictions would be placed on the travel of DPRK officials to Australia, and after consultations in the United States and Northeast Asian capitals, the convening of the six-party process without North Korea was mooted.

Unlike the confrontation between North Korea and the IAEA in the early 1990s, the current crisis elicited a surprisingly uncompromising response from the Security Council. No longer assured of China's unconditional patronage, North Korea may be much less able to manoeuvre between the other members of the multilateral six-party forum. And those in the Untied States who advocate increasing the pressure on Pyongyang can now cite UN endorsement of their views.

Links:

---
RULING THROUGH EDUCATION? THE PROSPECTS FOR AUSTRALIAN-INDIAN RELATIONS
by Tim Allender, Lecturer in History of Education and History Curriculum at the University of Sydney t.allender@edfac.usyd.edu.au
In late 2004 I was invited to give a paper at an 'India Education Forum' organised by the Department of Education Science and Training at the Hyatt Hotel in Canberra. The discussions demonstrated the complex way Australian government instrumentalities were connecting with India, even without the powerful financial clout of a Ford Foundation in the US or the long-standing cultural links offered by the British Council of India and the British Library in each major provincial capital in India.

In recent years, to compensate for this deficit, there has been a tendency by Australian universities to offer places to bright, financially independent postgraduate students wanting an internationally recognised credential. Academics in India must wonder if this strategy signals a new colonial project of poaching the best, especially as our visa requirements and our institutional preferences are for PhD students only, even though these academics are suggesting to us that many more students could come at the Masters level. Letting these students into Australia would offer a more spontaneous and responsive educational exchange that is intellectually enriching for both countries.

While India leads the world in such fields as Astrophysics and computer software, there remain enormous hurdles in education, such as the persistence of scheduled tribes and castes, poor recognition by the state of the professionalism of teachers, privatisation, struggling literacy rates and a long standing resistance by unemployed graduates to vocational education.

These questions offer exciting possibilities for future intellectual engagement between Australia and India, particularly given India's earlier contribution to our thinking on education. It is worth recalling that the British in India attempted imaginative educational experimentation to improve the lot of poor village children even before they attempted the same in England. Most significantly, in the mid-nineteenth century, state-sponsored schooling generated for the first time ethical and pedagogical positions that have been rehearsed and refined ever since in both countries and also throughout the rest of the old empire, including the former Australian colonies.

My book, Ruling Through Education: The Politics of Schooling in the Colonial Punjab (New Delhi, New Dawn Press, 2006), traces much of this discourse, at least for north India. It posits that British-controlled education failed well before the national movement challenged foreign educational practice in the early twentieth century. But it argues that these developments also helped shape a strong indigenous voice regarding education that endures today.

As we negotiate future connections with modern-day India, it is worth considering that it has been on the subcontinent where our own education projects were first partly trialled. Knowing our history better should allow us to take advantage of this rich tradition of cultural transmission to navigate a more even handed and less instrumentalist approach to students, academics and educational institutions on the subcontinent. We may still yet have something to offer each other in terms of social and economic improvement that goes beyond the mere student money market.

Links:


Profile
This month we feature

Professor Andrew MacIntyre

, Director, Crawford School of Economics & Government, ANU College of Asia and the Pacific,

andrew.macintyre@anu.edu.au

Q: When did you become interested in studying Asia and why?
A: At the beginning of high school. Cronulla High School offered Indonesian and Asian Studies and this opened the door for me. Why? As random a factor as my parents encouraged me to study a language and Indonesian was the most engaging of the options on offer. High School was really the key for me. This led to travel, and university more or less followed.

Q: What are your current preoccupations?
A: I have three main preoccupations at the moment. One is building the Crawford School as Australia's first graduate policy school that is on a scale to compete with the other major professional schools in the northern hemisphere. Our research on Asia and ability to attract premium students from Asia is key to this. My second preoccupation is also institutional: we have succeeded in securing major government funding (initially, $6 million over 3 years) for collaborative research on governance issues in Indonesia. This is a major undertaking involving collaborators from around Australia and Indonesia. Key components of the project will be making generous funding openly available (on a competitive basis) for projects tackling major governance issues, and nurturing a new generation of younger scholars interested in exploring governance related topics in Indonesia. Finally, in terms of my personal research, I am working on comparative projects at the moment: one revisiting the whole crony capitalist debate across East Asia, and the other reviewing the political science, economics and legal literatures on property rights and development.

Q: How do these fit into the contemporary scene?
A: A. If I was to try to give a single answer that applies across all of these preoccupations, it would be: taking what social science has to offer and bringing it to bear on some of the big policy issues confronting our region. Notwithstanding the explosion of information and "talk", my sense is that there is a great demand for fresh ideas in Australia and around Asia, provided that they are packaged in ways that are accessible to the target audience.

Q: What are your hopes for Asian studies in Australia?
A: I could be wrong, but my sense is that scholars are listened to less and less. Government tends to view the academy with polite disdain, the media mostly turns to it for cheap filler and business relies on its own sources. Very rarely are academics the first port of call. I think this is bad for all parties and contributes to the long term decline in academic funding. Although there are certainly dangers in getting too close to end-users, to be ignored is even worse. The Asian studies community has an enormous wealth of insight and expertise. The challenge is making it to make it more accessible and user-friendly without allowing it to become beholden to end-users.

Links:

Graduate of the month
| | |
| --- | --- |
| Vanessa Schouten vanessa.schouten@qsuper.qld.gov.au was born in the United Kingdom. She discovered Asia at the age of 18 and for the next six years travelled in Malaysia, Thailand, China, Sri Lanka and India, while living in Hong Kong. In the period before the handover in 1997, Vanessa worked as public relations and sponsorship officer for the British Council Hong Kong. She returned to the UK to complete a psychology BSc in London and then followed a career in business and market research. Her interest in Asia did not wane and she began studying Putonghua (Mandarin Chinese), deciding to tackle this difficult language because it is the most widely spoken language in Asia. | Vanessa moved to Brisbane in 2003, choosing Australia because of its proximity to Asia and the much wider variety of post-graduate courses on Asia offered than in the UK. She works as a market researcher while studying for a Masters in Asian and International Studies at Griffith University and continues to take an evening class in Putonghua. Vanessa loves her course, where she is able to discuss global issues with colleagues. In addition, she feels now more than ever that Asian studies is becoming of more relevance to everyone as the world shrinks and increasingly we are affected by what is happening in the Asian region. That sense is leading her to focus on developments in Indochina and on the effect of security issues on trade in Asia. Not yet finished with the Masters she is already contemplating learning a second Asian language and doing a PhD! |

Website of the month
http://www.bepress.com/asjcl/ is the website for the electronic version of the Asian Journal of Comparative Law, a new peer-reviewed journal for Asian perspectives on the law and legal perspectives on Asia. The journal is an initiative of the Asian Law Institute, an association of thirteen leading law schools in Asia. Topics covered in the first issue include Korean corporate governance, Islamic and common law in Asia and discussions on legal education.

Recent article of interest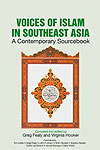 On 15 August, Foreign Minister Downer launched
Voices of Islam in Southeast Asia, A Contemporary Sourcebook
, compiled and edited by Greg Fealy and Virginia Hooker.
http://asianstudies.anu.edu.au/weblog/index.php?/archives/60-recently-published-Voices-of-Islam-in-Southeast-Asia.html
This is the first sourcebook to present a wide selection of contemporary materials on Islam in Southeast Asia, most of which have not previously been available in English. The material covers six broad themes: personal expressions of faith; Islamic law; state and governance; women and family; jihad; and interactions with non-Muslims and the wider Muslim world. The project was made possible by funding provided through the Australian Committee for Security Cooperation in the Asia-Pacific
http://aus-cscap.anu.edu.au/

Did you know?
The Foreign Affairs Sub-Committee of the Joint Standing Committee on Foreign Affairs, Defence and Trade has released a report into Australia's relationship with the Republic of Korea: and developments on the Korean peninsula. The report reviews the trading relationship with the Republic of Korea, as well as issues such as cross-cultural understanding and relations between Australian and Korean institutions, both government and non-government. It also comments on the Democratic People's Republic of Korea and its potential impact of on regional trade and security.
http://www.aph.gov.au/house/committee/jfadt/korea/report/front.pdf


Diary dates
ASIA-PACIFIC MISSIONARIES: AT HOME AND ABROAD, 2nd biennial conference, 25-27 August 2006, Canberra. The conference will be held at the Coombs Lecture Theatre, Australian National University, Contact: Dr Ian Welch, ian.welch@anu.edu.au

CROSS-CULTURAL CONVERSATIONS - INDIAN SUBCONTINENT , 3 September, Melbourne. Part of the annual The Age Melbourne Writer's Festival, this is a panel discussion with authors Glen Duncan, Romesh Gunesekera and Christopher Kremmel in conversation with Hamish McDonald. CUB Malthouse, 113 Sturt Street, Southbank, Melbourne 03-9650 0998 http://www.mwf.com.au

AUSTRALIAN UNIVERSITIES INTERNATIONAL ALUMNI CONVENTION 2006, 13-15 September, Brisbane. The Queensland State Government, Queensland Education and Training International (QETI) and the Office of Higher Education, together with the combined Queensland universities, are joint hosts for the convention called Creating a Better World: Australian Universities' Alumni Working Together, http://www.auiac2006.org

DEMOCRACY AND THE PROMISE OF GOOD GOVERNANCE, 22-23 September, Canberra. The 24th annual Indonesia Update conference will be held at the Coombs Lecture Theatre, Australian National University. The Update is free but registration is required. For details see http://rspas.anu.edu.au/economics/ip/IU06/

TRANSNATIONAL CRIME IN THE ASIA-PACIFIC REGION, workshop, 6 October, Sydney. The Centre for Policing, Intelligence and Counter Terrorism (PICT) at Macquarie University is holding a one-day course to consider the nature of transnational crime in the Asia-Pacific from the perspective of the region's rapidly changing role in the global economy. Cost: $650+GST. (Student discount available). For further information, contact: Marijana Wright: (02) 9850 4712; mwright@access.mq.edu.au

ENERGY SECURITY SYMPOSIUM. 11 October , Canberra. This symposium will explore the implication for Australia's strategic environment of the drive for energy security by nations around the world. See http://www.homelandsecurity.org.au/energy/

CELEBRATE AUSTRALIA, AUSTRALIAN STYLE in Shanghai, 21-28 October. Set at Shanghai's famous lifestyle, entertainment and boutique retail venue Xintiandi, Celebrate Australia will feature a week long program of unique activities and promotions spotlighting the finer side of Australian expertise, lifestyle and innovation. The week coincides with several other high profile events in Shanghai, including the Australia China Business Council's 2nd Forum in Shanghai on 25 October and the Australian Ballet performing 'Swan Lake' from 27-30 October. Australian companies are invited to apply to participate in this celebration by registering by 11 August. See specific mission service packages provided by Austrade: http://www.austrade.gov.au/corporate/layout/0,,0_S1-1_CORPXID0040-2_-3_PWB110830402-4_-5_-6_-7_,00.html or contact
julie-anne.nichols@austrade.gov.au at the Austrade mission in Shanghai.


THIRD WORLD CONGRESS OF KOREAN STUDIES, 27-30 October 2006, Jejudo island, South Korea. The theme of the largest Korean studies conference in the world is 'Cultural Interaction with Korea: From Silk Road to Korean Wave'. For further information, see http://www.aks.ac.kr/eng_home

ASIA-PACIFIC TRIENNIAL OF CONTEMPORARY ART, December 2006, Brisbane. The Asia-Pacific Triennial of Contemporary Art (APT) will be the opening exhibition at the new Queensland Gallery of Modern Art. APT 2006 will present the work of over 30 artists from Asia, Australia and the Pacific. It will feature a performance and cinema program, as well as a children's festival. See http://www.qag.qld.gov.au/apt

MEDIA: POLICIES, CULTURES AND FUTURES IN THE ASIA PACIFIC REGION, 27-29 November, Perth. The organisers of the 2006 Signature Event conference for the Australia Research Council's Asia Pacific Futures Research Network (APFRN), organised by the Media-Asia Research Group welcome proposals for individual papers as well as workshops and panels from government, industry and community groups in addition to the academic community. See http://www.MediaAsiaConference.humanities.curtin.edu.au. A limited number of scholarships are available (deadline 30 June).

THE AOTEAROA NEW ZEALAND INTERNATIONAL DEVELOPMENT STUDIES NETWORK CONFERENCE 30 November to 2 December 2006, Dunedin. The conference is entitled 'Southern Perspectives on Development: Dialogue or Division?' is to be held at the University of Otago, Further information is available from http://www.devnet.org.nz or contact devnet2006@geography.otago.ac.nz

WORLD WITHOUT WALLS: 21st Century Perspectives on East and West, 3-7 December 2006, Sydney. The Oriental Society of Australia (OSA) is holding a fiftieth anniversary, international conference from 3-7 December. The conference title 'World Without Walls' reflects the belief of the conference organisers that the study of humanities, the arts and social sciences without Asia is incomplete. The conference is designed to break down traditional geographic country-based studies by organising panel discussions thematically, and bringing together scholars from different backgrounds to discuss common problems. University of Sydney; COST: $380 per person ($300 Early Bird Registration) ENQUIRIES: OSA2006 Conference Committee, OSA2006@arts.usyd.edu.au. See http://www.arts.usyd.edu.au/conference/OSA2006

You are welcome to advertise Asia-related events in this space. Send details to: fbeddie@ozemail.com.au
Feedback
What would be useful for you? Human interest stories, profiles of successful graduates of Asian studies, more news about what's on, moderated discussions on topical issues? Send your ideas to fbeddie@ozemail.com.au
About the ASAA
The Asian Studies Association of Australia (ASAA) promotes the study of Asian languages, societies, cultures, and politics in Australia, supports teaching and research in Asian studies and works towards an understanding of Asia in the community at large. It publishes the Asian Studies Review journal and holds a biennial conference.

The ASAA believes there is an urgent need to develop a strategy to preserve, renew and extend Australian expertise about Asia. It has called on the government to show national leadership in the promotion of Australia's Asia knowledge and skills. See Maximizing Australia's Asia Knowledge Repositioning and Renewal of a National Asset http://coombs.anu.edu.au/SpecialProj/ASAA/asia-knowledge-book-v70.pdf
Asian Currentsis published by the Asian Studies Association of Australia (ASAA) http://coombs.anu.edu.au/ASAA/ thanks to a grant from the International Centre of Excellence for Asia Pacific Studies (ICEAPS) http://iceaps.anu.edu.au. It is edited by Francesca Beddie. The editorial board consists of Robert Cribb, ASAA President, Michele Ford, ASAA Secretary, Mina Roces, ASAA Publications officer, Tamara Jacka, ASAA Council member.