Welcome to Asian Currents
Asian Currents
aims to connect Australia's academic experts on Asia with journalists, policy makers, business people, artists and other educators. Please feel free to forward this email to others you think would be interested in receiving
Asian Currents
. Registration is free and open to all by simply registering your email address at
http://iceaps.anu.edu.au/asian-currents.html
. The e-bulletin normally appears in the third week of each month.
From the President
Welcome to the new-look Asian Currents! This issue heralds the consolidation of the Asian Studies Association of Australia's cooperation with the International Centre of Excellence in Asia Pacific Studies (http://iceaps.anu.edu.au), which is lending generous support to Asian Currents. Many thanks to the Director, John Fitzgerald, and his colleagues, Richard Thomson and Valerie Shavgarova, for their enthusiasm about the ebulletin. We look forward to working with ICEAPS, a Federal Government initiative which aims to raise the profile of Asia-Pacific studies in Australia. The Centre draws upon the Asia-Pacific expertise of key research and teaching centres throughout Australia and in Asia, Europe and North America, as well as several national professional networks. ICEAPS's goals make it an entirely compatible partner for the ASAA, whose main aim is to promote the study of Asian languages, societies, cultures in Australia. Together, through Asian Currents and other initiatives, we will strive to increase Australians' understanding of Asia and of the Asia expertise that already exists around the country.


Analysis
AUSTRALIA'S IMAGE IN ASIA
by Dr Denise Woods, Project Officer Media-Asia Research Group, Curtin University of Technology Denise.Woods@exchange.curtin.edu.au
Australia's image in Asia was the topic of lively discussion at the first conference of the Media-Asia Research Group (MARG) http://www.marg.humanities.curtin.edu.au
at Curtin University of Technology, Sarawak, Malaysia.

Prominent Indonesian political commentator and talk show host Wimar Witoelar http://www.perspektif.net/wimar/ led the plenary session, 'Seeing Australia Through Asian Eyes', which discussed how Australia was portrayed in the region.

The general view was that the media presented Australia as predominantly 'white' and Aboriginals as marginalised and very badly treated. This portrayal was linked to perceptions of the 'mainstream' treatment of other 'non-white' groups in Australian society. Asian delegates who had been to Australia pointed out they did not see much interaction between Anglo-Saxon Australians and Aborigines, reinforcing the impressions they got from the media that there was a social divide. Australians were seen to be arrogant, especially in dealing with regional neighbours whom they presumed to know and understand. Many commented that people-to-people contact did alter the impression that all Australians are racist or arrogant and that more such contact would further strengthen ties between Australia and the region.

The Australian contingent's response was defensive, especially about being labelled 'arrogant' or 'racist'. An Australian delegate of Aboriginal descent pointed out that not all Aborigines look 'black', using herself as an example to indicate you cannot base judgments on 'white' and 'black' relationships on skin colour.

Different perspectives between Australian and Asian delegates also emerged in terms of their approach to research. The Australians tend to be more focussed on exploring issues of identity and how the media represents its subjects. For example University of Queensland Professor Graeme Turner's keynote address discussed the representation of Muslim youth on Australian television.

He argued that the way a story is framed can influence the judgments of viewers, showing how misleading editing of a particular youth's comments in a Today Tonight program gave the impression that Lebanese youth were unwilling to assimilate. This type of media coverage made it difficult for Muslim-Australians to feel a sense of belonging.

Asian research was more focused on a quantitative approach, such as surveys, for example on which regional television programs people were watching on Malaysian television. This data was used to find out what other countries people found culturally relevant.

The scope of presentations at the conference was very broad, all encompassing the theme of how television, radio, newspapers, magazines, films, music and the Internet are shaping/re-shaping identities in Asia. Papers examined subjects as diverse as the use of the Internet to treat breast cancer, to the role of web radio in Vietnam, to new challenges to media law presented by the convergence of new and traditional media. Papers will be available on the website by end of March 2006:
http://MediaAndIdentity.curtin.edu.my


http://www.curtin.edu.my/CSM/index.htm
Curtin Sarawak Malaysia offers programs of research and study relevant to regional needs. For example:

the search for innovative applications of technology to educational purposes and other social needs

the cultivation of links with the wider community emphasising service, practical relevance, social justice and ethical behaviour

the development of students and staff as citizens of the world, emphasising an international outlook, cultural diversity, and informed respect for indigenous peoples
contributing to the economic and social development of Sarawak and the region.

http://www.amic.org.sg/ Asia's premier media research, publication and documentation centre
http://www.seapabkk.org Southeast Asia Press Alliance


---
AFTER THE TSUNAMI: harnessing Australian expertise for recovery
By Bill Mackey, Communications Director, Australian Academy of Technological Sciences and Engineering (ATSE) BillM@atse.org.au
By taking the lead in establishing a high-level Indian Ocean governance forum similar to the one that already operates for the Asia-Pacific region, Australia could play a key role in helping Indian Ocean-rim countries prepare for and mitigate disasters.

This was one of seven key recommendations from a 2005 workshop, organised by the National Academies Forum (NAF), the peak body of Australia's four academies: the Academy of the Social Sciences in Australia (ASSA); the Australian Academy of Science (AAS); the Australian Academy of Technological Sciences and Engineering (ATSE); and the Australian Academy of the Humanities (AAH).

The workshop concluded that, by comparison with most other countries, Australia is well-placed to assist in many areas of expertise, due to our local knowledge of servicing and supporting tropical and remote community conditions, and our historical associations with the region.

For instance, in agreeing that the region needed a strategic plan for oceanic/earthquake monitoring in the Indian Ocean, the workshop noted that Australia has the only established earthquake warning system operating in the region. In addition Australia could facilitate integrated coastal zone management and support long-term ecological research to help Indian Ocean countries understand their environments better.

The workshop, organised in collaboration with the Department of Education, Science and Training (DEST) and with the support of the Australian Research Council (ARC), CSIRO, the International Centre of Excellence in Asia Pacific Studies (ICEAPS) and others, explored how Australian expertise in the sciences, humanities, technologies and engineering could be most effectively brought to bear, both on the current process of recovery and for the long term.

The workshop's seven specific recommendations were:

1. United strategic regional disaster management:

For an effective approach to regional disaster management, Australia needs to establish multidisciplinary teams supported by a national framework, networks and a 'common' language—all underpinned by whole-of-government support.

2. National regional database: Australia should develop a database to support access to knowledge of both Australian and regional capacity.

3. Regional continuity of knowledge: Australia should make communication and education a key priority for all aspects of disaster preparedness, recovery and rehabilitation. In particular it should offer support for remote communities and effect evidence-based policy development.

4. High-level Indian Ocean governance: Australia should take a leading role in the establishment of a high-level Indian Ocean regional forum.

5. Culture of collaboration: Australian and regional research agencies should develop stronger links and partnership centres of excellence. This should include in-country training of professionals.

6. Strengthen Australia's regional knowledge/skills base: Australia must consider regional cultural imperatives in all assistance and partnering activities. This means urgently strengthening our regional knowledge and skills bases — particularly in languages, history, cultural and religious studies, and political science — through government support of appropriate education, training and career structures.

7. Risk management as aid: Australia should consider risk management an essential component of a broader approach to aid and development to support sustainable regional futures.

Profile
This month we profile Professor Adrian Vickers, Chair of Asian Studies at the University of Wollongong

http://www.capstrans.edu.au/people/staff/adrian-vickers.html

and convenor of this year's Asian Studies Association of Australia biennial conference.

http://www.uow.edu.au/arts/conferences/asaa/

Professor Vickers is a specialist in Balinese history and culture and is a regular commentator on Australian perceptions of Asia.

Q. When did you become interested in studying Asia and why?

A. I studied Indonesian at high school and in 1973 our school had an excursion to Java, Bali and Sumatra. I was hooked from then on and regret that so few schools nowadays can provide the same opportunities. There are only a handful of schools in NSW that offer Indonesian at all, and government travel advisories have virtually put an end to all school excursions to Indonesia. I was also able to continue learning not only Indonesian, but also regional languages at Sydney University, again another opportunity lost to students nowadays. My daughter, for example, would love to learn Javanese, but no-one in Sydney teaches it anymore--it's only the language of 100 million people!

Q. What are your current preoccupations?

A. Organising the ASAA conference: I wake up in the early hours of the morning stressing out about getting everybody here and getting everything happening. In between I'm also reading up on what is being written in the way of new history in Indonesia. This is a flow-on from my recently published History of Modern Indonesia (Cambridge) http://www.cambridge.org/us/catalogue/catalogue.asp?isbn=0521542626. A third interest, and this isn't just because it's next Friday's lecture, is the Mughal Empire, which I find really fascinating.

Q. How do these fit into the contemporary scene?

A. The new histories coming out in Indonesia are part of the post-Suharto 'freedom' that has followed the lifting of censorship. A lot of the news is good--Indonesia is asserting its diversity, the Left now has a voice, and there is some really good new research being done.
However the new history-writing also reflects the fact that a lot of people in power would be quite happy to go back to the bad old days, and so the situation has a 'two-steps-forward-one-step-back' feel to it.

My Mughal interest is probably an example of me getting on the India bandwagon, but I've always been fascinated by India, everything from Sivaite practices to Ravi Shastri's batting.

Q. What are your hopes for Asian studies in Australia?

A. That we can capture the public agenda. It's not just the national political leadership, but opinion makers in the arts and in most aspects of public life have a real blind spot for Asia. If people can be convinced that Asia is interesting and important then the funding will come back and the students will follow. But we, and here I particularly mean Indonesianists, have been very bad at telling people why they should be interested. We take it for granted that because we like the place, everybody else will.

Researcher of the month
For high school students in regional Victoria in the early 1990s, Asian studies featured little on the school curriculum. Jemma Purdey's interest in Asia came via a combination of an exchange trip to Malaysia between Years 11 and 12, and her active participation in human rights issues with Amnesty International. The Dili Massacre in late 1991 piqued her interest in Indonesia in particular. Jemma majored in Political Science and Indonesian language for her BA (Hons) at the University of Melbourne and also took a year out to travel and study in Indonesia.

It was the influence of Charles Coppel in the University of Melbourne's History Department that led Jemma to her PhD thesis topic in early 1998. This was an exciting time as Indonesia was potentially on the verge of great change. Charles' research interest in the ethnic Chinese guided Jemma to focus on the escalation of violence against this minority group.

Jemma completed her thesis in 2002 and as a Fellow at the International Institute for Asian Studies in the Netherlands, she developed her wider thematic interest in the study of violence in Indonesia. The following year she accompanied her husband to Mumbai, India where she worked as a volunteer at a school for slum children and at a women's resource and advocacy centre.

During this time her writings were focused on the NGOs where she worked, the Indian film industry and politics. Her PhD has been recently published as Anti-Chinese Violence in Indonesia: 1996-1998 as part of the ASAA Southeast Asian Publication Series. http://www.nus.edu.sg/npu/9971-69-332-1.html

For the past twelve months as Writer-in-Residence at the Centre of Southeast Asian Studies at Monash University, Jemma has been researching and writing a biography of Herb Feith, Australia's first and greatly loved Indonesianist. She has interviewed more than 100 of his friends, colleagues and former students in Australia, Indonesia, East Timor and elsewhere. In early 2006 as a Harold White Fellow at the National Library of Australia, Jemma has had privileged access to Herb's personal archive.

http://www.herb-feith-foundation.org/biography-project.html

NB Monash University has recently advertised a new academic post, the 'Herb Feith Chair for the Study of Indonesia'. The closing date for applications is Friday, 31 March 2006 see http://adm.monash.edu/sss/employment/senior/

Website of the month
http://www.npcil.nic.in/aboutnpcil.asp In the wake of President Bush's and Prime Minister Howard's visits to India, which put the spotlight on India as a nuclear power, you may like to visit the website of the Nuclear Power Corporation of India Limited (NPCIL), a wholly owned enterprise of the Government of India under the administrative control of the Department of Atomic Energy (DAE). NPCIL operates fourteen nuclear power units at six locations and is implementing construction of eight ongoing nuclear power plants.
(This website was located using the portal http://www.samachar.com/ 'India made easy'.)
Recent article of interest

The Australian Strategic Policy Institute
http://www.aspi.org.au
has just published a report by Chicago-based economist David Hale, in which he gives his assessment of China's economic prospects and the impact this will have on the Asia-Pacific region. Hale argues that with China now enjoying the fourth largest nominal GDP in the world, its rise as a great economic power will be one of the great geo-political challenges of the 21st century. A summary of In the balance: China's unprecedented growth and implications for the Asia-Pacific can be found at
http://www.aspi.org.au/publications.cfm?pubID=87#

Did you know?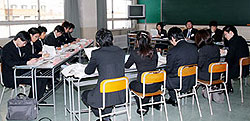 The Australian National University ANU-ANJeL (Australian Network for Japanese Law) team was the first non-Japanese university team to take part in the 2005 Intercollegiate Negotiation Competition in Tokyo. The competition covers two days of 3 ˝ hours of arbitrating and another 3 ˝ hours of negotiating. The judges are professional lawyers, arbitrators and judges. All arguments and the substantial written submissions were conducted in Japanese.
The teams' scores are not public, but ANU helped knock Tokyo University from its three-year reign as winners (Kyoto University won this year) and was rumoured to have won at least one of the rounds. ANU also won the Teamwork/Enthusiasm Trophy.
For more see http://asianstudies.anu.edu.au/weblog/index.php?/archives/34-ANU-Team-Compet
The Sumitomo Group sponsors the event. http://www.sumitomo.gr.jp/english/overview/inc4.html

THE SUSSEX LIBRARY OF ASIAN STUDIES, to be launched in 2007, will publish original scholarly work in various disciplines (including interdisciplinary and transnational approaches) under the rubric of Asian studies -- particularly economics, education, religion, history, politics, gender, comparative studies with the West and regional studies in Asia. For further information and proposal submissions, please contact the Series Editor, Dr. Mina Roces, School of History, The University of New South Wales, m.roces@unsw.edu.au

Diary dates
Exhibitions and other events

Conferences

BEAUTIFUL MEMORIES - PAINTINGS BY WON SUNG
11 February to 29 April
Fo Guang Yuan Art Gallery, 141 Queen Street, Melbourne
Enquiries: (03) 9642 2388
Venerable Won Sung is a self-taught artist and Korean monk, whose work depicts young monks at work and play. Won Sung has shown in over 30 solo exhibitions in Korea, New York, Milan, Germany, Tokyo and Sydney.




DILMAH TEA'S FOUNDER MERRILL J FERNANDO ON BUSINESS ETHICS AND SOCIAL JUSTICE
28 March, Melbourne
Tuesday 28 March 2006, 6.30pm to 7.30pm, Carrillo Gantner Theatre, Sidney Myer Asia Centre, The University of Melbourne (corner of Swanston Street and Monash Road).
Merrill J Fernando, speaks on founding the Dilmah tea dynasty and the motivation for the formation of the MJF Charitable Foundation as well as why tea and cricket are inseparable in Sri Lanka. This event is presented by The University of Melbourne's Faculty of Economics and Commerce, with the support of Asialink. To reserve a seat, please send an email to: events@asialink.unimelb.edu.au with "Fernando" in the subject line.


THE AVIAN FLU - IMPACT, SOLUTIONS & READINESS
12 April Melbourn
Wednesday 12 April 2006, 6.30pm to 7.45pm, Carrillo Gantner Lecture Theatre, Sidney Myer Asia Centre, The University of Melbourne
Dr. Robert Glasser, Chief Executive of CARE Australia; Professor Graham Brown, Interim Director at Nossal Institute of Global Health at the University of Melbourne and Dr. John Carnie, Deputy Chief Health Officer, Department of Human Services, Public Health, Victoria who will talk about Avian Flu the level of preparedness in Australia. This event is presented by Asialink in conjunction with CARE Australia. , To reserve a seat, please send an email to Asialink Events at events@asialink.unimelb.edu.au with "Avian Flu " in the subject line.


SYMBOLS & CEREMONIES INDONESIAN TEXTILE TRADITIONS
13 April-28 May
Asian gallery, Ground Level, Art Gallery of NSW, Sydney
http://www.artgallery.nsw.gov.au
This exhibition presents examples of lavish court textiles from Java, boldly designed warrior cloths from Sumba, narrative paintings of the Ramayana epic from Bali and ship cloths from Sumatra. It is arranged thematically into groups relating to life-cycle ceremonies, temple rituals, and court occasions, providing insights into the cultures that produced these magnificent textiles.


INTERNATIONAL ASIAN ANTIQUE AND ART FAIR 2006
27 May to 31 May 2006
Hong Kong
http://www.asianart.com/
The fair will be held at the Hong Kong Exhibition Centre, China Resources Building, 26 Harbour Road, Wanchai, Hong Kong


ZEN MIND, ZEN BRUSH
15 June – 13 August
Art Gallery of NSW, Sydney
http://www.artgallery.nsw.gov.au
Japanese ink painting from the Gitter—Yelen Collection


ASIA-PACIFIC TRIENNIAL OF CONTEMPORARY ART
1 November-1 December 2006
Queensland Gallery of Modern Art, Brisbane
http://www.qag.qld.gov.au/apt
The Asia-Pacific Triennial of Contemporary Art (APT) will be the opening exhibition at the new Queensland Gallery of Modern Art. APT 2006 will present the work of over 30 artists from Asia, Australia and the Pacific. It will feature a performance and cinema program, as well as a children's festival.

16TH BIENNIAL CONFERENCE OF THE ASIAN STUDIES ASSOCIATION OF AUSTRALIA (ASAA) ON "ASIA RECONSTRUCTED" 26-29 June, 2006
University of Wollongong
http://www.uow.edu.au/arts/conferences/asaa/
The deadline for the call for papers has been extended until Wednesday 1 March 2006. Please email abstracts and brief profile information to Margaret Hanlon at meh43@uow.edu.au Themes of the conference include: the critique of development; governance and citizenship; labour and social Transformation; the clash of fundamentalisms; national and transnational legal issues; the role of technology; new and old Arts; Asia and world history; post-colonialism; Australia-South Asia links. The program will be posted on the ASAA conference web site by March 2006.

STRANGERS ON THE SHORE: A CONFERENCE ON EARLY COASTAL CONTACTS WITH AUSTRALIA
30-31 March
Canberra
http://www.strangersontheshore.com.au
A conference about early historical contacts with Australia and indigenous Australians, including the Macassans, National Museum of Australia.

AUSTRALIANS AND NEW ZEALANDERS IN CHINA, 1800-1950
14-16 April, 2006
Canberra
Contact the convenor, Dr Ian Welch, ian.welch@anu.edu.au
This conference will have a special focus on the contribution of women to ANZ-China relations. Abstracts of approximately 300 words are invited. Contributions by ANZ citizens/residents of Chinese ethnic origins are particularly welcome.

Sixth International Congress FOR THE STUDY OF TRADITIONAL ASIAN MEDICINE
27-30 April, Austin, Texas
The theme for the congress is "Sense and Substance in Traditional Asian Medicine." Registration details are available on the IASTAM website at http://www.iastam.org/conferences.htm

10TH ASIAN STUDIES CONFERENCE JAPAN (ASCJ)
24-25 June 2006
Tokyo
http://www.meijigakuin.ac.jp/%7Eascj/
This conference will be held at International Christian University (ICU), Tokyo, on Saturday, June 24, and Sunday June 25, 2006.

BORNEO IN THE NEW CENTURY
31 July and 1 August 2006
Kuching Sarawak
www.borneoresearchcouncil.org
Papers are invited for the Eighth Biennial Conference of the Borneo Research Council (BRC). These should present original research in any field relating to Sabah, Brunei, Sarawak, Kalimantan and its surrounding region. Abstracts, no longer than 100 words, must be submitted by email before 1 May to: Jchin@ieas.unimas.my or James.chin@lycos.com.

ASIA-PACIFIC MISSIONARIES: AT HOME AND ABROAD
2nd Biennial conference
25-27 August 2006
Canberra
The conference will be held at the Coombs Lecture Theatre, Australian National University, Contact: Dr Ian Welch, ian.welch@anu.edu.au

THE AOTEAROA NEW ZEALAND INTERNATIONAL DEVELOPMENT STUDIES NETWORK CONFERENCE
30 November to 2 December 2006, Dunedin
The conference is entitled 'Southern Perspectives on Development: Dialogue or Division?', is to be held at the University of Otago, Further information is available from http://www.devnet.org.nz or contact devnet2006@geography.otago.ac.nz

You are welcome to advertise Asia-related events in this space. Send details to: fbeddie@ozemail.com.au
Feedback
What would be useful for you? Human interest stories, profiles of successful graduates of Asian studies, more news about what's on, moderated discussions on topical issues? Send your ideas to fbeddie@ozemail.com.au
About the ASAA
The Asian Studies Association of Australia (ASAA) promotes the study of Asian languages, societies, cultures, and politics in Australia, supports teaching and research in Asian studies and works towards an understanding of Asia in the community at large. It publishes the Asia Studies Review journal and holds a biennial conference.

The ASAA believes there is an urgent need to develop a strategy to preserve, renew and extend Australian expertise about Asia. It has called on the government to show national leadership in the promotion of Australia's Asia knowledge and skills. See Maximizing Australia's Asia Knowledge Repositioning and Renewal of a National Asset http://coombs.anu.edu.au/SpecialProj/ASAA/ asia-knowledge-book-v70.pdf
Asian Currents is published by the Asian Studies Association of Australia (ASAA) http://coombs.anu.edu.au/ASAA/ thanks to a grant from the International Centre of Excellence for Asia Pacific Studies (ICEAPS) http://iceaps.anu.edu.au. It is edited by Francesca Beddie. The editorial board consists of Robert Cribb, ASAA President, John Fitzgerald, Director, ICEAPS, Keith Foulcher, ASAA Secretary, Mina Roces, ASAA Publications officer, Tamara Jacka, ASAA Council member.