India's secular parties don the cloak of religion in the jostle for votes. SWATI Parashar reports.
With voting now underway in India's election, the one obtrusive factor that has missed analytical and academic scrutiny during the election campaign is the increasing use of religious symbolism by all political parties, their supporters and candidates. This election is being touted as one that will either entrench or dent India's secular credentials. But that has not prevented the religious entering every aspect of the campaign.
The church–state separation has never held ground in India, and although secularism is deeply embedded in popular culture, it coexists with a wide variety of religious practices. The build-up to these elections has further exposed an extensive reliance by secular parties and politicians on religious symbolism, religious constituencies, religious invocations and rituals to match that of parties which thrive on the religious identity vote.
The prime ministerial frontrunner, Narendra Modi, is popularly referred to as Namo, a Sanskrit word that means a humble greeting to a higher authority, or more literally, is used to denote obeisance to Hindu deities. Modi's followers would not stop at Namo alone, but equate him to all kinds of Hindu gods, with a Facebook page devoted to him as the 'GOD of Modern INDIA—Narendra Modi'.
Modi hails from a hardline, right-wing political party, the BJP (Bharatiya Janata Party), whose core constituency is the middle class (mostly upper caste) Hindu voters. The party expects religious minorities to owe allegiance to the Hindutva (Hindu nationalist) ideology. It is unsurprising then that Modi is also referred to as Hindu Hriday Samrat (the Emperor of Hindu Hearts), a title earlier bestowed on Hindutva leaders such as Atal Bihari Vajpayee and Balasaheb Thakre.
In a recent controversial reference to Modi, his followers in Varanasi have used the slogan Har Har Modi instead of Har Har Mahadev (an invocation to the Hindu god, Shiva). This is significant as Modi is being equated to Lord Shiva. Har Har Mahadev was also a war cry popular with some Hindu kings of the past, and Modi's rise is being seen as a 'war' by the awakened Hindus. This has been criticised by some Hindu seers as well as opposition leaders, and Modi himself appealed to his followers on Twitter to refrain from using it.
The latest efforts to deify Modi have resulted in posters in Varanasi using a modified version of a Sanskrit shloka (chant) eulogising Goddess Durga. It reads: Ya Modi Sarvabhuteshu, Rashtrarupen Sansthita, namastasye, namastasye Namo Namah; (We worship Modi, who resides in every human being in the form of the nation.) The original Durga Shaptashati chant reads: Ya Devi Sarvabhuteshu, Shakti Rupen Sansthita; namastasye, namastasye, namastasye namo namah; (We worship Devi, who resides in every human being in the form of Shakti). This may not have gone down well with certain sections of people but seems to have gained immense popularity. On my recent trip to India, I spoke to a wide variety of people of different ages, gender, caste and class for whom Modi was nothing less than a saviour or avatar—some even referring to him as Kalki, the last avatar of Vishnu.
The significantly weakened and incumbent Congress Party and its allies, while criticising Modi and the BJP for communalising politics and polarising people in the name of religion, have appealed to various religious constituencies themselves in order to stay in the political race. Congress president Sonia Gandhi and her son Rahul were seen participating in a Hindu religious havan before filing their nomination papers.
Sonia Gandhi also met with the Shahi Imam of the Jama Masjid in Delhi, who promptly issued a call to all Muslims to vote for the secular Congress party. Media reports have consistently emphasised the significance of Muslim votes in constituencies with large numbers of Muslims, especially in Assam, Bihar, Bengal, Uttar Pradesh, Jammu and Kashmir, Maharashtra and Andhra Pradesh, who will decide the fate of local as well as national parties.
Deification of prominent politicians and Bollywood artists is quite common in India.
Secular parties have traditionally eyed Muslim voters and fielded Muslim candidates strategically. Although it is debatable that the Muslim 'vote bank' exists in the form it is imagined, it doesn't prevent political leaders from donning Muslim skull caps and robes, and from offering prayers and organising iftars during Ramadan as political ploys.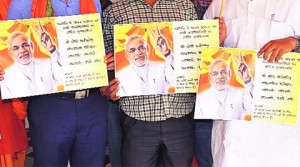 Deification of prominent politicians and Bollywood artists is quite common in India. In Bhagwanpur village, in the state of Uttar Pradesh, a small Shiva temple has been temporarily converted into a shrine for Modi, with a statue of him placed inside the temple where devotees can worship him. Prayers and incense sticks are offered, with worshipers reciting the Mahamritunjaya mantra (chanting for Shiva) regularly for the wellbeing of the BJP's prime ministerial candidate.
It is well known that Indira Gandhi was referred to as Durga (armed female deity) by then opposition leader Atal Bihari Vajpayee, after she led a successful campaign in the 1971 war with Pakistan over Bangladesh. Sonia Gandhi enjoys a similar status today among her followers.
Telangana was created as a separate state, more as a political ploy by Congress to score advantage in the coming elections, but it has won Sonia Gandhi all kinds of devotees, and her statue being enshrined in a temple where daily prayers can be offered. The 'Goddess Sonia' statue, installed by a Congress legislator from Andhra Pradesh, Shankar Rao, depicts Gandhi as Telangana Talli (Telangana mother) in gratitude for her government's decision to create a separate Telangana state. The statue will be installed at the Sonia Gandhi Shanti Vanam (peaceful abode), on nine acres of land owned by Rao's family near the Bangalore–Hyderabad highway. Not surprisingly, this project has the approval of several Congress leaders close to Sonia Gandhi.
Political churning
Apart from the BJP and Congress, other parties have also overtly adopted religious symbolism while pledging their unwavering commitment to secularism. The Aam Aadmi Party's (AAP) rise has been looked at in the context of tremendous political churning in India, especially among the youth looking for a politics of hope beyond the narrow confines of religious, caste and class identities.
However, Shazia Ilmi of the AAP created a furore after paying obeisance at a Shiva temple and seeking blessings from its mahant (priest). The Mufti of Darul-Ulum (Waqf) of Deoband promptly issued a fatwa declaring her heretic action as un-Islamic. Arvind Kejriwal, leader of the AAP, adopted the Muslim skull cap and readily accepted the Koran as a gift, his speeches increasingly laced with 'Allah' and 'Khuda' almost as an afterthought.
Another candidate from an avowedly secular party, in the state of Chhattisgarh, visited a Hindu temple, Muslim mausoleum and the religious guru of a sect of scheduled castes (dalits), all before filing his nomination papers. A Samajwadi Party candidate from Indore Lok Sabha constituency, Neha Sharma, went a degree further than merely praying and offering obeisance to the powers above. She dressed up as Goddess Durga before filing her nomination papers.
In Indian mythologies and folktales there are numerous well-known stories where gods have played humans; humans playing god perhaps becoming more popular, especially during election times.
Like caste—which many analysts would argue has become more entrenched with its politicisation—religious identity is deeply embedded in India's secular discourse . With all its religious fault lines, sectarian strife and, eventually, secular religiosity, India remains an anomaly in a rapidly radicalising South Asia. It is, therefore, not surprising to find religious symbolism at the heart of its grandest democratic festival.
It would be difficult to imagine a political and social life that is outside religion, and a secularism where religion may be treated only as a matter of personal faith. For the world that is closely watching these elections, the key to Indian politics, and the psyche of India's voters and political class, lies in understanding religious secularism, and secular religiosity, as the Indian way of life.
Main photo:
Durga idol during a Hindu festival in a temple at Burdwan. It is well known that Indira Gandhi was referred to as Durga after she led a successful campaign in the 1971 war with Pakistan over Bangladesh (Joydeep / Wikimedia Commons).