THE BEIJING OLYMPICS: Challenging Times

by Tim Lindenmayer tim.lindenmayer@gmail.com who recently completed his Honours year at Monash University and is interpreting at the Games
2008 has been a big year for China. After the winter snowstorms and the devastating Sichuan earthquake, in August this year China was put under unprecedented global attention and scrutiny, during arguably the most significant event in its recent history – the Olympic Games.

I arrived in Beijing a week before the opening ceremony in order to re-familiarise myself with the city. I found that astounding developments had occurred since my last visit a year ago.China has spent some $40 billion in its Olympic preparations, including constructing the world's largest airport terminal, installing 19 new Olympic venues and expanding its underground system by an extra 100kms of subway and light rail lines. Throughout Beijing, thousands of the city's glossy new buildings are on display, while the old ones have been restored, repainted and plastered with bold welcome banners and colourful Olympic murals. New parklands and reserves have been established throughout the city, while millions of flowerbeds and pot plants were shipped in from the countryside. Pristine taxis and tidy new buses travel between major sites around the city, where troupes of uniformed 'foreigner-helpers' are stationed, waiting to welcome and direct their Olympic guests.

These are the images Beijing wanted to display. A friendly, open, naturally cosmopolitan city, embodying the very slogan of the Beijing Olympics: "One World, One Dream". However, this official catchphrase –seen throughout Beijing, carved into rock, spelled out in elaborate garden designs and flashing on fluorescent billboards –smacks of irony.

Indeed, the "Harmony Games" propaganda the Chinese Communist Party (CCP) has striven so hard to present, obscures the grimmer side of China's remarkable Olympic preparations.

Before the Games, migrant workers, beggars, prostitutes, disabled people and other unsightly subjects were forced out of the city in a rigorous government crackdown. Beijing spared no effort to remove anyone that might cause a nuisance or reflect poorly on the government and the nation.

Public awareness campaigns battled against spitting, swearing, queue-jumping, littering, smoking and 'Chinglish' street signs. Directions were given on how to act and what to say in the presence of foreigners. Some of my Chinese friends who volunteered to don the 'foreign-helper' outfit were instructed on how to respond if confronted by a foreigner with a thorny question: 'Tibet?' – 'No opinion.' 'Politics?' – 'All good/ uninterested.'

Beijing's pre-Olympic behaviour, as well as long-standing issues such as human rights abuses, pollution, political and religious repression and Beijing's unscrupulous support of various pariah regimes, have ignited legitimate protest from both within and outside of China. Nevertheless, the constant criticism China has recently received in the Western media also seems to reflect certain censoriousness among Western observers. China-bashing has become the norm for Western journalists.

While the Olympics inevitably and rightly calls attention to the serious shortcomings of the Chinese government, the Games should also be remembered for what they symbolise for China – the culmination of three decades of impressive growth and a milestone in China's rapid emergence as a global power.

Links:

---
CHINA-TAIWAN RELATIONS: the election of President Ma Ying-jeou

by Bruce Jacobs, Professor of Asian Languages and Studies, Monash University, Bruce.Jacobs@arts.Monash.edu.au, offers a glimpse into one part of Chinese history that received little attention during the Olympic opening ceremony
Chinese claims to Taiwan are very recent. In his famous 16 July 1936 interview with Edgar Snow, Chairman Mao Zedong clearly stated that Taiwan should be independent (Snow 1961:96). A recent study by Alan Wachman (2007) demonstrates that neither the Chinese Nationalist Party (Kuomintang) nor the Chinese Communist Party claimed Taiwan as a part of China until 1942. In fact, the only Han Chinese government ever to control Taiwan from the
Chinese mainland did so during the Civil War of 1945-1949, perhaps the saddest period of Taiwan's entire history.

During their two centuries (1683-1895) of rule, the Manchus made clear they never exercised sovereignty in Taiwan's aboriginal highlands. They also administered Taiwan differently from China, another colony in their huge multi-ethnic empire. The Manchus ceded Taiwan to Japan in 1895. From the time the Chinese Nationalists took over in October 1945, Chiang Kai-shek and his son, Chiang Ching-kuo, systematically discriminated against Taiwanese while emphasising the Chinese nature of their regime. For example, although mainlanders accounted for only 15 per cent of Taiwan's population, they always held a majority of seats in the party's Central Standing Committee and in the government's cabinet.

This situation changed when Vice-President Lee Teng-hui succeeded President Chiang Chiang-kuo upon the latter's death in January 1988. Under Lee Teng-hui (1988-2000) and President Chen Shui-bian (2000-2008), Taiwan democratised and the discrimination against Taiwanese ended. The Chinese reaction was to refuse to speak to the Taiwan government. China aimed more and more missiles at Taiwan until the number reached 1,400 earlier this year. The Anti-Secession law, passed by the Chinese National People's Congress in 2005, formally threatened Taiwan with "non-peaceful" measures.

When he ran for president in 2008, Ma Ying-jeou, the Nationalist nominee, repeatedly emphasised his identity with Taiwan.


Though born in Hong Kong, he stressed that his parents had conceived him in Taiwan. He also noted that Taiwan was an independent and sovereign country.

Taiwan's voters gave Ma a landslide victory primarily because the previous government appeared inefficient and because economic growth had slowed. Ma argued that more integration of the Taiwan economy with China would be advantageous. After his inauguration, Ma also pushed hard for better relations with China. Although the frameworks had been established under Chen Shui-bian, the Chinese had refused to finalise these agreements in an effort to help the presidential candidacy of Ma. This support from the mainland saw Ma's promise of direct weekend charter flights from China come to fruition on 4 July 2008. The Taiwan government established a limit of 3,000 Chinese tourists per day and expected earnings from this tourism to be about A$2 billion per year but the fountain of wealth has yet to materialise. In the month since Chinese tourists were welcomed, fewer than 300 a day have arrived and these have spent considerably less than expected.

The Ma government has strived to show the Chinese that it is "friendly." The Chinese response to this effort remains unclear, with considerable infighting apparent over the Taiwan issue.

In the context of the Olympics, the official Chinese media often uses a term for Taiwan that implies it is part of China, despite the 1989 agreement of Taiwan and China on how to translate the term 'Chinese Taipei' into Chinese. And, notwithstanding many statements by Ma Ying-jeou that no peace agreement would be possible without the removal of the missiles aimed at Taiwan, not one missile has been removed.

References

Snow, Edgar (1961). Red Star Over China (New York: Grove Press, Black Cat Edition). This version reprinted the original 1938 edition.

Wachman, Alan M. (2007). Why Taiwan? Geostrategic Rationales for China's
Territorial Integrity (Stanford: Stanford University Press.)

Links:

Dreyer, Edward L. (2008). 'The Myth of "One China."' In Peter C.Y. Chow (ed), The "One China" Dilemma (New York: Palgrave Macmillan), pp. 19-36.

Jacobs, J. Bruce (2008). 'Taiwan's Colonial History and Postcolonial Nationalism.' In ibid, pp. 37-56. orders@palgrave.com

Profile
This month we profile

Professor Tim Lindsey

, Federation Fellow, Director, Asian Law Centre Director, Centre for Islamic Law & Society, Faculty of Law, The University of Melbourne

t.lindsey@unimelb.edu.au

Q: When did you become interested in Asia and why?
A: I was lucky enough to be a schoolboy when Asian studies were booming. It was the 70s and Australia has just begun to wake up to the fact that it was located squarely at the southern end of Asia, not floating somewhere in mid-Atlantic between England and the US (even if that is where the national mental map usually places us). All over Australia, schools and universities were busy building Asian studies and I was direct beneficiary of this – admittedly, with some prodding from Mum and Dad, who at the critical moment expressed disgust that I might even consider a European language! The watershed moment for me came with a school home-stay. Immersion in the life of small central Javanese town – and living with some of the nicest people I have ever met – turned Indonesia from a subject of study to a life-long obsession. Later, when my PhD in Indonesian history, a biographical study, was published as 'The Romance of K'tut Tantri and Indonesia', I realised that if substituted my own name in the title it would be a good description of what the archipelago had done to me.

Q: What are your current preoccupations? And how do these fit into the contemporary scene?
A: Later, I was lucky enough to combine my training as a lawyer with my preoccupation with our northern neighbour and emerge as a specialist in Indonesian law. This was an area of expertise often dismissed as an eccentric niche until Australians began to realise that sharing borders means sharing problems. The Bali bombings, the Corby case and the Bali Nine trials reminded Australia that, like it or not, Indonesia is now part of the Australian experience.

Unfortunately, they also showed that we have a lot of work ahead if we are to make the most of the extraordinary opportunities geography offers us: most Australians haven't noticed that the post-Soeharto Indonesian democracy is in many ways a completely a new state.

Q: What are your hopes for Asian Studies in Australia?
A: We urgently need to build better understanding of each other's systems and create a more effective institutional infrastructure for cooperation across the Arafura Sea. Sadly, this won't be easy. It has been a great honour to me to be able work on second-string bilateral diplomacy for over a decade through membership of the Australia Indonesia Institute, but the grim reality is that Indonesian studies – like Asian studies more generally – is in catastrophic decline across Australia. It seems incredible to me that we now have fewer Indonesian courses and fewer students than in the 1970s (and thus fewer young people offered the opportunities I was lucky enough to have). The dumbing-down of Australian Asia literacy as we enter the Asian century is a national tragedy that will have dire consequences for decades to come. It is way past time for government to realise that the national interest – whether it be strategic and security concerns, trade policy and the imperatives of globalisation, or cultural and social enrichment – demand a major investment in Asia skills. We urgently need a reinstatement and expansion of the NALSAS (National Asian Languages and Studies in Australian Schools) scheme, which stood at $130 million per annum when Mr Howard axed it. Mr Rudd, the $64 million over 3 years you've promised won't even come close!

Links:

NALSAS: http://www1.curriculum.edu.au/nalsas/about.htm


Student of the month
As an undergraduate at the National University of Singapore (NUS), Ashvin Parameswaran had no intention of studying about Asia. His interest in political science theory was cut short when he unexpectedly received a failing grade at the end of his first semester. Six months later, the university realised that his failing grade was the result of a computer error and awarded him his actual grade – a high distinction.

By then, however, the newly established South Asian Studies Program had captured his undivided attention. Headed by Professor Peter Reeves, a highly respected South Asianist from Australia, this program introduced Ashvin to the great diversity in the region. It also taught him two important lessons that remain fundamental to his development as a researcher and teacher.

First, never be afraid of doing original research. At NUS, then doing his honours in anthropology at Curtin University of Technology, and now his PhD at the Australian National University (ANU), Ashvin has engaged in fieldwork in South Asia, Southeast Asia, and Australia.

His research on diverse topics – including religion, caste, tourism, business, and education – have resulted in the publication of nine refereed journal articles.

Second, recognise and nurture the potential of students. A succession of dedicated teachers and mentors at all three of the institutions mentioned above have been crucial to shaping Ashvin's thinking about Asia. They have also instilled in him the sense that teaching well is an important professional responsibility. With McComas Taylor at the ANU, Ashvin has designed, lectured, and tutored in three different courses – on epics, religion, and independence – related to South Asia. In the process he has also been nominated for a number of teaching awards.

After completing his dissertation in the next six months, Ashvin hopes to begin a new project examining the role of science in Indian new religious movements. This project will combine an intellectual history approach with ethnographic fieldwork methods.

Website of the month
The East Asian Bureau of Economic Research is a forum for high-quality economic research focussing on issues facing the economies of East Asia. It comprises representatives from Japan, China, South Korea, Vietnam, Cambodia, Laos, Thailand, Malaysia, the Philippines, Indonesia and Australia. One of its later offerings is an article, Financing Higher Education in East Asia by Bruce Chapman and Peter Drysdale.
Recent publication of interest
Doha's demise by Mark Thirlwell/The Interpreter, Lowy Institute. This blog was posted on 4 August and considers the recent failure in world trade talks and outlines the three important sets of issues that have been raised by this latest collapse in negotiations. Thirlwell says the immediate cause of the breakdown seems to have been failure to reach agreement on the operation of a so-called special safeguard mechanism for developing countries. This would have allowed them to raise agricultural tariffs in response to sharp movements in prices or imports. See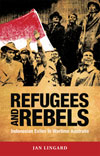 http://www.lowyinterpreter.org/post/2008/07/Doha%e2%80%99s-demise.aspx
It is a privilege and a pleasure to announce the release of a new book titled Refugees and Rebels. Written by Jan Lingard aspic@ozemail.com.au, the book tells a story of the wartime influx of thousands of Indonesians into White Australia and the grassroots support they received from Australian unionists and friends who became involved in their fight for independence from the Dutch. http://www.scholarly.info

Did you know?
The 2008 Ramon Magsaysay awardees have been announced:
Grace Padaca is recognised for empowering voters in the Philippines. Therdchai Jivacate is honoured for his dedicated efforts in Thailand to provide inexpensive, practical and comfortable artificial limbs even to the poorest amputees. The Center for Agriculture and Rural Development Mutually Reinforcing Institutions (CARD MRI), from the Philippines, received a public service award for their successful adaptation of microfinance in the Philippines, providing self-sustaining and comprehensive services for half a million poor women and their families. Prakash Amte and Mandakini Amte, from India, are being recognised for enhancing the capacity of the tribal Madia Gonds to adapt positively in today's India. Ahmad Syafii Maarif, from Indonesia, is honoured for guiding Muslims to embrace tolerance and pluralism. Akio Ishii, from Japan, is recognised for his principled career as a publisher, placing discrimination, human rights, and other difficult subjects squarely in Japan's public discourse. Ananda Galappatti, from Sri Lanka, receives the award for emergent leadership in bringing effective psychosocial services to survivors of war and natural disasters in Sri Lanka.
The Magsaysay Award was created in 1957 to commemorate late president of the Philippines and to perpetuate his example of integrity in government, courageous service to the people, and pragmatic idealism within a democratic society.http://www.rmaf.org.ph

Diary dates
PICTURE PARADISE - THE FIRST CENTURY OF ASIA-PACIFIC PHOTOGRAPHY 1840s-1940s 11 July - 9 November, Canberra. This exhibition is the first survey of the history of photography from India and Sri Lanka through Southeast Asia, Australia and the Pacific to the west coast of North America National Gallery of Australia Parkes Place, Parkes, Canberra. http://nla.gov.au/pict/photofestival.html.

INAUGURAL AUS - CSCAP FORUM 4 & 5 September, Melbourne. Supported by the Department of Foreign Affairs and Trade, Asialink is proud to host the inaugural AUS - CSCAP National Security and Regional Issues Forum with the Hon Stephen Smith, Minister for Foreign Affairs, as keynote speaker and other panellists from government, business and academia, panels will include: security aspects of resource ownership in Australia; contesting security architectures in Asia; promoting nuclear non-proliferation; the state of the "War on Terror"; Indonesia: security issues update To register your interest in attending this Forum, please contact Bernadine Fernandez by email at b.fernandez@asialink.unimelb.edu.au.

XINRAN XUE - CHINA WITNESS: VOICES FROM A SILENT GENERATION, 13 September, Canberra. China Witness is the personal testimony of a generation whose stories have not yet been told. Here the grandparents and great-grandparents of today sum up in their own words for the first and perhaps the last time the vast changes that have overtaken Chinas people over a century. Saturday 13 September at 4pm; Asia Bookroom, Lawry Place, Macquarie RSVP: Friday 12 September to 6251 5191 or books@AsiaBookroom.com.

OzASIA 14-28 September Adelaide. The OzAsia Festival showcases and explores Australia's increasing cultural interaction with our northern neighbours. http://www.adelaidefestivalcentre.com.au/ozasia/.

EPHEMERAL BUT ETERNAL WORDS: Observations on Contemporary Japanese Calligraphy 15 September, Sydney. Dr Fuyubi Nakamura, Postdoctoral Fellow, Research School of Humanities, Australian National University will talk about the search by contemporary calligraphers for a role and place for their art. 5.15 pm to 7pm The Refectory, Main Quadrangle, University of Sydney http://www.arts.usyd.edu.au/departs/asianstudies/news/index.shtml.

INDONESIA UPDATE 2008, 19-20 September, Canberra. Indonesia is the world's largest archipelagic state. More than half its share of the earth's surface is sea, and the marine frontier presents Indonesia with economic opportunity and political and strategic challenges. This conference examines Indonesia's response to that challenge. Presentations will address maritime boundaries and security, marine safety, inter-island shipping, the development of the archipelagic concept in international law, marine conservation, Indonesian sea-farers, illegal fishing, and the place of the sea in national and regional identity. See http://rspas.anu.edu.au/economics/ip/IU08.

A YEAR IN TIBET, 24 September, Canberra. Sun Shuyun, author of 'The Long March' and 'Ten Thousand Miles without a Cloud' explores in intimate detail the lives of a shaman and his family, three monks, a village doctor, a Party worker, a hotel manager, a builder and a rickshaw driver. Through them she captures the Tensions between Chinese and Tibetans, between an ancient and an alien culture, between faith and science, tradition and modernity. 6pm, Asia Bookroom, Lawry Place, Macquarie, RSVP by Tuesday 23 September to 6251 5191 or books@AsiaBookroom.com.

CHALLENGES OF GOOD GOVERNANCE & PROMOTION OF CIVIL SOCIETY IN THE PHILIPPINES 26 September, Sydney. Mayor Jesse Robredo, Naga City, Philippines will present this seminar in the Asian Studies Lecture Series @ Sydney University from 4:30 pm – 6:00 pm Education Seminar Room 325, Education Building, Manning Road http://www.arts.usyd.edu.au/departs/asianstudies/news/index.shtml.

TRANSITION AND INTERCHANGE Ninth Women in Asia Conference, 29 September-1 October 2008, Brisbane. The University of Queensland is hosting the ninth Women in Asia (WIA) Conference, to be held from 29 September–1 October, 2008. Call for Papers: Contributions are invited from various disciplines on a large number of themes concerning the lives of women in Asia. Participants are encouraged to submit proposals for panels (with 3-4 papers per panel). Individual proposals are also welcome. http://www.womeninasia.org

ARTSingapore, 9-13 October 2008, Singapore. This contemporary visual art fair is both a trade and consumer fair, and thus a platform for art dealers and galleries to network and foster business relationships, and for art collectors to acquire new works http://www.artsingapore.net/index-as.html.

OPEN HANDS, CROSSED FINGERS, POLITE SMILES AND FURROWED BROWS: The Tokyo-Beijing-Washington Strategic Triangle and the Future of East Asian Regionalism 14 October, Sydney. Dr Malcolm Cook, Lowy Institute and Professor Rodney Tiffen, Asia Pacific Program, Sydney University will discuss this subject from 4:30 – 6:00 pm Education Seminar Room 459 as part of the Asian Studies Lecture Series @ Sydney University http://www.arts.usyd.edu.au/departs/asianstudies/news/index.shtml.

AUSTRALIAN MEDIA AND INDONESIA, 29 October, Sydney. Professors Rodney Tiffen and Adrian Vickers present this seminar at 4:30 – 6:00 pm Education Seminar Room 325 as part of the Asian Studies Lecture Series @ Sydney University http://www.arts.usyd.edu.au/departs/asianstudies/news/index.shtml.

RESEARCHING THE GARMENT INDUSTRY IN THE ASIA-PACIFIC, 5 November, Sydney. Professors Adrian Vickers and Elspeth Probyn discuss this issue from 4:30 – 6:00 pm at Education Seminar Room 325 as part of the Asian Studies Lecture Series @ Sydney University http://www.arts.usyd.edu.au/departs/asianstudies/news/index.shtml.

VIETNAM UPDATE 2008, Labour in Vietnam, 6-7 November 2008, ANU, Canberra. The 2008 Vietnam Update takes up the timely issue of labour in Vietnam. It will explore the theme of labour broadly, including Vietnam's position in regional labour markets; the socialist legacy in the globalised workplace; everyday working conditions and experiences; the regulatory framework; the changing industrial relations system; the politics of labour; the protection of labour rights; and the internationalisation of labour standards. Convenor: Anita Chan, Contemporary China Centre, Research School of Pacific and Asian Studies, The Australian National University: anita.chan@anu.edu.au.

GLOBALISING RELIGIONS AND CULTURES IN THE ASIA-PACIFIC, 1-5 December 2008, Adelaide. This conference is the 2008 Signature Event for the Asia-Pacific Futures Research Network. With religion and culture as the key themes, the conference covers areas central to understanding the current state, diffusion and evolution of religious beliefs in the Asia-Pacific as well as their cultural and other consequences. In addition to its academic conference, the Event features three major public forums, link-ups with Australian media, side events and tours. The culminating event, the conference banquet, will be held under the direction of one of Australia's most famous chefs, Simon Bryant. If you wish to attend, give a paper, organise a panel or know more, please feel free to contact the organisers at the University of Adelaide via email at: sigevent08@adelaide.edu.au or go to http://www.adelaide.edu.au/sigevent08/.

You are welcome to advertise Asia-related events in this space. Send details to: fbeddie@infinite.net.au
Feedback
What would be useful for you? Human interest stories, profiles of successful graduates of Asian studies, more news about what's on, moderated discussions on topical issues? Send your ideas to fbeddie@infinite.net.au.
About the ASAA
The Asian Studies Association of Australia (ASAA) promotes the study of Asian languages, societies, cultures, and politics in Australia, supports teaching and research in Asian studies and works towards an understanding of Asia in the community at large. It publishes the Asian Studies Review journal and holds a biennial conference. ASAA and the Centre for Language Studies at National University of Singapore also co-publish an annual supplementary issue of the Centre's fully peer-reviewed electronic Foreign Language Teaching Journal (e-FLT). See http://e-flt.nus.edu.sg

The ASAA believes there is an urgent need to develop a strategy to preserve, renew and extend Australian expertise about Asia. It has called on the government to show national leadership in the promotion of Australia's Asia knowledge and skills. See Maximizing Australia's Asia Knowledge Repositioning and Renewal of a National Asset http://coombs.anu.edu.au/SpecialProj/ASAA/asia-knowledge-book-v70.pdf
Asian Currents is published by the Asian Studies Association of Australia (ASAA). It is edited by Francesca Beddie. The editorial board consists of Robert Cribb, ASAA President; Michele Ford, ASAA Secretary; Mina Roces, ASAA Publications officer; and Lenore Lyons, ASAA Council member.
---
Return to Asian Currents home page
(formerly at coombs.anu.edu.au, now at http://iceaps.anu.edu.au/asian-currents.html)