IS THIS THE ASIAN CENTURY?

by Robert Cribb robert.cribb@anu.edu.au President of the ASAA, ruminating on themes that emerged during the Asian Studies Association of Australia's biennial conference in July 2008.
The economic rise of China, and behind it the looming economic presence of India, raise the prospect of a fundamental change in the balance of global power in the 21st century. With economic power will come, surely, strategic power. The military hegemony of the West, so evident during the last two centuries, is likely to give way to a more complex global order. Perhaps that order will be fragile and vulnerable to the kind of collapse that precipitated the First World War, perhaps it will be resilient, thanks to the systems of economic and technological interdependence which will make another world war as unthinkable as a war between the Australian states.

Much harder to forecast is the cultural and intellectual impact of the rise of Asia. Throughout the era of Western economic and strategic hegemony, there was a significant 'backflow' of Asian culture to the West in many different forms – from curry, to Chinoiserie, to gamelan, to Zen. Cultural historians have shown how easily complex societies recruit and absorb foreign cultural elements without being assimilated to foreign culture. We can expect these processes to continue – the recent East Asian fad for things Korean may spread to the West, or it may give way to some new enthusiasm.

The real question is not whether there will be intensified cultural interaction between Asia and the West. Of course there will be.

Nor is there any doubt that Asia can beat the West at its own games, building better cars and more powerful weapons, devising better software and better pop music, distilling better brandy and better biofuels. The consequence will be more and more Asian faces and institutions in the world's various A-lists and more and more canny Westerners fluent in Asian languages. But we also know that the West is far from finished as a global force for innovation.

If 'the Asian century' means a global century in which Asia is a full participant, commensurate with its size and energy, then – within the constraints of resource depletion and environmental change – we can certainly expect an Asian century. In other words, the rise of Asia does not need to mean the fall of the West.

But the bigger question is whether Asia's enhanced presence on the global stage will change the world's ways of thinking. The rise of the West generated the new modes of thought about the nature of things and the character of humanity that we call modernity. Western societies themselves were transformed before their expansion transformed the rest of the world. Asian societies responded creatively to the Western challenge, but the most important and creative ideas coming out of Asia – from Gandhism to Maoism to the Grameen Bank – were responses to the global agenda set originally by the West; they were not independent attempts to set new agendas for the future.

A century in which Asia takes charge of the world's thinking agendas? Now that would be an exciting change.


Links:

See also Fareed Zakaria's discussion about the rise of China and India, The Future of American Power, Foreign Affairs, http://www.foreignaffairs.org/2008/3.html

---
The June editorial of Globe Asia, something like Indonesia's equivalent to Fortune magazine, introduces an edition featuring the 150 wealthiest Indonesians, now worth USD$69.3 billion. Fifteen are billionaires. The editor's comment is that it is not just the global economic climate and boom in commodities that has created this wealth but also 'the drive and entrepreneurial skills of these … individuals'. One can't help thinking, however, while skimming the list, that political connections still count in Indonesian business – many New Order names appear, including people from the extended Soeharto family and their associates.

Flip over a few pages and you find an article on Indonesia's labour market which, despite the boom times, is characterised by a steady rise in the number of people who have given up looking for work – discouraged workers – as well as the 10 million Indonesians who are unemployed (Statistics Indonesia, 2007). It is still hard to get a good job in Indonesia, with many of those unemployed relatively well educated and not prepared to take low paid jobs.

Globe Asia champions the free market. It has criticised the government for wasting money on cash handouts for the poor when it might boost productivity among small and medium enterprises (SMEs). To do that, however, will also require increasing the level of workers' skills.


Yet vocational education remains the poor country cousin of academic education, with not enough investment, poor facilities, weak links to industry and – hardly surprising – a negative image. According to its five-year plan, the Indonesian Government wants to expand, improve and make more appealing vocational education. It has just taken out an ADB loan of $80 million to strengthen vocational education over the next five years. That project aims to put 22,000 students from low income families a year in a more competitive position as they enter the labour force. And two ILO projects worth around $25 million are working to strengthen links between vocational education centres and industry.

This is a big challenge, not least because of the complexity of the educational task. As in most other countries, vocational teachers in Indonesia are grappling with how to transfer the 'soft skills' most workers now require. A recent study by Wagiran, a researcher in the Faculty of Engineering, Yogyakarta State University, looked at vocational skills in the manufacturing sector. It identified honesty and a good work ethic, discipline, initiative and creativity, and adaptability in the top ten attributes required of a worker. Yet few manufacturing graduates are taught these skills at school.

This means that many employers have to train new workers themselves – both in technical skills and in the basics of workplace behaviour. The study recommends more collaboration between vocational schools and industry, as well as integrating soft skills within the daily learning process, creating an industry atmosphere at school and maximising vocational/career assistance.

With the Indonesian private sector now boasting 15 billionaires, those recommendations appear modest. There may also be a case for big business to boost vocational education for the skilled labour they will need to keep up their productivity, starting with an injection of capital into their nation's training system.


Links:

Wagiran's paper was presented at the inaugural VTE Research and Networking Conference in July 2008 in Indonesia

http://www.voctech.org.bn

Profile
This month we profile

Jan Lingard

, honorary associate, University of Sydney and author of

Refugees and Rebels: Indonesian Exiles In Wartime Australia

Australian Scholarly Press (forthcoming)

jan.lingard@usyd.edu.au

Q: When did you become interested in Asia and why?
A: My interest began about 40 years ago when I left my teaching job to raise a family. During this time I attended an Adult Education course entitled 'Our Northern Neighbours'. I chose this course because at the time I knew very little about those neighbours, despite our geographic proximity. I can still remember how intrigued I was as we were introduced to these diverse non-European cultures, and I wanted to know more. The following term the only Asia related course was on Indonesia. I took that course and thus began an interest and involvement that continues to this day. When my family moved to Canberra just as Gough Whitlam introduced free tertiary education, I seized the opportunity to enrol at Australian National University (ANU) as a mature age student in the Faculty of Asian Studies. I did an honours degree in Asian Civilisations and Indonesian, and on completion of my degree I was offered a job tutoring Indonesian language. I taught there for 13 years. When I moved back to Sydney in 1991 I was appointed as a tutor, then later lecturer in Indonesian at the University of Sydney where I stayed until I retired in 2001. My life has been enriched beyond measure by my relationship with Indonesia and its people.

Q: What are your current preoccupations? And how do these fit into the contemporary scene?
A: During my time at ANU and Sydney University I developed a strong interest in literary translation and published several collections of short stories, including one, Eyewitness, by Seno Gumira Ajidarma, which won a Victorian Premier's Literary Award. Apart from the linguistic challenge of translation, I had a strong desire to attempt to make the world of Indonesians, as expressed by their own writers, accessible to non Indonesian speakers. Eyewitness was significant because the stories in the collection exposed the atrocities committed during the Indonesian occupation of East Timor, and they were written by an Indonesian, at great personal risk to himself.

At a time when the Australian media were demonising everyone and everything Indonesian I felt it was important to try to provide another perspective and an Indonesian voice.

A few years ago I moved in another direction when I became aware that during World War II, several thousand Indonesians had come to Australia as evacuees when the Japanese invaded the then Netherlands East Indies. I was intrigued by the idea of these 'Asiatics', to use the parlance of the day, taking up residence in White Australia. I wondered where they went, what they did and most of all, how they engaged with ordinary Australians. It has always been my experience that Australians and Indonesians who take the trouble to get to know each other get on very well indeed, irrespective of the vicissitudes of the political relationship between our two countries. I wondered how it was back then when they would have known nothing at all about each other and when Australia was a country which did its best to keep 'coloured' people out. This preoccupation led to my writing a book entitled Refugees and Rebels: Indonesian Exiles in Wartime Australia.

Q: What are your hopes for Asian Studies in Australia?
A: When I first became interested in Indonesia all those years ago, people used to ask me, 'Why? Is it so you can say "Take me to your leader?"' The fear of 'the other', the fear of invasion, were alive and well 40 years ago, and sadly, in many cases, still are, along with fear of 'all those Muslims' and of course, terrorists. The basis of all these fears is, I believe, fear of the unknown.

The key to establishing relationships with our Asian neighbours is education. We need bold educational initiatives from government including the training of well qualified teachers, able to teach Asian studies, including languages, from primary school to tertiary level. My hope for the future would be that Australians were encouraged and given the opportunity to become Asia literate, so that any fears they had could be put into a perspective based on knowledge.

To find a copy of Eyewitness, try http://www.biblioz.com/lp25763736936_1566.html

Student of the month
Jane Gibian, librarian, ESL teacher and poet, talks about her experience trying to learn Vietnamese in Australia:

Given the large Vietnamese community in Australia, and the cultural and economic possibilities arising from engaging with a country that is opening up to the Western world, it is strange that there are few opportunities to study the Vietnamese language in Australia.

I first started studying Vietnamese in Sydney about 10 years ago, because I wanted to learn an Asian language. Initially I did a short beginners' course, then enrolled in a more intensive course at Randwick TAFE. Our class group became close-knit and the majority of us continued into the next level. After completing these courses, no higher levels of Vietnamese were offered.

Some years later, I wanted to resume Vietnamese, so I found a private teacher. At one stage I attended her Saturday school class for second-generation Vietnamese children. I studied along with a class of welcoming eight-year-olds, and helped correct their written work because my writing skills were better,

though their home-acquired speaking and listening skills easily eclipsed mine.

My first visit to Vietnam was on an Asialink Literature Residency in 2002. I continued lessons in Hanoi with a university Vietnamese teacher, including some study of Vietnamese poetry, and made good progress. When I returned to Australia, my teacher became ill and was unable to continue teaching. After visiting Vietnam again in early 2007 I was inspired to look for a Vietnamese conversation partner. An overseas student responded to my sign on a uni notice board, and we began irregular social meetings. This was fun but not like the discipline of regular classes and homework.

Due to the non-existence of intermediate/advanced courses, I recently contemplated giving up Vietnamese for good, and learning Mandarin with my boyfriend. I'm envious of the sheer number and variety of Mandarin courses offered in Sydney. But then I stumbled across a Vietnamese teacher running small private classes. The teacher is excellent, though like all of us she finds it difficult getting appropriate resources.

Although it's been frustrating, I'm glad I chose to study Vietnamese since, for reasons I do not understand, few other Australians do. It's a great shame that Vietnamese is not taught at a tertiary level in any NSW university, and at few others Australia-wide.

Jane Gibian's most recent collection of poetry is Ardent (Giramondo, 2007). See http://www.giramondopublishing.com/

Website of the month

http://www.eaylf.com The Europe Asia Young Leaders Forum is an annual forum that brings together a diverse group of approximately 50 younger Europeans and Asians of outstanding leadership quality in business, politics, academia, and the media.
Recent publication of interest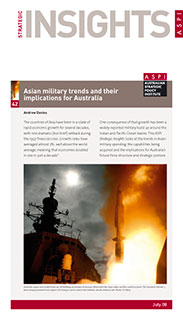 The Australian Strategic Policy Institute has recently published its 42nd Strategic Insight paper, Asian military trends and their implications for Australia, by Andrew Davies. The paper sees Australia's military capability edge in the Asian region eroding, with Asian militaries expanding and acquiring sophisticated capabilities. Davies examines the drivers of this trend and looks at the implications for Australia. http://www.aspi.org.au/publications/publication_details.aspx?ContentID=176&pubtype=6

Did you know?
The National Library of Australia (NLA) is inviting applications for the 2008-09 Japan Study Grants program. These grants are open to postgraduates, honours students, academic staff or independent researchers in Australia who wish to use the Japanese or Japan-related collections of the National Library for their research. They are intended to make the NLA's Japanese collections better known outside Canberra and be a source of practical support for researchers requiring access to a large and accessible library collection on Japan. For more details on the NLA's Japanese collections visit http://www.nla.gov.au/asian/lang/jap.html Grants are offered for periods of up to four weeks and support travel to Canberra and living costs. At least four grants are awarded each year. For full details visit the website at http://www.nla.gov.au/grants/jsg/ The closing date for applications is 30 September 2008.


Diary dates
TAISHO- CHIC: JAPANESE MODERNITY, NOSTALGIA AND DECADENCE 22 May to 3 August, Sydney. Featuring about 70 paintings, prints, textile and decorative arts, the exhibition encapsulates the clash and embrace of Western modernity and traditional Japan in this transitional period (the greater Taisho- period 1910–1930). Art Gallery of New South Wales http://www.artgallery.nsw.gov.au/exhibitions/coming/taisho_chic

PICTURE PARADISE - THE FIRST CENTURY OF ASIA-PACIFIC PHOTOGRAPHY 1840s-1940s 11 July - 9 November, Canberra. This exhibition is the first survey of the history of photography from India and Sri Lanka through Southeast Asia, Australia and the Pacific to the west coast of North America National Gallery of Australia Parkes Place, Parkes, Canberra. http://nla.gov.au/pict/photofestival.html

THE POLITICS OF ISLAM IN OUTER INDONESIA, 22-26 July, Banjarmasin, South Kalimantan, Indonesia. This is the 5th International Symposium sponsored by Jurnal Antropologi Indonesia. These symposia are now among the world's largest gatherings of Indonesianists, primarily but not exclusively anthropologists. For an overview of the conference theme see: http://www.fisip.ui.ac.id/antropologi/index.php?option=com_content&ta

BEIJING – XANADU: PAST, PRESENT AND FUTURE, 26 July, Sydney, 2 August, Melbourne. The modern city of Beijing occupies a site that dates back to Kublai Khan and centuries earlier. The history and culture of Beijing reflect the city's past glories as well as some of the dark secrets of its rulers. This seminar in TAASA's lecture series on "Great Cities of Asia" will be presented in Sydney at the Powerhouse Museum, and in conjunction with the National Gallery of Victoria at the Clemenger BBDO Auditorium, NGV International in Melbourne. See the Asian Arts Society of Australia AASA website http://www.taasa.org.au/index.php?itemID=3

THE INFLUENCE OF INDIAN DANCE - FROM CLASSICAL TO BOLLYWOOD, FROM EAST TO WEST 30 July, Melbourne. In an illustrated talk, Dr Sunil Kothari, Visiting Professor for Dance, School of Arts and Aesthetics, Jawaharlal Nehru University, New Delhi, will trace the developments of contemporary expressions of Indian dance in Bollywood and in western dance forms from its roots within Indian classical dance. 12.30pm to 2pm, Federation Hall, VCA, Grant St, Southbank. To reserve a seat, please send an email to Asialink Events at http://www.taasa.org.au/index.php?itemID=3 with "Indian Dance" in the subject line.

"THE ELEPHANT, THE TIGER & THE CELL PHONE – REFLECTIONS ON THE ONGOING TRANSFORMATION OF INDIA", 30 July, Melbourne. Indian statesman, author and columnist, Dr Shashi Tharoor, will talk to Geraldine Doogue about his latest book, which looks at India as the emerging 21st century power. 6.30pm, Carrillo Gantner Theatre, Basement, Sidney Myer Asia Centre, The University of Melbourne, RSVP: email events@asialink.unimelb.edu.au with "Tharoor" in the subject line.

KWARTET PUNAKAWAN: INDONESIA PUSAKA at Sydney Opera House 10 August. Celebrated pianist Jaya Suprana will escort Sydney audiences on a rich musical journey through the Indonesian archipelago. Joined by guitarist Jubing Kristanto, percussionist Junaedi Musliman and bass player Heru Kusnadi, Kwartet Punakawan specialises in the timeless sufi music of Indonesia, presented with a very contemporary style. Part concert, part lecture, Indonesia Pusaka introduces the music from some 120 ethnic groups in a magnificent tribute to this diverse country. 7pm Adults: $35 Concessions: $25 http://www.sydneyoperahouse.com/whatson/
kwartetpunakawanindonesianpusaka.aspx

BEIJING OLYMPIC GAMES, 8-24 August 2008 http://en.beijing2008.cn/


ANCIENT CHINESE PORCELAIN: global exporting, China-West interaction, antique collection, and authentication, 27 August, Sydney. This talk by Baoping Li introduces the archaeological and art-historical significance of Chinese porcelains. Baoping works at the University of Queensland, where his research focuses on the history of Chinese porcelains and their interaction with other ceramic traditions such as Japan, Korea, Southeast Asia and Middle East. 5.15 pm – 7pm at Mills Lecture Room 209, R.C. Mills Building, Fisher Road, University of Sydney http://db.auth.usyd.edu.au/directories/map/building.stm?ref=H15L22

INDONESIA UPDATE 2008, 19-20 September, Canberra. Indonesia is the world's largest archipelagic state. More than half its share of the earth's surface is sea, and the marine frontier presents Indonesia with economic opportunity and political and strategic challenges. This conference examines Indonesia's response to that challenge. Presentations will address maritime boundaries and security, marine safety, inter-island shipping, the development of the archipelagic concept in international law, marine conservation, Indonesian sea-farers, illegal fishing, and the place of the sea in national and regional identity. See http://rspas.anu.edu.au/economics/ip/IU08

TRANSITION AND INTERCHANGE Ninth Women in Asia Conference, 29 September-1 October 2008, Brisbane. The University of Queensland is hosting the ninth Women in Asia (WIA) Conference, to be held from 29 September-1 October, 2008. Call for Papers: Contributions are invited from various disciplines on a large number of themes concerning the lives of women in Asia. Participants are encouraged to submit proposals for panels (with 3-4 papers per panel). Individual proposals are also welcome. See http://www.freewebs.com/womeninasia

ARTSingapore, 9-13 October 2008, Singapore. This contemporary visual art fair is both a trade and consumer fair, and thus a platform for art dealers and galleries to network and foster business relationships, and for art collectors to acquire new works http://www.artsingapore.net/index-as.html

VIETNAM UPDATE 2008, Labour in Vietnam, 6-7 November 2008, ANU, Canberra. The 2008 Vietnam Update takes up the timely issue of labour in Vietnam. It will explore the theme of labour broadly, including Vietnam's position in regional labour markets; the socialist legacy in the globalised workplace; everyday working conditions and experiences; the regulatory framework; the changing industrial relations system; the politics of labour; the protection of labour rights; and the internationalisation of labour standards. Convenor: Anita Chan, Contemporary China Centre, Research School of Pacific and Asian Studies, The Australian National University: anita.chan@anu.edu.au

GLOBALISING RELIGIONS AND CULTURES IN THE ASIA-PACIFIC, 1-5 December 2008, Adelaide. This conference is the 2008 Signature Event for the Asia-Pacific Futures Research Network. With religion and culture as the key themes, the conference covers areas central to understanding the current state, diffusion and evolution of religious beliefs in the Asia-Pacific as well as their cultural and other consequences. In addition to its academic conference, the Event features three major public forums, link-ups with Australian media, side events and tours. The culminating event, the conference banquet, will be held under the direction of one of Australia's most famous chefs, Simon Bryant. If you wish to attend, give a paper, organise a panel or know more, please feel free to contact the organisers at the University of Adelaide via email at: sigevent08@adelaide.edu.au or go to at http://www.adelaide.edu.au/sigevent08/

You are welcome to advertise Asia-related events in this space. Send details to: fbeddie@infinite.net.au
Feedback
What would be useful for you? Human interest stories, profiles of successful graduates of Asian studies, more news about what's on, moderated discussions on topical issues? Send your ideas to fbeddie@infinite.net.au.
About the ASAA
The Asian Studies Association of Australia (ASAA) promotes the study of Asian languages, societies, cultures, and politics in Australia, supports teaching and research in Asian studies and works towards an understanding of Asia in the community at large. It publishes the Asian Studies Review journal and holds a biennial conference. ASAA and the Centre for Language Studies at National University of Singapore also co-publish an annual supplementary issue of the Centre's fully peer-reviewed electronic Foreign Language Teaching Journal (e-FLT). See http://e-flt.nus.edu.sg

The ASAA believes there is an urgent need to develop a strategy to preserve, renew and extend Australian expertise about Asia. It has called on the government to show national leadership in the promotion of Australia's Asia knowledge and skills. See Maximizing Australia's Asia Knowledge Repositioning and Renewal of a National Asset http://coombs.anu.edu.au/SpecialProj/ASAA/asia-knowledge-book-v70.pdf
Asian Currents is published by the Asian Studies Association of Australia (ASAA). It is edited by Francesca Beddie. The editorial board consists of Robert Cribb, ASAA President; Michele Ford, ASAA Secretary; Mina Roces, ASAA Publications officer; and Lenore Lyons, ASAA Council member.
---
Return to Asian Currents home page
(formerly at coombs.anu.edu.au, now at http://iceaps.anu.edu.au/asian-currents.html)