ASIAN STUDIES AND THE 2020 SUMMIT

by the ASAA President, Associate Professor Robert Cribb, Australian National University
A good range of Asia specialists will be represented at the 2020 summit in Canberra. Asia is not mentioned in the list of ten topics for debate, but it is clearly relevant to many of them – productivity, climate change, health, social inclusion, creativity and security, at the very least.

Charting the best direction for Australian education about Asia is no easy task. For pretty much the whole of the twentieth century, each Australian generation claimed to be the ones to discover Asia – culturally, strategically, economically and socially – and successive generations of Asia specialists in our universities were able to parlay this sense of discovery and opportunity into new investments and new initiatives. As we head deeper into the 21st century, the sense of discovery has lost some of its force and we need a new round of careful thought about the strategies needed to develop Australia's fitness to engage with Asia.

Australia's continuing economic and social engagement with its region drives a demand for knowledge about Asia and proficiency in Asian languages to a degree that has no parallel in any Western country. A generation of Australians is aware that when it comes to Asia a little knowledge is a useful thing. We can be disappointed that a generation of Australian students now finds Asia to be routine and thinks that Spanish is a more exotic language than Japanese, but we need not fear that awareness of Asia will disappear from the public consciousness.

Nonetheless, we still need a strong cohort of Asian specialists who can do battle with

prejudice and presumption and who can feed a diversity of serious analytical points of view into both the policy process and public debate. The significant long-term individual and institutional investments needed to deliver high quality Asian Studies mean that market forces alone are unlikely to deliver the outcomes that Australia needs to function effectively in the Asian region.

Remedial attention to Asian Studies is needed in two areas:

• Training a younger generation of academic specialists on Asia who will understand different parts of Asia at the highest scholarly level both as university teachers and as public intellectuals familiar with the specific needs and interests of Australian society. This generation must be large enough both to provide its own quality control and to offer a diversity of analysis and approaches from which decision-makers and members of the public can draw their conclusions. Current indications are that the specialist expertise on Asia is becoming increasingly scarce.

• Maintaining a high quality of Asian language training though the proper training for Asian language teaching,

proper recognition and career rewards for excellent performance in language training, the development and maintenance of course materials appropriate to Australian students, support for in-country programmes, the development of strategies to sustain languages of lesser demand and the development of structures which allow multiple entry points into Asian language study for students and citizens as their needs develop. Current indications are that the teaching of Asian languages at schools and in universities is languishing as a consequence of formula funding , negative reporting and lack of economies of scale.

Links

See also Australia's security and prosperity: ideas for 2020 editor, William Maley. Canberra : Dept. of International Relations, College of Asia and the Pacific, Australian National University, 2008.1 v. Keynotes, 1446-0726 ; 09 AN: 42863670 ISBN: 9780731531554 (pbk.) : $15.00 This edition includes an article by former ASAA President Robin Jeffrey in which he argues for a National League of Language Teachers.

---
INDIA RETURNS TO THE CARIBBEAN
by Loro Horta, PhD candidate and research associate fellow, S. Rajaratnam School of International Studies, Nanyang Technological University, Singapore http://www.ntu.edu.sg/publicportal
India's economic expansion is being felt all over the world. Once remote and distant territories never before in the minds of most Indians, are fast becoming destinations for Indian investors. These include the islands of the Caribbean, which make a good case study of India's emerging approach to trade and investment.

India's links to the Caribbean date back to the mid 19th century when Britain brought thousands of indentured labourers from the subcontinent to work in its plantations. Its return to the region has been steadily increasing in the last five years. India is now a major economic and political actor in oil-rich Trinidad and Tobago By the end of 2007, Indian companies had poured $US3.4 billion into projects across the spectrum of that economy. Reflecting her growing thirst for raw materials the bulk of this investment was in the metallurgical sector.

In order to win goodwill India is following in China's footsteps in the developing world, by providing financial assistance and building infrastructure. Indian companies have major irrigation infrastructure contracts in Jamaica, Guyana, and Suriname, and are building $US80 million worth of cricket stadiums and other sports facilities around the Caribbean. Other major projects include a new highway and bridges in Suriname and a possible multimillion dollar contract for telecommunications network infrastructure in Guyana. India has also paid $US1.3 million for the computerisation of the secretariat of CARICOM,

the regional organisation that brings together the 15 Caribbean nations. Since 2002 India has given Suriname $US72 million in lines of credit lines for various infrastructure and development projects.

India is also showing considerable interest in the forest and agriculture sector. Four Indian companies are already importing timber from Guyana and Suriname. Another area that is attracting considerable Indian interest is sugarcane and sugar production. Sugar exports, once a major source of revenue for Caribbean nations, have suffered significantly since the European Union imposed serious restrictions on its imports. Indian sugar companies have jumped into this weakened sector and have been injecting funds into the sugar industries of Jamaica, Guyana and Suriname, with the aim of transforming the region into one of its main suppliers of sugar.

On the energy front, delegations from the Indian state-owned oil giant Reliance visited Guyana and Suriname in

2007 to negotiate oil and mining concessions. Indian companies are particularly interested in the potentially lucrative gold and diamond fields located deep in the Amazon forest.

The fact that ethnic Indians constitute a significant proportion of the population of some of the Caribbean nations has facilitated Indian investment and fostered closer political ties. It is no coincidence that Indian companies have been more successful in Trinidad and Tobago, where Indians account for 40 per cent of the population, Guyana where they account for 51 per cent, and in Suriname where the figure is 31 per cent. India's fast economic growth and her resulting thirst for energy resources and other raw materials will continue to drive Indian interest in this region and beyond. However, in looking to the Caribbean India is not alone and must expect stiff competition from China.

Links

Profile
This month we profile

Marika Vicziany

,

Marika.Vicziany@adm.monash.edu.au

Director, Monash Asia Institute and convenor of the ASAA's biennial conference, to be held in Melbourne from1 to 3 July.

Q: When did you become interested in Asia and why?
A: I am a typical product of the Vietnam War. In the mid 1960s I began my studies at the University of Western Australia with German and English literature, the history of the Tudors and Stuarts and Economics. But the Vietnam War debate changed everything. I came to know a number of outstanding scholars who were lateral thinkers: Hugh Owen (the founder of the now well known international journal South Asia), Pen Hetherington (working on Africa), Dorothy Hewitt (poet and playwright) and Beatrice Faust (commentator extraordinaire). We all agreed that European studies had to be set aside for the moment in order to understand what was happening in Asia. For myself, the key question in Asia involved challenging US doctrine by asking questions such as: Is the domino theory plausible? Is it true that nothing distinguishes Russian from Chinese from Vietnamese communism? Is there a world communist conspiracy? This year I am the convenor of the 17th biennial conference of the Asian Studies Association of Australia. The theme is: Is this the Asian century?, a question that captures the vast gap between our expectations of Asia during the 1960s and today.

Q: What are your current preoccupations?
A: I have spent the greater part of my life struggling to understand and fight against mass poverty. I arrived in Australia with my parents and middle sister in 1950 - we were DPs (displaced persons) from eastern Europe. I was born in an American base, Landshut, north of Munich.

We had only one suitcase between us and life in Perth was a cultural struggle for my parents, who were used to the cafes of Budapest and Prague. But all of this was nothing compared with the mass poverty and deprivation I have seen in Asia - especially India, my first love. I have come to understand that mass poverty is not accidental: it is the inevitable result of the structure of power. These days I am also interested in the question of how religion, ethnicity and regional security intersect with mass poverty. The War on Terror, I have discovered, has many parallels with the war in Vietnam during the 1960s.

Q: What are your hopes for Asian Studies in Australia?
A: Asian studies in Australia is unique. Much more than our European and American colleagues, Australian scholars spend a vast amount of time and effort in the field - down in the villages, towns and cities of Asia. Because we come from a country that is not regarded as a security threat, Australian scholars have easy access to most countries in the region. It is this on-the-ground knowledge that is critical in understanding the many complex issues that Asia is now grappling with as part of its rising power. I hope that Asian studies will continue to grow into new directions - in particular cross-disciplinary and cross-regional studies. Australia has the capacity to produce a new generation of experts who will have an in-depth familiarity with many Asian countries. We must encourage these pan-Asian experts in order to find sustainable solutions to the many problems common in our region, including Australia. The ASAA conference this year seeks to encourage pan-Asian research in a manner that does not compromise in-depth local knowledge. Our conference website is essential reading for all people sharing our commitment to Asian studies:
http://www.conferenceworks.net.au/asaa/

Student of the month
Sophie Dubé is currently completing her final year of Communication studies, majoring in Journalism, at the University of Newcastle, Australia. Earlier this year Sophie found herself studying and working in Indonesia through the Journalism Professional Practicum (JPP) run by the Australian Consortium for In Country Indonesian Studies (ACICIS). An email was circulated about the unique program, and having had a previous interest in Asian cultures Sophie decided to apply for a position. The program involved a study period at Atma Jaya Catholic University in Jakarta, followed by a 4 week internship at a number of media outlets throughout Jakarta and neighbouring cities.

Through the program, Sophie made friendships with her Indonesian work colleagues and gained contacts with high profile Indonesians. She also formed valuable relationships with the Australian and New Zealand participants who shared her interests in journalism and in Asia.


Sophie worked at TVRI with fellow JPP intern Dylan Quinnell. During her placement Sophie was able to produce reports which were aired on the English News Service; she dubbed the world news on the English news and she and Dylan produced a 23 minute package about the important cultural relationship between Australia and Indonesia.

To Sophie, the opportunity to work, live and study in Indonesia was something that allowed her to better understand the relationship between Australia and Indonesia and it highlighted the opportunities that are available in Indonesia, particularly for people in the media.

Sophie has been given another exciting opportunity to head back to Asia this year, this time to China, to work as a volunteer on the media team at the Olympics and Paralympics in Beijing. This work will be counted towards her degree and she is looking forward to learning more about another culture and language.

Website of the month
Recent publication of interest

Jane Orton, University of Melbourne, has written a report on Australian Professional and Business Area Knowledge for Working in China. Her main findings are (i) that professional education in Australia (both pre-service university courses and initial practice in the workplace) educate Australians in a wide range of fields to a standard which allows them to compete successfully with the best of the rest of the world, something they must do if they work in China; meanwhile, working in China sharpens their grip on the basic principles of their field; and, (ii) that only 20 per cent of those working in China have any Chinese language proficiency, and barely 10 per cent have ever studied a China-related subject. While they are able to work, as most do at present, as the bridge between international clients and the sourcing in China, they can do well. However the common prediction is that localisation of employment will see all but the very top Australian experts redundant in China within ten years; in some sectors, this will occur within five years. The full report is available on http://www.edfac.unimelb.edu.au/lale/research/Orton-AustChina%20Knowl.pdf

Did you know?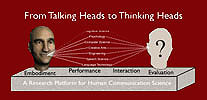 The Thinking Head project is an advanced artificial intelligence program being developed with $3.5 million in funding from the National Health and Medical Research Council and the Australian Research Council. It involves researchers from Flinders University, the University of Western Sydney, Macquarie University and the University of Canberra.
The group has recently joined with a German university to develop a German-language version of the head, to be used to teach children English and German. The initial focus is on nine-year-olds, but the team will also be doing some broader studies from pre-school to university. There is also interest in how the system could teach Asian languages.
The Thinking Head project will be featured at Synthetic Times, an art and technology exhibition staged by the National Art Museum of China in association with the Beijing Olympics.
http://thinkinghead.edu.au/
http://www.flinders.edu.au/news/news-article.cfm?newsID=C565F973-D837-76C8-B54D-38978732D953
Synthetic Times: National Art Museum of China http://www.mediartchina.org



Diary dates
INTIMATE ENCOUNTERS INDIAN PAINTINGS FROM AUSTRALIAN COLLECTIONS, 22 February to 4 May, Sydney. The Art Gallery of NSW is hosting an exhibition drawing from collections throughout Australia, to survey the major schools of Indian painting, highlighting the rich interactions that inspired each tradition. http://www.artgallery.nsw.gov.au/exhibitions/coming/intimate_encounters

AN ARMS RACE IN THE REGION? SOUTHEAST ASIAN DEFENCE POLICIES, MILITARY SPENDING AND WEAPONS PROCUREMENT , seminar, 28 April, Perth. Dr Tim Huxley, Executive Director, The International Institute for Strategic Studies – Asia, Singapore will examine questions such as the factors driving military modernisation in Southeast Asia and whether there is evidence of an incipient arms race which might further entrench bilateral tensions and destabilise regional security and what relevance this may have to Australia. Senate Room, Murdoch University, 10:30 am http://wwwarc.murdoch.edu.au/seminars.html

THE IMPOSSIBILITY OF HISTORY, public lecture, 1 May, Melbourne. Laksmi Pamuntjak, a leading poet, essayist and food critic in contemporary Indonesia, will talk about her first novel, Blue Widow. Asia Institute, The University of Melbourne, 1 May 2008, 06:00-7:30pm, Old Geology Theatre 2, The University of Melbourne. For more information, contact Dr Lewis Mayo, T: +61 3 8344 8907; E: lmayo@unimelb.edu.au.


REINVENTING THE CONTEMPORARY – 'VISIONS OF EXCESS', 'ART NOW', AND THE GLOBAL MARKET OF CHINESE AND INDONESIAN ART, 13 May, Sydney. Dr Thomas J. Berghuis, Senior Research Curator with the Casula Powerhouse Arts Centre and the Centre for Contemporary Art and Politics, College of Fine Arts, will examine the rise of art auctions and art fairs in Asia, the implementation of national and transnational strategies for the promotion of contemporary art, and explore the way in which artists, curators, and art organisations have responded to the new market incentives. 4.15 pm – 5.30 pm, The Refectory, Main Quadrangle, University of Sydney (http://db.auth.usyd.edu.au/directories/map/building.stm?ref=D15H22)

TAISHO- CHIC: JAPANESE MODERNITY, NOSTALGIA AND DECO 22 May to 3 August, Sydney. Featuring about 70 paintings, prints, textile and decorative arts, the exhibition encapsulates the clash and embrace of Western modernity and traditional Japan in this transitional period (the greater Taisho- period 1910–1930). On Saturday 24 May 2008 a series of lectures will consider modernity and Japanese-ness. 9.30am – 4.30pm, Domain Theatre, Lower level 3, Art Gallery of New South Wales http://www.artgallery.nsw.gov.au/exhibitions/coming/taisho_chic

A NEW ERA FOR GLOBAL BUSINESS: SUSTAINABLE GROWTH FOR CHINA AND THE WORLD, 28-30 May, Tianjin, China. Business figures and government leaders from around the world will explore Asia's economic future in the context of China's growing stature to examine strategic models of sustainable development. How are China and other Asian nations integrating with global markets while maintaining a focus on sustainable development? What will be the impact of Asia's rapid capital growth in bolstering world financial markets? How can Asia collaborate in seeking green solutions to address heightening environmental concerns? For more information about the 2008 Asia Society conference, email Tianjin2008@asiasoc.org or see http://www.asiasociety.org/conference08

INTERNATIONAL COLLOQUIUM ON ASIAN BUSINESS (ICAB), 30 June to 3 July 2008 Bangkok, Thailand. The colloquium invites abstracts and papers concerned with Asian business and management issues. Topics to be discussed include intellectual property, brands and branding, finance, managing risk, corporate social responsibility, disaster management, market entry, leadership, and a host of others. The conference particularly welcomes papers that employ novel or interdisciplinary approaches, perhaps drawing from areas of sociology, economics, psychology, cultural studies, history, gender studies or politics. See http://www.bkkconference.com or email mark@bkkconference.com

IS THIS THE ASIAN CENTURY? 17th Asian Studies Association of Australia Conference, 1-3 July 2008, Melbourne. The biennial Asian Studies Association of Australia conference is the largest gathering of expertise on Asia in the southern hemisphere. The theme for 2008 invites you to assess how the regions and issues in which you are interested are faring. The ASAA conference is multi-disciplinary and covers Central, South, South-East and North East Asia and the relationship of all of these with the rest of the world. See http://www.conferenceworks.net.au/asaa

THE POLITICS OF ISLAM IN OUTER INDONESIA, 22-26 July, Banjarmasin, South Kalimantan, Indonesia. This is the 5th International Symposium sponsored by Jurnal Antropologi Indonesia. These symposia are now among the world's largest gatherings of Indonesianists, primarily but not exclusively anthropologists. Ian Chalmers and Greg Acciaioli are calling for papers to be submitted to the panel: 'The politics of Islam in Outer Indonesia' This panel will explore the political, social and cultural dynamics of Islamic revitalisation today. To express your interest in presenting at this panel, please contact Greg Acciaioli, Anthropology, University of Western Australia Gregory.Acciaioli@uwa.edu.au or Ian Chalmers, Indonesian Studies, Humanities, Curtin University of Technology I.Chalmers@curtin.edu.au.

For an overview of the conference theme see: http://www.fisip.ui.ac.id/antropologi/index.php?option=com_content&ta

BEIJING OLYMPIC GAMES, 8-24 August 2008 http://en.beijing2008.cn/

TRANSITION AND INTERCHANGE Ninth Women in Asia Conference, 29 September-1 October 2008, Brisbane. The University of Queensland is hosting the ninth Women in Asia (WIA) Conference, to be held from 29 September-1 October, 2008. Call for Papers: Contributions are invited from various disciplines on a large number of themes concerning the lives of women in Asia. Participants are encouraged to submit proposals for panels (with 3-4 papers per panel). Individual proposals are also welcome. See http://www.freewebs.com/womeninasia/

ARTSingapore, 9-13 October 2008, Singapore. This contemporary visual art fair is both a trade and consumer fair, and thus a platform for art dealers and galleries to network and foster business relationships, and for art collectors to acquire new works http://www.artsingapore.net/index-as.html

You are welcome to advertise Asia-related events in this space. Send details to: fbeddie@infinite.net.au
Feedback
What would be useful for you? Human interest stories, profiles of successful graduates of Asian studies, more news about what's on, moderated discussions on topical issues? Send your ideas to fbeddie@infinite.net.au.
About the ASAA
The Asian Studies Association of Australia (ASAA) promotes the study of Asian languages, societies, cultures, and politics in Australia, supports teaching and research in Asian studies and works towards an understanding of Asia in the community at large. It publishes the Asian Studies Review journal and holds a biennial conference. ASAA and the Centre for Language Studies at National University of Singapore also co-publish an annual supplementary issue of the Centre's fully peer-reviewed electronic Foreign Language Teaching Journal (e-FLT). See http://e-flt.nus.edu.sg

The ASAA believes there is an urgent need to develop a strategy to preserve, renew and extend Australian expertise about Asia. It has called on the government to show national leadership in the promotion of Australia's Asia knowledge and skills. See Maximizing Australia's Asia Knowledge Repositioning and Renewal of a National Asset http://coombs.anu.edu.au/SpecialProj/ASAA/asia-knowledge-book-v70.pdf
Asian Currents is published by the Asian Studies Association of Australia (ASAA). It is edited by Francesca Beddie. The editorial board consists of Robert Cribb, ASAA President; Michele Ford, ASAA Secretary; Mina Roces, ASAA Publications officer; and Lenore Lyons, ASAA Council member.